Total War: Shogun 2
Total War: Shogun 2 is the latest installment of the long-running Total War series of turn based strategy games, and alongside Civilization V is notable for just how many units it can put on a screen at once. As it also turns out, it's the single most punishing game in our benchmark suite (on higher end hardware at least).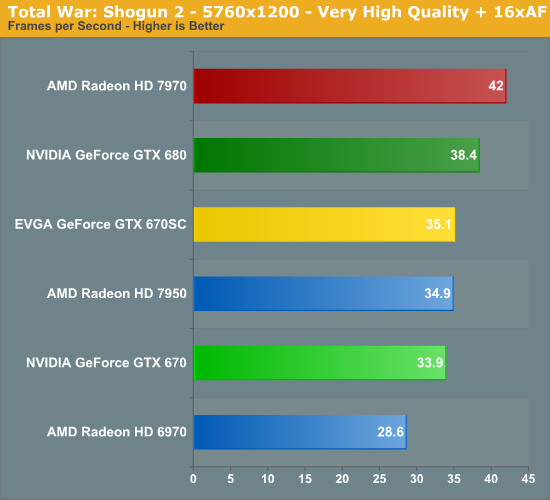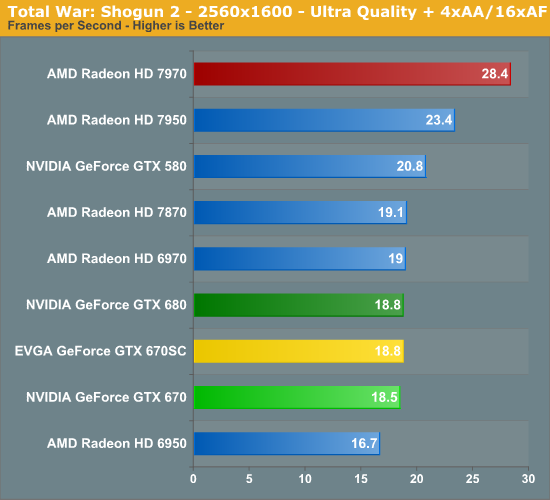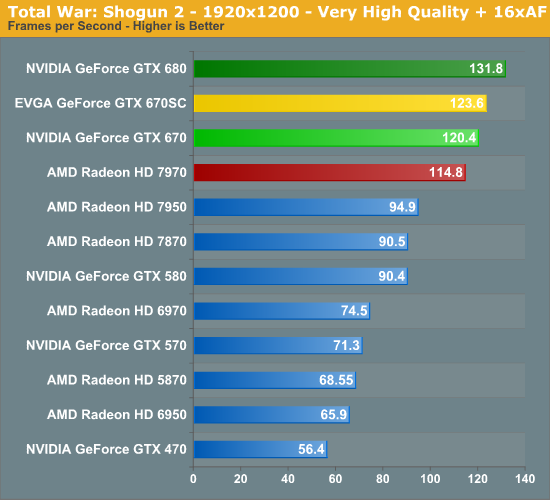 Unfortunately for NVIDIA the Kepler performance bug persists with Shogun 2, which makes things particularly wretched for NVIDIA at Ultra settings. At 2560 the GTX 670 can't beat a Radeon HD 6970 let alone a 7950. The fact that the GTX 670 does so well at 1920 where this issue doesn't come up does give the GTX 670 a great deal of hope however, as at this point it's fast enough to climb past both the 7950 and 7970. It will be interesting to see just where the GTX 670 fits in once this bug is fixed, though we're expecting it to be on the low side of the performance curve relative to the GTX 680.
On that note this is one of a couple of games that really drives a wedge between the GTX 670 and the GTX 570, even with the Kepler issues. The GTX 570 and it's increasingly puny 1.25GB of RAM can't even run this game with our 2560 benchmark settings, meanwhile at 1920 it has enough RAM but the GTX 670 still beats it by 68%.