Metro 2033
Paired with Crysis as our second behemoth FPS is Metro: 2033. Metro gives up Crysis' lush tropics and frozen wastelands for an underground experience, but even underground it can be quite brutal on GPUs, which is why it's also our new benchmark of choice for looking at power/temperature/noise during a game. If its sequel due this year is anywhere near as GPU intensive then a single GPU may not be enough to run the game with every quality feature turned up.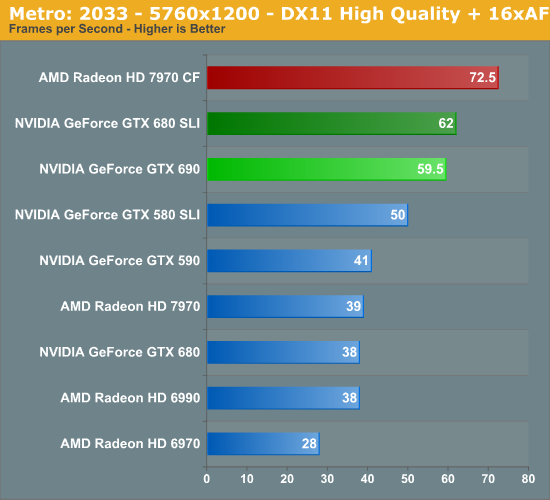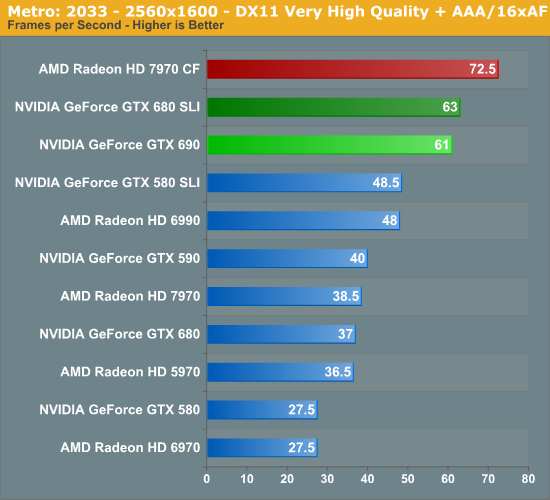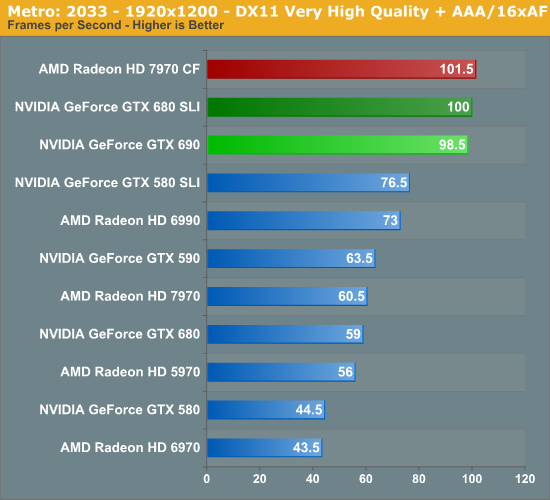 Metro was another game that the GTX 680 had trouble with, leading to it trailing the 7970 by the slightest bit. With multiple GPUs thrown into the mix that slight gap has significantly widened, leading to the GTX 690 once again trailing the 7970CF, particularly at 2560 and 5760. In this case the GTX 690 is only hitting 82% of the 7970CF's performance at 5760, and 84% at 2560. It's only at 1920 (and 100fps) that the GTX 690 can catch up. So much like the GTX 680, NVIDIA's not necessarily off to a great start here compared to AMD.
Meanwhile GTX 690 performance relative to the GTX 680 SLI once again looks good here, although not quite as great as with Crysis. At 5760 the GTX 690 achieves 96% of the performance, and at 2560 97% of the performance. So far the GTX 690 is more or less living up to NVIDIA's claims of being two 680s on a single card.