Crysis: Warhead
Kicking things off as always is Crysis: Warhead. It's no longer the toughest game in our benchmark suite, but it's still a technically complex game that has proven to be a very consistent benchmark. Thus even four years since the release of the original Crysis, "but can it run Crysis?" is still an important question, and the answer when it comes to setups using a pair of high-end 28nm GPUs is "you better damn well believe it."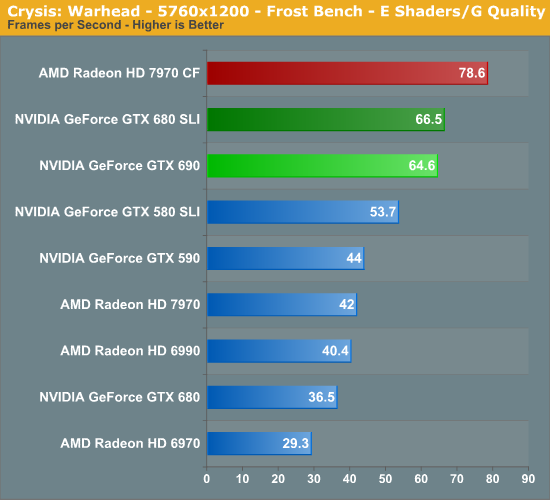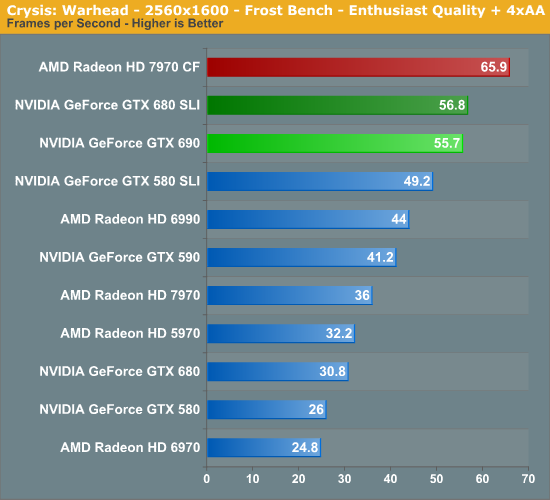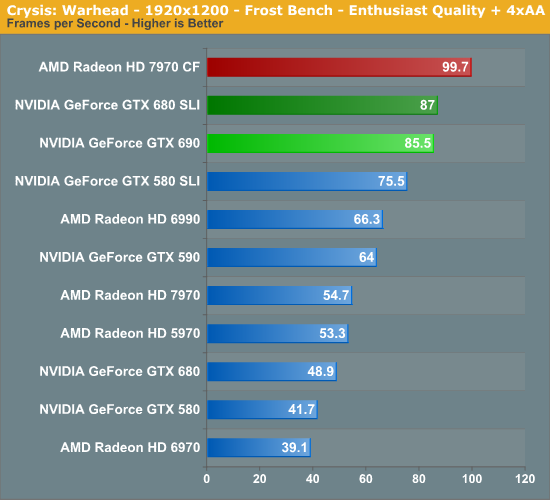 Crysis was a game that Kepler didn't improve upon by a great deal compared to the Fermi based GTX 580. NVIDIA sees some good SLI scaling here, but AMD's performance lead with a single GPU translates into an equally impressive lead with multiple GPUs; in spite of all of its capabilities the GTX 690 trails the 7970CF by 18% here. So long as AMD gets good Crossfire scaling here, there's just no opening for Kepler to win, allowing AMD to handily trounce the GTX 690 here.
As for the intra-NVIDIA comparisons, the GTX 690 does well for itself here. Performance relative to the GTX 680 SLI at 2560 is 98%, which represents a 77% lead over the GTX 680. Overall performance is quite solid; at 55.7fps we're nearly to 60fps on Enthusiast quality at 2560 with 4x MSAA, which is the holy grail for a video card. Even 5760 is over 60fps, albeit at lower quality settings and without AA.
It's taken nearly 4 years, but we're almost there; Crysis at maximum on a single video card.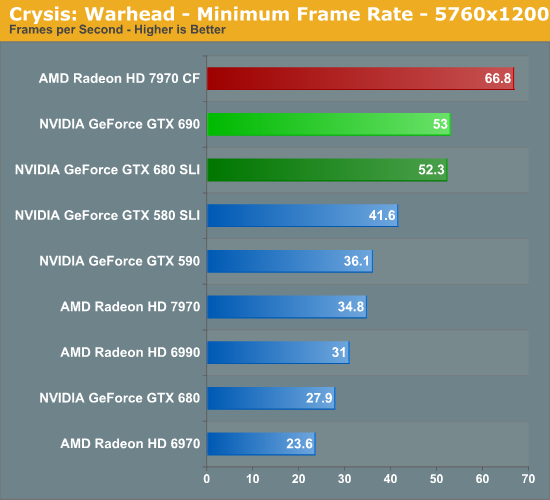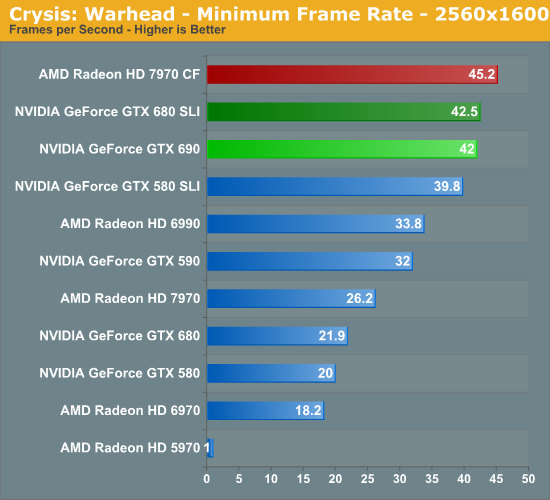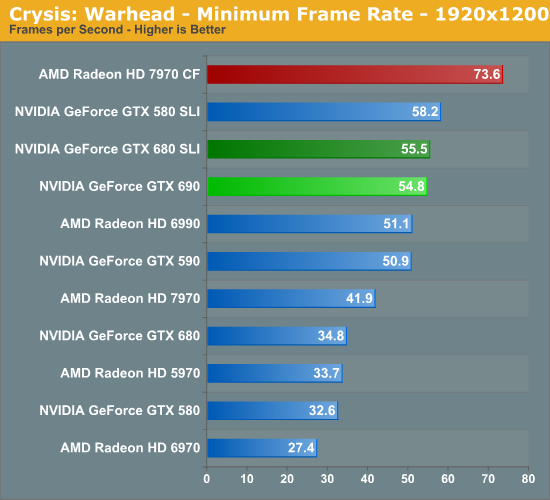 Our minimum framerates are much the same story for NVIDIA. The GTX 690 once again just trails the GTX 680 SLI, while interestingly enough the dual-GPU NVIDIA solutions manage to erode AMD's lead at a single point: 2560. Here they only trail by 8%, versus 20%+ at 5760 and 1920. Though at 1920 we also see another interesting outcome: the GTX 580 SLI beats the GTX 680 SLI and GTX 690 in minimum framerates. This would further support our theory that the GTX 680 is memory bandwidth starved in Crysis, especially at the lowest performance points.