Gigabyte GA-Z77X-UD3H - BIOS
Gigabyte BIOSes have been a little up and down of late. When every other manufacturer was displaying their graphical BIOS systems with P67 and Z68, Gigabyte still had a basic system reminiscent of the previous 10 years of BIOSes. With X79 they introduced a graphical BIOS, termed '3D BIOS'. This was essentially a perspective image coupled with a range of BIOS options.
Since then, we have the next iteration of this '3D BIOS Technology'. From the outset, it looks shaper, sleeker and a refined version of the initial X79 launch. Gigabyte says that their BIOS system is completely bespoke, written from the ground up rather than an interface on a licensed system like other competitors. While this introduces a level of infancy to the system compared to others that have been using licensed back ends for a while, it should offer Gigabyte a wider range of maneuverability in terms of what fancy features they can offer.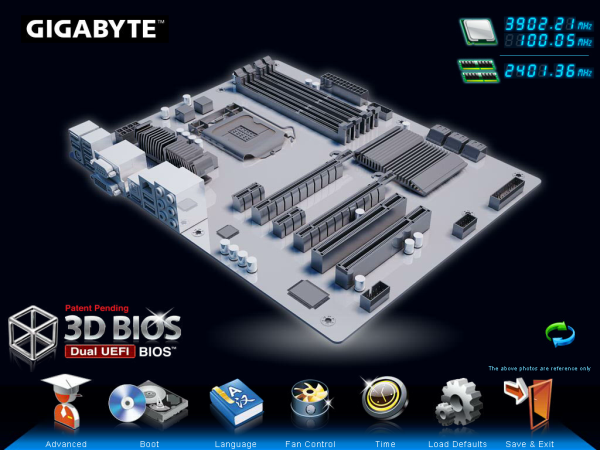 In terms of design choices, Gigabyte have decided to use a generic outlay of most of the Z77 range with this screenshot - you will notice the PCIe layout is not the same. However, this does not matter much - by moving the mouse over any of the components in the image (CPU, Power Delivery, and IO) will bring up an explanation of the part, and clicking will give a variety of options. As a front screen, it would help if it stated the model of the motherboard being probed, the CPU, and the amount of memory. Other vendors have voltages and fan speeds as well - by going through this sort of layout, Gigabyte have essentially boxed themselves out of providing this information without some serious design changes to be made.
The buttons at the bottom of this 3D BIOS screen offer some other choices - boot sequence, languages, fan controls, and a quick save and exit. However, the 'Advanced' mode brings up the set of BIOS controls that allow for a greater choice and flexibility: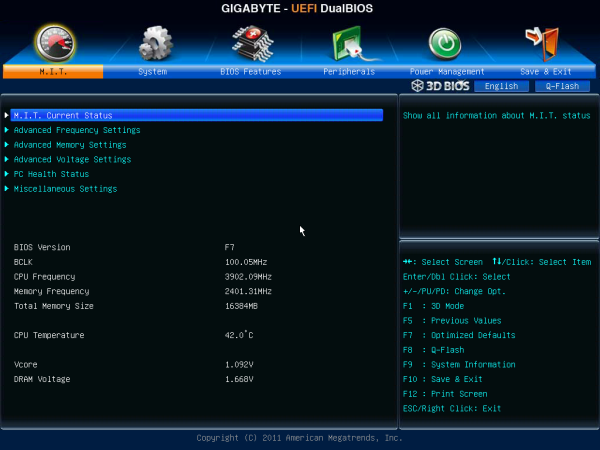 As a bonus compared to X79, this BIOS interface is a lot quicker. Previously, in order to use the number pad to insert values, the user would have to press Num Lock, wait five seconds for it to initialize, and then values could be entered. This time it works straight from the off. Most options will allow users to click and select values as well.
For overclocking, our options are split over many menus (which could be seen as a little annoying). For CPU and memory frequency settings, the 'Advanced Frequency Settings' option comes into play, which also allows modification of Turbo modes and power limits. The more advanced memory settings, such as subtimings, can be modified in the Memory menu. The 'fun' comes from the voltage settings screen, which has a different screen for CPU and Memory voltages, and then a third screen for customizing the digital power delivery options. 99.99% of users will never need the digital power delivery options though.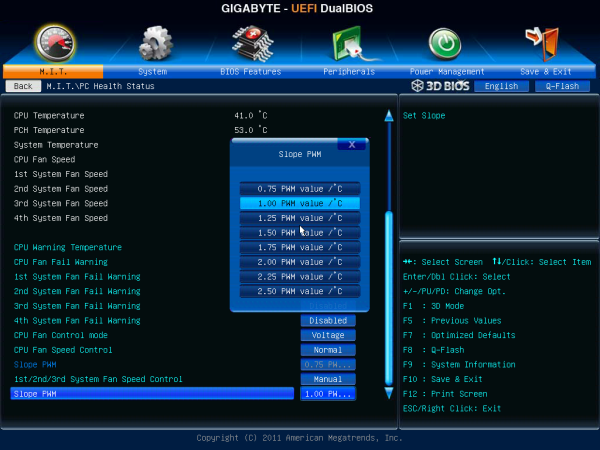 Fan controls come under the PC Health menu as per usual, and Gigabyte are still deciding to stick with an almost incomprehensible method of allowing users to customize their fan settings. By offering options in 'PWM Value / ºC', the only thing the user will understand is 'more means more power'. I would rather this actually had temperatures related to it, or some sort of in-BIOS graphing system to show what is actually happening.
In other Gigabyte BIOS related news, I had distinct trouble trying to get any G.Skill memory to boot on the shipping (F2) BIOS. It would simply keep resetting the board. In the end, I had to use some older Patriot memory to install a newer BIOS (F7) and then tried with the G.Skill again, with success.
Software
Gigabyte software takes a pinch of the old and a pinch of the new(ish). As the backbone, we still have EasyTune6, the all-in-one overclocking and monitoring tool. Although it looks weathered with age, with a decent upgrade (ET7?) it could be back on its feet. It certainly needed it with the version that came on the disk with the motherboard: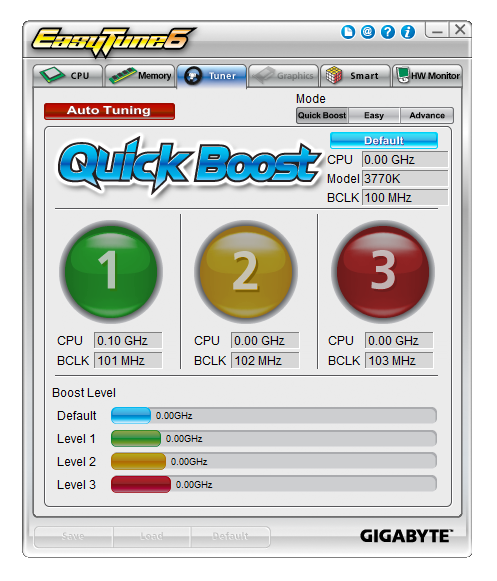 The version as shipped could not read the CPU properly, or suggest overclocks for it. I attempted to download the latest version from Gigabyte, only for it to be corrupt no matter where I downloaded it. However, I would expect it to be fixed as soon as possible - I have seen screenshots from overclockers using versions that work, so no doubt that will filter down to the public through the download website.
EasyTune6 has its usual gamut of basic and advanced overclocking options, as well as a hardware monitor and a very basic fan control front end. What is relatively new about ET6 is its auto-tuning feature. The red button on the screen above releases Gigabyte's new tuning feature for Ivy Bridge systems: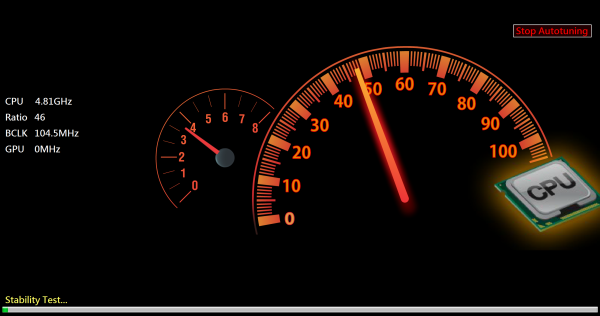 After confirming you wish to proceed, it does a series of stability tests with CPU ratios and BCLKs. It overall worked like a charm - I cannot fault it. With my processor, it kept all the turbo modes, but gave the processor a 4.81 GHz overclock under single threaded performance, reducing to 4.59 GHz for multithreaded loads, all at 1.236 volts at load. More about this in the overclocking section on the next page!
Gigabyte also bundle @BIOS with their motherboards, which allows the user to download and update the latest BIOS (or update from a file) from the operating system.