ASUS P8Z77-V Pro - In The Box
The ASUS P8Z77-V Pro retails at $225-$235, essentially $100 more than the ASRock Z77 Extreme4, so I would expect a good amount in the box to help sweeten the price point. Thankfully, we get a good amount!
Driver CD
User Manual
IO Panel
4 SATA Cables
SLI Finger
WiFi Go! 802.11 a/b/g/n WiFi card
WiFi magnetic antenna
USB and eSATA back panel
ASUS Q-Connectors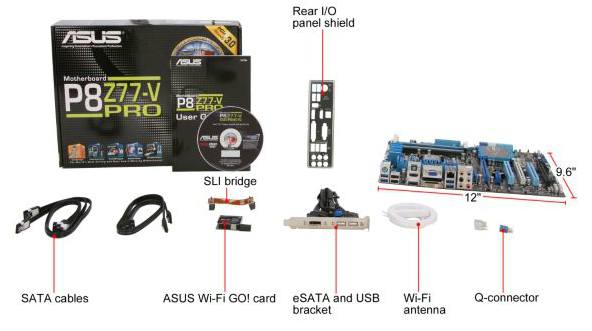 The addition of WiFi on the board obviously adds substantial value – personally, at home, I have my machines connected via WiFi, and ASUS say that at least 25% of their user base is in a similar position, hence the addition to the package.
Voltage Readings
Using OCCT we monitor the voltage change of the motherboard under load. This represents the direct correlation between the Load Line Calibration and how the processor/motherboard deals with voltage requests while under load. This is not to be confused with the quality of power delivery, but more an indication of how aggressive the default LLC settings are on a motherboard.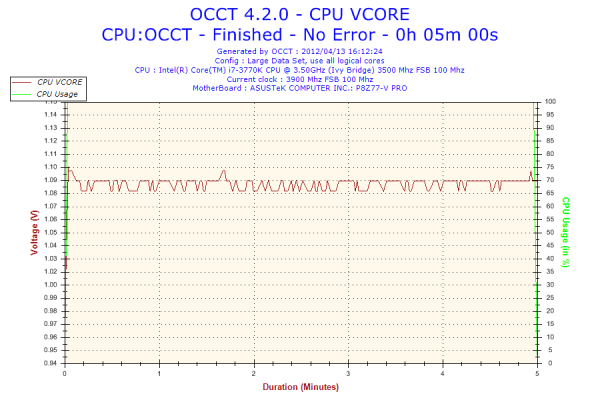 The ASUS board has regular power delivery, with minimal voltage ripple under load.
Overclocking
Note: Ivy Bridge does not overclock like Sandy Bridge. For a detailed report on the effect of voltage on Ivy Bridge (and thus temperatures and power draw), please read Undervolting and Overclocking on Ivy Bridge.
ASUS overclocking tools have been consistent over the few previous chipsets. In the BIOS, OC Tuner is a simple setting that enables a 'Fast' overclock on the system. Similarly, the TPU button on board does a similar action. In the OS, the TurboV Evo part of the software offers 'Fast' and 'Extreme' auto overclocking modes. For manual overclocking, the TurboV Evo software allows the user to play with an overclock in the OS, which should aid in setting a more permanent overclock in the BIOS.
Auto Overclock: 'Fast' mode (either through BIOS or OS) implements an immediate 19% overclock, with 41x on the multiplier and 102 MHz base frequency, ending with 4182 MHz overall. This is coupled with a memory overclock, which in my case it did XMP but backed off one memory strap. What was odd was that the memory was set to a 3T command rate!
'Extreme' mode implements a algorithmic testing tool in the OS to probe overclock limits. By slowly upping the multiplier and voltage, the system performs stability tests until the system crashes. The system reboots and then implements BCLK tuning, while still monitoring temperatures. In our test, the initial boot implemented a 20% overclock at 41x103 (4223 MHz), and then performed multiplier testing. At 47x, the system restarted to 46x and started BCLK tuning. At 104.5 MHz, the system restarted again, do a 'Failed Overclock' screen on boot. After pressing F1 for Setup, then F10 for Save and Exit, the operating system showed an overall 36% overclock – 46x103.8 (4774 MHz). At load, this gave 1.280 volts at load, giving an immense 94ºC peak temperature during PovRay. I do not think I would be happy with that temperature for a daily system.
Manual Overclock: With the overclock performance of Ivy Bridge processors being highly limited by temperature, having a low voltage is key along with hope that it does not compromise the overclock. In this case, I have started with 1.100 volts on the CPU and adjusting only the CPU multiplier to see what stable overclock we can get, before upping the voltage further. For this, PLL Overvoltage was also enabled.
At 1.100 volts, the highest multiplier that was stable was 45x, giving 4.5 GHz. This gave 68ºC at load with PovRay.
At 1.150 volts, the highest multiplier that was stable was 46x, giving 4.6 GHz. This gave 76ºC at load with PovRay.
At 1.200 volts, the highest multiplier that was stable was 47x, giving 4.7 GHz. This gave 83ºC with PovRay and 86ºC with OCCT. The system did boot at 48x, but gave 94ºC under PovRay as well as memory errors.