For whatever reason, some companies manage to garner a sort of "cult" following. It's usually a result of high-quality products time and time again. ASUS happens to be one of those companies in the motherboard industry. Interestingly, we learned from our recent trip to Taiwan that competing manufacturers seem to look up to ASUS as the benchmark to strive for. So obviously they're doing something right and we tend to agree based on our experience with ASUS boards dating back to the T2P4, one of the first motherboards to support the 83MHz FSB speed.
With Intel's recent introduction of the i815 and i815E chipsets, it seems that we finally have a decent replacement for the venerable i440BX. The ASUS version is known as the CUSL2 and we've been trying to get a hold of one ever since it was announced at Computex 2000. A board finally arrived in the lab and we've scrutinized every detail to find out if ASUS is able to garner a second AnandTech Editor's Choice Award in the 133 MHz arena.
Motherboard Specifications

CPU Interface

Socket-370

Chipset

Intel i815E

Form Factor

ATX

Bus Speeds

66 / 100 / 133 / 166 / 203 / 205 / 210 / 216
67 - 97 (in 1 MHz increments)
102 - 132 (in 1 MHz increments)
135 - 200 (in 1 MHz increments)

Voltages Supported

Auto Detect
(increase by up to 0.30V in 0.05V increments)

Memory Slots

3 168-pin DIMM Slots

Expansion Slots

1 AGP Pro 50 Slot
6 PCI Slots (6 Full Length)
2 CNR Slots (2 Shared)
0 ISA Slots

Onboard Sound

Cirrus Logic CrystalClearSoundFusion CS4299 AC'97

BIOS

Award Medallion BIOS 6.00
---
The Good
ASUS always seems to have some of the most innovative motherboards, and the CUSL2 is no exception, featuring by far one of the strangest looking innovations we've ever seen at AnandTech. It comes as a result of the 6/1/2/0 (PCI/AGP/CNR/ISA) expansion slot configuration. The key to making this configuration possible is the two PCI/CNR shared slots, but in order for ASUS to accomplish that, they had to come up with "new" PCI and CNR slots that are actually thinner than normal slots so that everything can physically fit on the PCB. Although the slots do look a bit odd, rest assured that they accept standard PCI and CNR cards.
But the question remains - why would you need two CNR slots? Well, it does add some flexibility to the CUSL2, allowing users to add first a modem riser and later a network riser or any combination of two devices, rather than being forced to buy the appropriate riser with everything they want all at once.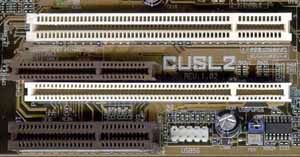 Thanks to the 82815 Graphics Memory Controller Hub (GMCH) if the i815E, we finally have official support for the 133 MHz FSB and PC133 SDRAM from Intel. Three DIMM slots cover memory expansion possibilities of the CUSL2. While the 82815 officially only supports 2 PC133 DIMM's, the CUSL2 had no problem running 3 DIMM's in PC133 mode. The 512MB total memory limit of the 82815 is still in effect, however. While many AnandTech readers probably won't make use of it, the 82815 also features integrated i752-based 3D graphics. Fortunately, it also offers an AGP 4X slot for higher performance systems or future expansion. In the case of the CUSL2, it's actually an AGP Pro 50 slot as we've seen from ASUS on many of their recent boards. Unlike the i810 chipset, the optional display cache is not included on the motherboard, but can be added via a Graphics Performance Accelerator (GPA) card that sits in the AGP slot, but it's still the same old display cache from the i810.
In line with the fact that the CUSL2 is a top of the line board is the inclusion of the 82801BA I/O Controller Hub 2 (ICH2), which is what differentiates the i815E from the regular i815 chipset. Compared to ICH1, ICH2 adds support for Ultra ATA/100, a second USB controller, and an integrated Intel 82559 network controller. Of course ICH2 also includes everything that ICH1 featured, such as support for 6 bus mastering PCI slots and AC'97 host-based audio. ICH2 is connected to the GMCH by Intel's 266 MB/s Accelerated Hub Architecture (AHA), just like the original ICH. The USB controller is also still USB 1.1 - we'll have to wait a bit longer before we see USB 2.0. The AC'97 audio is upgraded to support up to 6 channels of audio, although anyone serious about their sound will want to get a true hardware based PCI solution. Although our sample didn't include the AC'97 CODEC, ASUS uses the Cirrus Logic CrystalClearSoundFusion CS4299 to handle those duties.
As we showed in our Ultra ATA/66 vs. Ultra ATA/33 Comparison, Ultra ATA/66 is just beginning to show a performance improvement over Ultra ATA/33, so it will probably be a while before we see the benefits of Ultra ATA/100. ASUS didn't seem to think the 4 USB ports provided by ICH2's 2 USB controllers were enough, so they threw in an optional Alcor Micro AU9254 USB Hub that brings the total USB count up to 7. It's basically a single chip generic USB hub so there are no drivers to worry about and it should work under any OS that supports USB. Unlike many manufacturers, ASUS actually includes the necessary header to take advantage of additional USB ports. Unfortunately, the header ASUS includes only supports 3 additional ports, so two still remain unused. The integrated 82559 network controller supports 10MBps Home PNA 2.0 or 10/100 Ethernet depending on the CNR card that is plugged in.