Ivy Bridge: Much Faster Quick Sync and 3DMark Performance
We've looked at a bunch of general application benchmarks, but there are two areas where Ivy Bridge really looks to improve on Sandy Bridge: Quick Sync and the integrated graphics. How important these two items are really depends on how you plan to use your laptop. If you're only going to surf the web, watch some YouTube/Hulu/Netflix streams, and work in Microsoft Office applications, many of the improvements in Ivy Bridge won't really matter. If you might play some games or convert and upload videos to YouTube, however, these last two improvements represent the biggest change relative to Sandy Bridge.
We'll start with the video encoding tests, using ArcSoft MediaConverter 7 and CyberLink MediaEspresso 6.5. We've looked at both utilities in the past, and while there are some minor changes the basic goal continues to be simplicity of transcoding videos. If you're after maximum quality video transcoding, you're not going to beat CPU-based utilities using fixed function encoders like Quick Sync. Instead, Quick Sync is all about speed, and sacrificing a bit of quality in order to get your videos converted faster is considered an acceptable tradeoff.
MediaConverter 7 doesn't give much in the way of options, so we tested with CPU-based and GPU- or Quick Sync accelerated encoding. For all tests, we used GPU accelerated decoding, as disabling/enabling this feature didn't appear to affect quality or performance much and by default it's enabled. MediaEspresso has a few more options, depending on how you're doing the transcoding. For CPU-based and Quick Sync encoding, you can choose between speed and quality for the transcode; for NVIDIA or AMD GPU encoding, you don't get a choice—we assume here that the encoding for AMD and NVIDIA GPUs is more or less equivalent to the "Faster" encoding setting of the CPU/Quick Sync encodes. Here are the three charts showing performance of dual-core Sandy Bridge i5-2520M, quad-core Sandy Bridge i7-2820QM, quad-core Ivy Bridge i7-3720QM, Ivy Bridge with the GT 630M active, Llano A8-3500M, and Llano A8-3500M with GPU-accelerated encoding.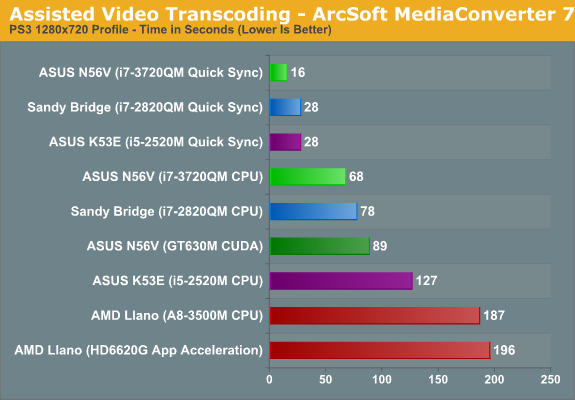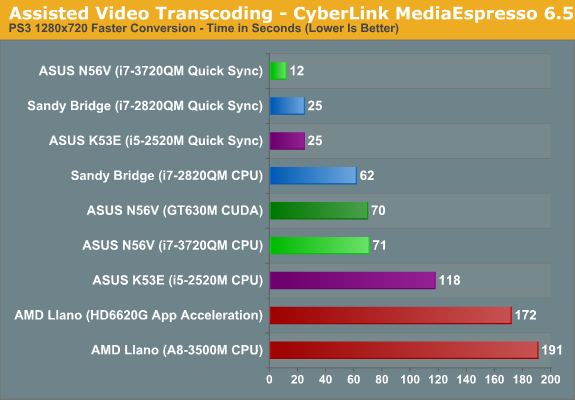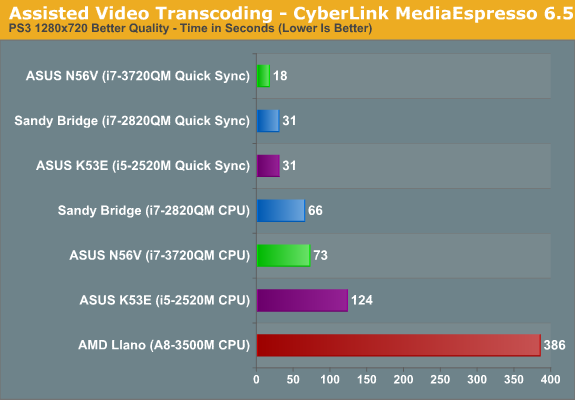 First things first, either AMD's GPUs don't handle this sort of task very well, or MediaEspresso and MediaConverter aren't at all optimized for AMD's GPUs—or at least they need far more than the 400 GPU cores in the HD 6620G. AMD has their VCE (Video Codec Engine) in Southern Islands, but so far we have yet to see a demonstration of it working—yes, it's over four months after the launch of HD 7970 and VCE is still MIA; that's as bad as it sounds, and we're starting to wonder if the VCE hardware even works properly at this point. As for NVIDIA, their CUDA-based encoding works a little better (though as we noted in the past, quality may be a bit lacking relative to other encoding solutions); however, with only 96 CUDA cores in the GT 630M it still can't match the quad-core Ivy Bridge CPU encoding, let alone Quick Sync. That means that for now, Intel stands alone with their highly efficient Quick Sync encoder, and where it was already quite fast in Sandy Bridge, it's even faster in Ivy Bridge—anywhere from 70 to 105% faster, depending on which application and settings we're looking at.
We also get a second look at CPU performance gains relative to Sandy Bridge in video encoding. Here the i7-3720QM is 15% faster than the i7-2820QM in ArcSoft's MediaConverter, but interestingly the i7-2820QM actually comes out 10 to 15% faster in CyberLink's MediaEspresso. I can't really come up with a good reason why Ivy Bridge would be slower in that test, but perhaps there are some Sandy Bridge specific optimizations that don't carry over to Ivy Bridge right now. As for AMD's Llano, with no real benefit to GPU-assisted encoding it ends up taking almost three times as long as Ivy Bridge/Sandy Bridge in this particular set of tests, and the quality based encoding is even worse, requiring over six minutes to complete our test encode compared to just over one minute on the Sandy Bridge/Ivy Bridge quad-cores. Even the dual-core Sandy Bridge chip is significantly faster than Llano.
Something else worth noting is that Intel's Quick Sync performance is completely separate from the CPU side of the equation; it's a fixed function encoder that resides on the GPU section of the die. What that means is that you typically get the same performance whether you have a high-end quad-core CPU or a lower-end dual-core CPU. The latter is where Quick Sync is really useful; you can see in our charts that Quick Sync is a lot faster than quad-core CPU transcoding, but if you have a quad-core CPU you're not really waiting that long for most transcodes. Dual-core processors on the other hand are about half as fast as the quad-core offerings, and the result is that Quick Sync on a dual-core Ivy Bridge processor (nevermind the ULV parts) will be many times faster than CPU-based transcoding.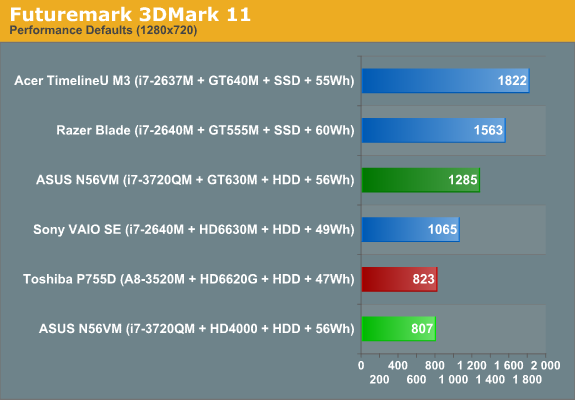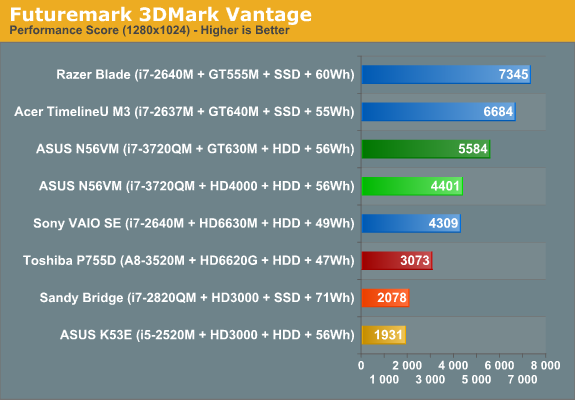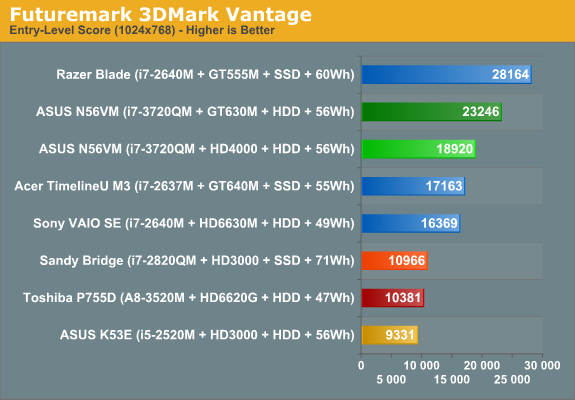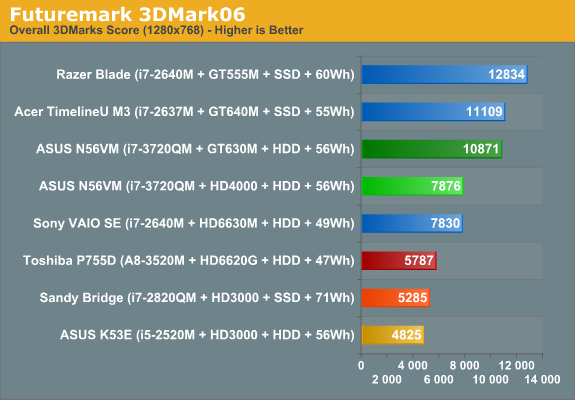 As noted earlier, Ivy Bridge appears to be more about graphics than CPU performance, and we get a taste of that by looking at the 3DMark results. If games actually echo what we're seeing with 3DMark, Ivy Bridge's HD 4000 is set to marginalize anything below the level of AMD's HD 6630M or NVIDIA's GT 525M. In some cases, we even see over a 100% improvement relative to the Sandy Bridge i7-2820QM (e.g. 3DMark Vantage), and now Intel is actually able to run the DX11-required 3DMark 11. 3DMark06 appears to be a more likely scenario, however, with performance about 50% higher than Sandy Bridge and even higher than Llano A8 at times. But then, we all know how much 3DMark means when it comes to actual gaming, right? So let's move on to the gaming benchmarks.