Ivy Bridge Application Performance: Movin' On Up
We received our evaluation laptop exactly one week ago and have been feverishly running as many benchmarks as possible within the allotted time. Unfortunately, that means we can't test everything, and one particular item we'd like to test is how the N56VM performs with a decent SSD in place of its mechanical hard drive. We'll plan on swapping drives in the near future and will eventually list both HDD and SSD scores in Mobile Bench, but for now we're running with the configuration Intel shipped us. We've also tested the N56VM with the integrated HD 4000 Graphics active as well as with the GT 630M—at least for benchmarks where the GPU can make a difference.
Trying to include all of the potentially meaningful comparisons for Ivy Bridge and Sandy Bridge is difficult, especially since we revamped our mobile test suite and added new tests after finishing some of the previous reviews. If you'd like to see more comparisons with our Ivy Bridge laptop and previous laptops, again we refer you to Mobile Bench. A few interesting comparisons you might enjoy are how Ivy Bridge stacks up against Dell's XPS 15 L502x and XPS 15z, or AMD's Llano A8-3500M test laptop.
For the charts throughout the remainder of this review, we've included a sampling of laptops where we were able to run most of our tests: besides the N56VM, we have the original Sandy Bridge i7-2820QM laptop, the ASUS K53E with dual-core i5-2520M (and no switchable graphics), and these recently reviewed laptops: the Razer Blade (a "gaming ultrabook"), Acer TimelineU (an ultrabook with NVIDIA's new Kepler GPU), Sony VAIO SE (IPS display and HD 6630M switchable graphics), and Toshiba P775D (a last look at AMD's Llano A8-3520M, just before Trinity hits the stage).
Since not all of the laptops are equipped with similar components, to better put things in perspective we've taken the original Sandy Bridge notebook that Intel shipped us and we installed a 640GB 5400RPM hard drive—the hard drive that was in the ASUS K53E (dual-core Sandy Bridge)—and we'll add those scores where it matters. That will hopefully give us a good indication of the range of performance we can expect from Ivy Bridge laptops, depending on whether they have a hard drive, SSD, or HDD + SRT caching configuration. Note that for the benchmarks we're running, the presence or lack of an SSD really only matters for PCMark 7 and Vantage, which is where we'll start.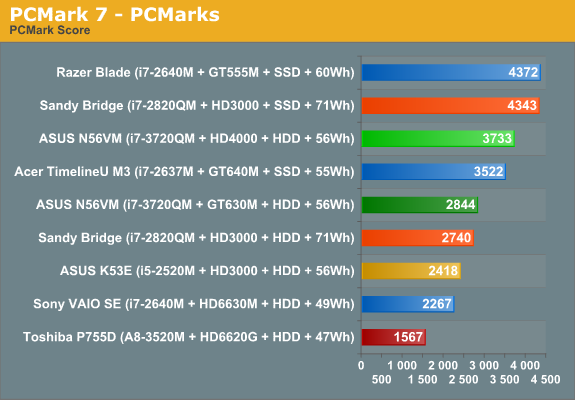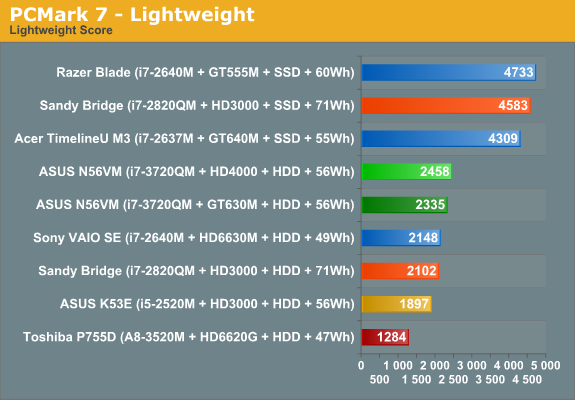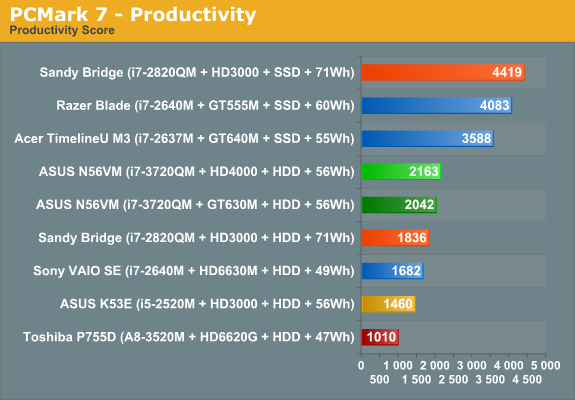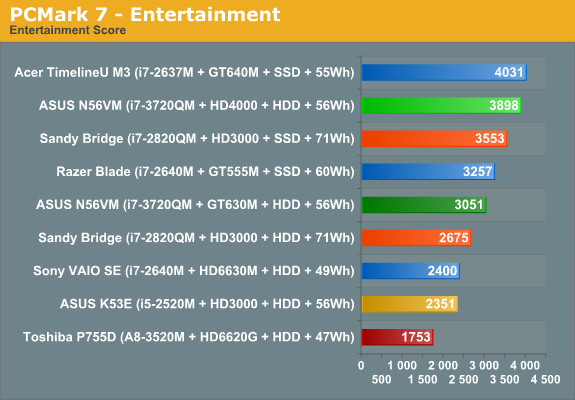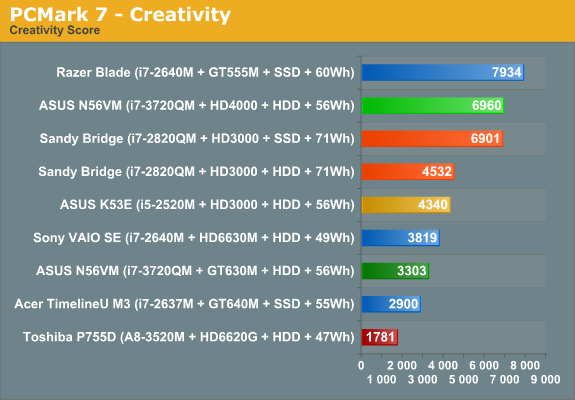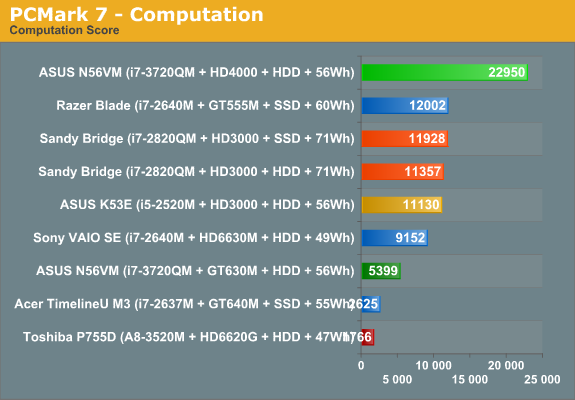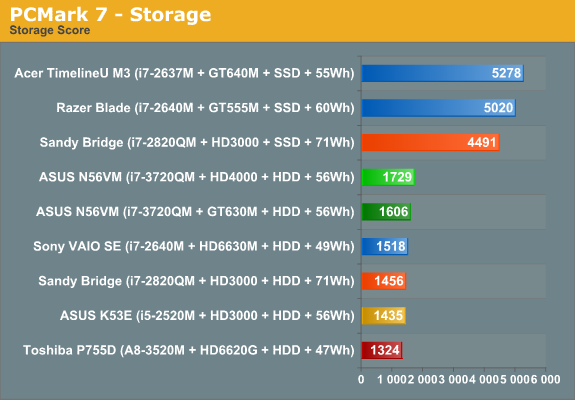 First things first, Intel's IGP and Quick Sync can make a huge difference with PCMark 7—just take one look at the Computation score to see why. Interestingly enough, the HD 4000 actually outperforms the GT 630M in every single element of the PCMark 7 test suite, often by a fairly large margin. It's not clear why the storage score in particular should differ by 8%, but that's what we see. For the remaining tests, PCMark 7 is often simply an indicator of whether or not a system has an SSD, so let's just focus on the Ivy Bridge vs. SNB+HDD comparisons.
Unfortunately, we didn't have the time or hardware to use the same HDD in both Ivy Bridge and Sandy Bridge, so going from an Intel 160GB G2 SSD to a 5400RPM Seagate hard drive very likely takes us too far in the other direction. Outside of the computation test, the presence of an SSD catapults the Sandy Bridge performance up anywhere from 33% (Entertainment) to over 200% (Storage), with the Lightweight and Productivity scores more than doubling.
Given the storage-centric nature of PCMark 7, I'm not sure we can draw too much information from the charts, other than pointing out that Ivy Bridge does end up as the fastest HDD-equipped laptop we've tested in PCMark 7. As a quick gauge of general home and office use, PCMark 7 is at least useful, and the conclusion is that HD 4000 will handle such mundane tasks without difficulty, often delivering a better experience than what you'd get from a discrete GPU—especially if you happen to do any video transcoding. We'll have more to say on that in a moment, but first here are the rest of our application results: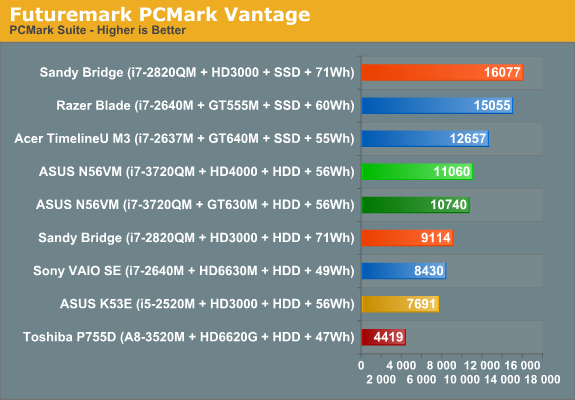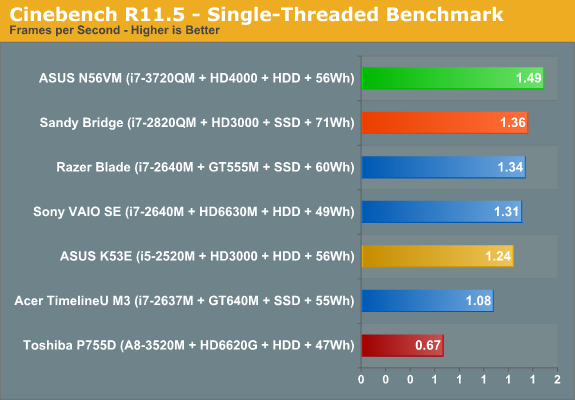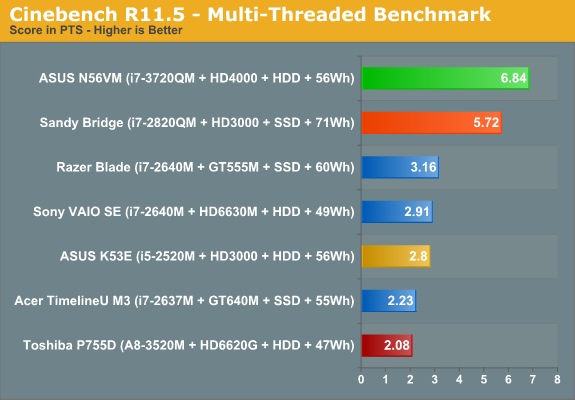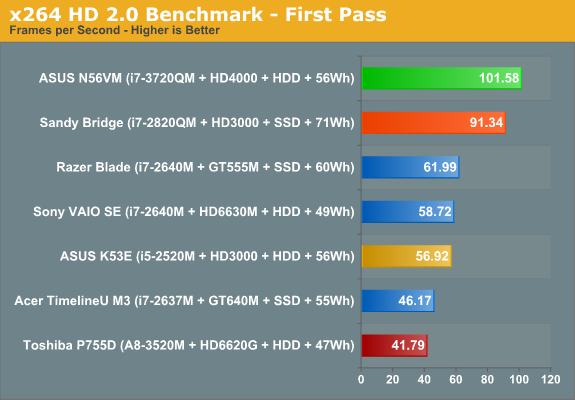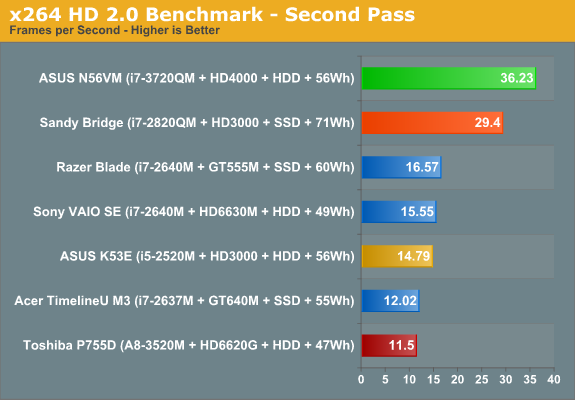 Where Sandy Bridge brought about a revolution in CPU performance for laptops, Ivy Bridge is a bit less dramatic. The i7-3720QM is certainly faster than the i7-2820QM (and it often beats an overclocked i7-2920XM as well!), but the difference ranges from "only" 10% in the single-threaded Cinebench 11.5 test to as much as 23% in the second x264 pass. You might be thinking that's a little unkind of us, but keep in mind that the i7-2820QM destroyed the previous generation i7-820QM by anywhere from 50% to 125%, all while delivering substantially improved battery life. Regardless, the Ivy Bridge i7-3720QM is still the fastest mobile CPU we've ever tested, and it's great to see such performance from the "mainstream quad-core" offering. Even so, if you were looking for the same sort of jump that we saw with Sandy Bridge you might be somewhat disappointed by the CPU results. For that, you'll have to wait for the next 22nm chip: Haswell.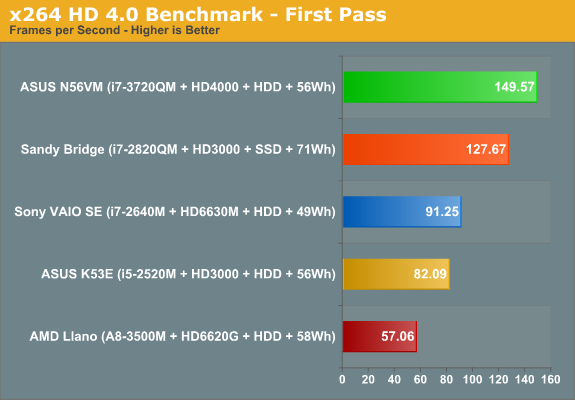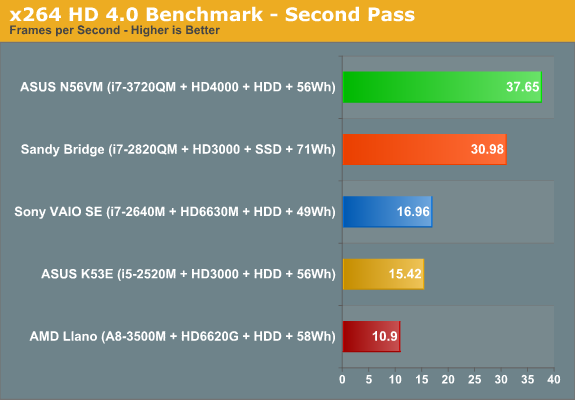 Update: We received a note asking about our x264 HD numbers. For laptop reviews, we've been using x264 HD 2.0 for the past couple of years just to stay consistent. Version 3.0 didn't really do much for performance that I could see (it was actually slower in many cases), and I wanted to be able to compare a large history of laptop CPUs. x264 HD 4.0 is a different matter; the second pass doesn't change things much, but the first pass is substantially faster. I've run it on all the laptops I currently have available and included the above chart for reference. As you can see, the first pass on Ivy Bridge posts an impressive 149.57 FPS—nearly 50% faster than the 2.0 benchmark—and most of the other CPUs see similar gains.