Its popularity aside, Battlefield 3 may be the most interesting game in our benchmark suite for a single reason: it was the first AAA DX10+ game. Consequently it makes no attempt to shy away from pushing the graphics envelope, and pushing GPUs to their limits at the same time. Even at low settings Battlefield 3 is a handful, and to be able to run it on an iGPU would no doubt make quite a few traveling gamers happy.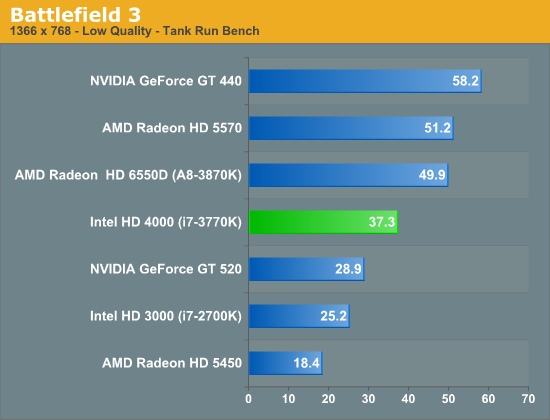 So does Ivy Bridge reach its goal here? Kind of. 37.3 is playable in single player, but it's been in our experience that multiplayer framerates can bottom out at half our SP benchmark, which means Ivy Bridge would be bottoming out in the high teens.
All things considered however, this is another case of Intel greatly improving their performance. Compared to Sandy Bridge, Ivy bridge is 48% faster, once again well ahead of the clockspeed and EU count improvements for HD 4000. Intel's improved shader performance plays a large part here, but BF3 provides a good mix of shading, texturing, and geometry stress at low settings, meaning Ivy Bridge is getting a full workout. As a result it's also once again closing the gap on Llano, trailing AMD's iGPU by only 25% here.