Portal 2 continues to be the latest and greatest Source engine game to come out of Valve's offices. While Source continues to be a DX9 engine, and hence is designed to allow games to be playable on a wide range of hardware, Valve has continued to upgrade it over the years to improve its quality, and combined with their choice of style you'd have a hard time telling it's over 7 years old at this point. From a rendering standpoint Portal 2 isn't particularly geometry heavy, but it does make plenty of use of shaders.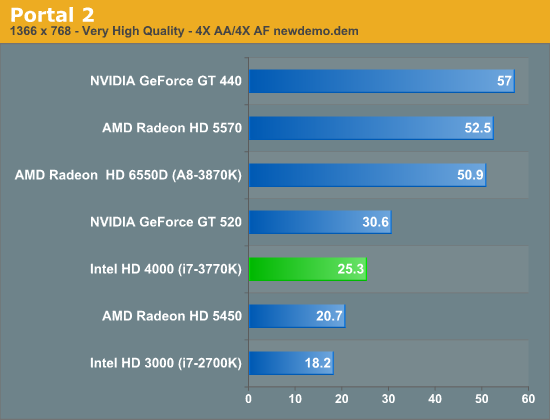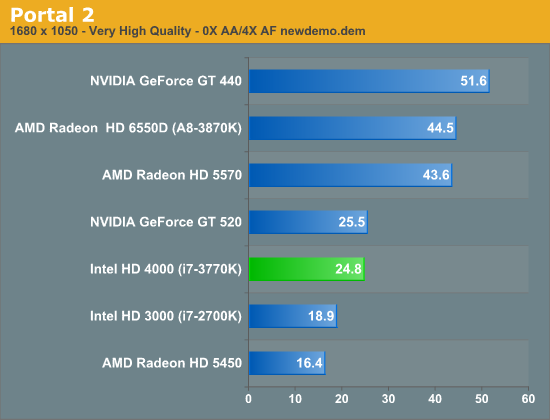 Since Portal 2 is another shader heavy game, this ends up being another struggle for Ivy Bridge. Compared to Sandy Bridge performance has once again rocketed up, this time by 39% at 1366, once more indicating just how much the 33% increase in EUs and the improved turbo has improved Intel's GPU performance. At the same time like our previous shader-heavy games it's just trailing GT 520, while Llano enjoys a 100% lead. To that end while we did end up using 4x MSAA at 1366, it's not clear that disabling it would significantly improve performance for Ivy Bridge here since MSAA doesn't increase the shader workload.
It's worth noting however that this is the one game where we encountered something that may be a rendering error with Ivy Bridge. Based on our image quality screenshots Ivy Bridge renders a distinctly "busier" image than Llano or NVIDIA's GPUs. It's not clear whether this is causing an increased workload on Ivy Bridge, but it's worth considering.