The small footprint of the ZBOX Nano XS AD11 Plus makes it attractive for use as a media center PC. Even though the unit comes with no optical drive, it is trivial to connect a portable Blu-ray / DVD drive which talks over eSATA or USB to the ZBOX. Of course, most users would prefer to use something like Virtual Clone Drive to create virtual optical drives and mount ISOs for playback. We experimented with XBMC, ArcSoft Total Media Theater 5 and CyberLink PowerDVD 12.
The good news is that all 1080p24 Blu-rays and similarly spec-ed encodes played without issues. The UVD 3.0 engine in the Radeon HD 6320 kicks in as expected and enables playback of 1080p H.264 / VC-1 /MPEG-2 content with CPU utilization as low as 40%. This is what most of the entry level consumers need, and the ZOTAC ZBOX Nano XS / AMD deliver what is necessary here.
However, there is more to local media playback than just playback of 1080p24 Blu-ray videos. What about 1080p60 camcorder streams? The answer, unfortunately, is the same as what I mentioned in a review of the Dell Zino 410 (which had the 5450 GPU). With 1080p60 camcorders becoming more and more common, one would expect AMD to be proactive in finding a solution for their entry level GPUs. The Radeon HD 6320 in the ZBOX is not up to the task. 1080p60 H.264 camcorder clips play back with dropped frames, out-of-sync audio and video and other similar issues.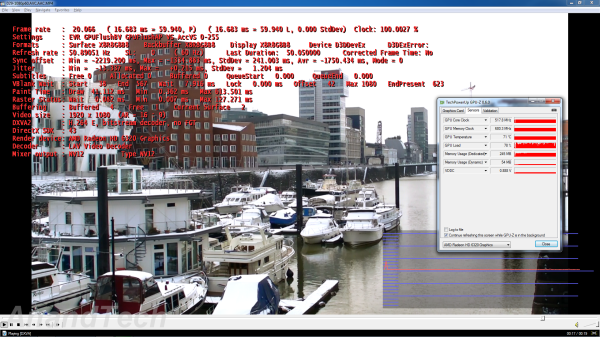 We were not able to ascertain whether this was a limitation of the AMD platform itself, or whether it was due to the fact that the GPU is memory constrained. It wouldn't be a surprise if it were the former.
Refresh Rate Handling
AMD's GPUs have been quite popular amongst serious HTPC users because of their ability to achieve display refresh rates close to 23.976 Hz. This is also dependent quite a bit on the board itself, with some boards delivering accurate refresh rates and others tending to drift on either side of the desired refresh rate. The ZOTAC ZBOX, unfortunately, belongs to the latter category.
In the gallery below, we present refresh rate observations made with the unit connected to a Sony KDL46EX720 through a Pioneer VSX-32 receiver. This is the display setup we have been using for all our HTPC testing over the last 8 months. As one can see, the 23 Hz setting delivered between 23.97 and 24 Hz, drifting all the time. The case was similar for almost all other rates we tested (24 Hz, 29.97 Hz and 30 Hz). 59 Hz (59.94 Hz actually) and 60 Hz were comparatively more stable.
Video Post Processing
The Radeon HD 6320 is no powerhouse, and we weren't expecting any serious video post processing capabilities. During the course of the review, I left ESVP on in the AMD control panel. ESVP (Enforce Smooth Video Playback) disables video post processing steps automatically whenever the driver recognizes that it doesn't have enough system capabilities to perform additional non-compulsory processing on the decoded video.
One of the requirements of a HTPC is the ability to perform deinterlacing with pulldown detection. To test pulldown / cadence detection, we used the sample test clip for 3:2 cadence detection from the HQV Benchmark. As the screenshot below shows, the GPU utilization shoots up to 100% as an attempt is made to perform pulldown detection. Unfortunately, the process just doesn't work, as the Moire pattern is still visible in the stadium stands.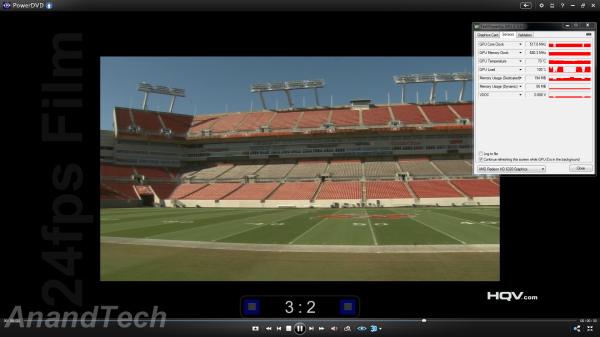 Instead of the usual artificial Cheese Slices test, we have a real world testclip now for testing out the deinterlacing capabilities. Made from a broadcast recording, the screenshots below show what happens on the ZBOX when one tries to force deinterlacing on and off in CyberLink PowerDVD 12. With deinterlacing turned off, just plain hardware decoding of this 544x480 29.97 fps clip takes up around 60% of the GPU. The interlaced artifacts are clearly visible, particularly in the ticker at the bottom.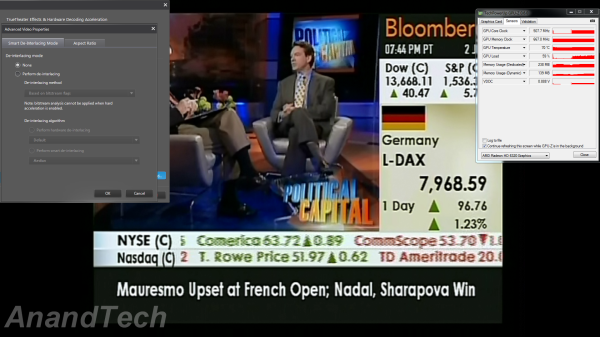 When deinterlacing is forced on, even this standard definition clip started dropping frames. Play back speed visibly slowed down. One can see that deinterlacing algorithms were indeed effective at the cost of fully loading up the GPU (resulting in slowed down playback).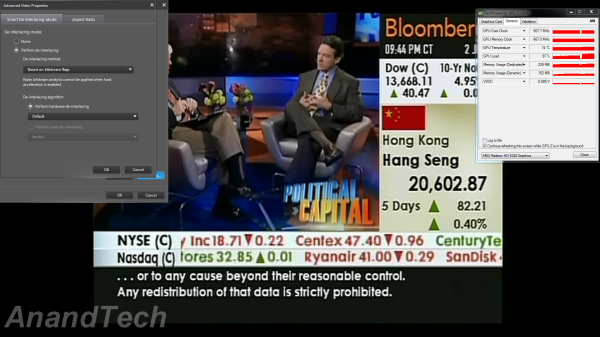 On the whole, local media playback is a mixed bag. Most mainstream consumers don't care about inaccurate refresh rates, but interlaced content is a bit more popular. That said, if the end user scenario just involves DXVA decoding of 1080p24 clips, this ZBOX is a pretty decent solution. XBMC also works smoothly (surprising, given the weak CPU), and even 1080p24 XViDs (quite uncommon, but we still tested them out) played back within XBMC without issues (even though we weren't able to confirm hardware decoding for MPEG-4).