The ZBOX Nano XS AD11 Plus is based on a platform meant for an ultra-portable solution. It wouldn't make sense to compare it with full blown desktop solutions (or for that matter, even the mid-range and high end SFF HTPCs we have reviewed over the last two years). In the figures presented in the rest of this section, we will provide the scores obtained by the ZBOX unit and also place other SFF PC scores for comparison purposes (even though the price range of the PCs might not be the same).
Windows Experience Index
It is no secret that the Bobcat cores in the E-450 are the weak links. As expected, the Windows Experience Index pin-points the culprit.

PC Mark and x264 Encoding
We ran two more benchmarks to evaluate the CPU performance. It is not surprising in any way that the AMD E-450 is lagging behind in both of them. Ideally, we should have graphed some other nettops, but we chose machines with already available data points.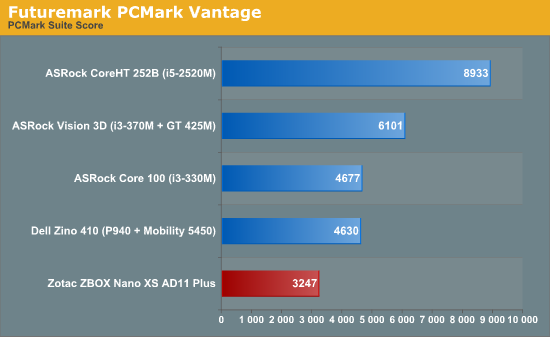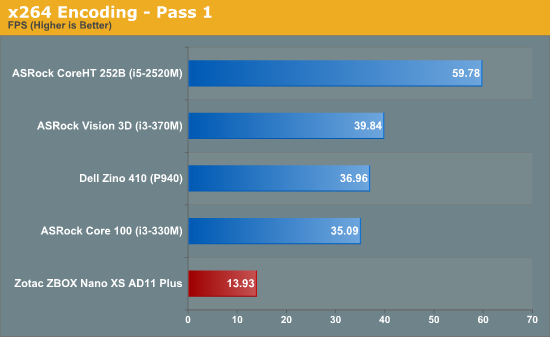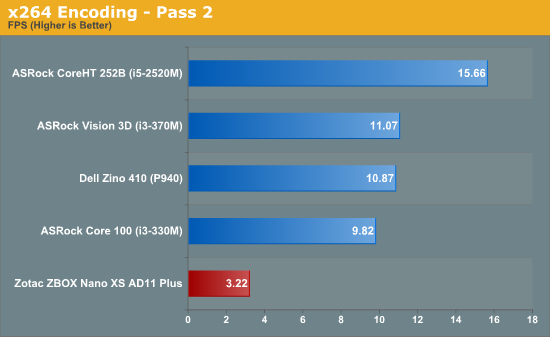 WinRAR Benchmarking
An estimate of how well WinRAR performs, particularly with respect to processing split archives, is evaluated next. Towards this, a 4.36 GB MKV file is compressed in the 'Best' compression mode into a split archive (97.1 MB each), which results in 44 files on the hard disk. The time taken to decompress this split archive is then recorded. The performance in this benchmark is heavily influenced by the drive in the system. Ideally, SSD-based systems should be able to easily beat hard disk based ones.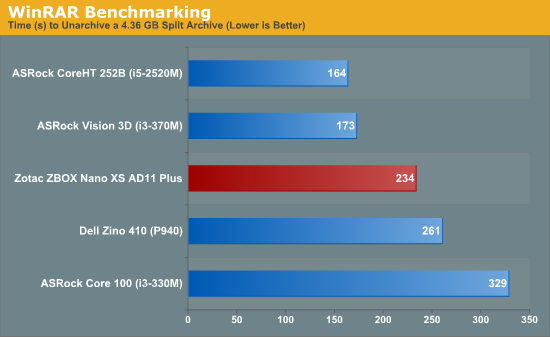 We find that the ZBOX slots somewhere in the middle. Even if the SSD was fast enough, it appears that the CPU is too slow to decompress the archive fast enough to match the speed of the SSD. In the next subsection, we will deal with the mSATA SSD specifically.
Primary Drive Performance
As mentioned earlier, the mSATA SSD in the system is from Kingston. The Kingston SSDNow mS100 has a Phison controller. The table below shows the Iometer test results for the mSATA SSD.
IOMeter Performance
Test
Transfer Rate (MBps)
4 KB Random Write
5.87
4 KB Random Read
6.29
128 KB Sequential Read
211.89
128 KB Sequential Write
103.39
The suggestion is that writes to the drive be kept to a minimum. The 4K figures are downright abysmal, considering we get more than 50 MBps for most SSDs. It is quite possible that the transfer rates may go down as more writes are done to the flash.