ASUS P8Z77-V Deluxe—Visual Inspection
In the next notch up in the channel board segregation, ASUS sell the Deluxe. This will be the first ASUS Deluxe board we have reviewed at AnandTech since the Llano mini-ITX F1A75-I Deluxe last year. In comparison to the P8Z77-V Pro, the Deluxe features several upgrades in terms of functionality and comfort.
The first to note is the increased power delivery to the CPU—this time in the form of a 16 + 4 phase power delivery. As a result, the VRM heatsinks to the left of the CPU are directly connected via a heatpipe to another heatsink below the socket. Also on board are the 'enthusiast' power/reset buttons and two-digit debug that we did not see on the Pro, and the use of dual NICs on the I/O, in the form of an Intel 82579V and a Realtek 8111F.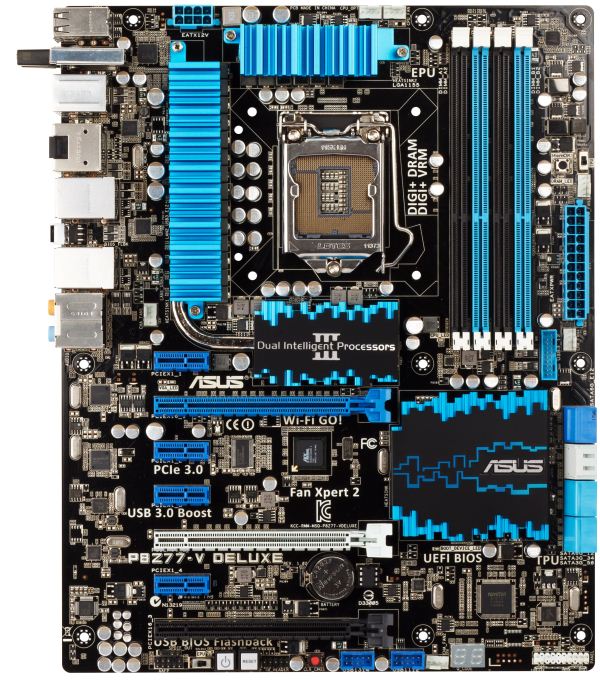 Due to the positioning off the heatsinks on the Deluxe compared to the Pro, the socket area seems a bit smaller (for example, the left hand heatsink is moved further in towards the socket), meaning that big air coolers may have a tougher time if they do not fit into Intel's socket specification. Around the socket itself, we still have access to five fan headers—two 4-pin on the top of the board, one 4-pin to the bottom left of the main VRM heatsink, and one 4-pin either side of the 24-pin ATX power connector. A sixth fan header on board is found at the bottom next to the two-digit debug output.
Above the main power connector on the right hand side are the MemOK button and the TPU switch (for a fast automatic overclock). Below it is a USB 3.0 header, and a set of eight SATA ports. Similar to the ASUS Pro, we have four SATA 3 Gbps from the PCH, two SATA 6 Gbps also from the PCH, and two SATA 3 Gbps from a different controller—the Marvell 9128. This allows RAID 0/1 on these two SATA 6 Gbps ports.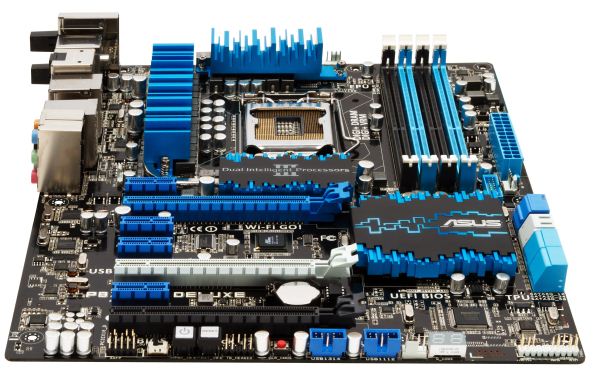 The south side of the board still contains front panel headers and USB 2.0 ports, but also comes with the aforementioned power/reset buttons and two-digit debug display. We also find a ClearCMOS button on board, useful for overclockers. There is also a header labelled 'TB_Header', which should mean Thunderbolt, but there is no mention of it in the specifications. I will have to check up on this.
Update: The TB_Header is actually for a new Thunderbolt add-in card that ASUS will be selling. This is aimed to go into the x4 slot and provide Thunderbolt connectivity. MSRP will be around the $30-$40 mark so I am told.
In terms of the PCIe, we have a little bit of confusion. While in the middle between the PCIe is a PLX chip, it is not the PLX PXE 8747 chip that increases PCIe lane count. The one on the Deluxe is just to provide extra data transfer access for the various controllers on the motherboard. This means that the third full length PCIe in black is like other boards in that this is a PCIe 2.0 x4, non-GPU port. So from the top, we have a PCIe x1, x16 (x8 in Multi-GPU), x1, x1, x8, x1, x4. As a result, there is no PCIe to PCI bridge chip on this high-end model for PCI slots.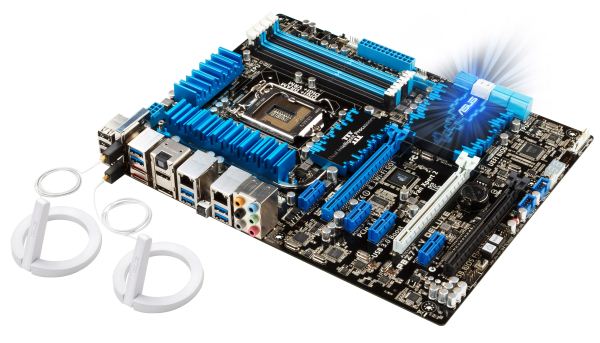 For the back panel, ASUS have done a juggling act deciding what to include. On the far left is a set of four USB 2.0 ports (black), a mini-PCIe WiFi + Bluetooth module, two USB 3.0 (blue), two eSATA, optical SPDIF output, HDMI output, DisplayPort, dual gigabit Ethernet, another four USB 3.0 ports (blue), a BIOS flashback button, and audio outputs. So in the name of a double NIC and 10 total USB ports on the back panel, we have lost D-Sub, DVI, IEEE1394 and a ClearCMOS button.
Board Features
ASUS P8Z77-V Deluxe
Size
ATX
CPU Interface
LGA-1155
Chipset
Intel Z77
Power Delivery
16 + 4
Memory Slots
Four DDR3 DIMM slots supporting up to 32 GB
Up to Dual Channel
Video Outputs
DisplayPort, HDMI
Onboard LAN
Intel 82579V
Realtek 8111F
Onboard Audio
Realtek ALC898
Expansion Slots
2 x PCIe x16 Gen3 (x16, x8/8)
1 x PCIe x16 Gen2 (x4)
4 x PCIe x1 Gen2
Onboard SATA/RAID
2 x SATA 6 Gbps (PCH), Support for RAID 0, 1, 5, 10
2 x SATA 6 Gbps (Marvell PCIe 9128), RAID 0, 1
4 x SATA 3 Gbps (PCH), Support for RAID 0, 1, 5, 10
2 x eSATA 6 Gbps (ASMedia)
USB
Four USB 3.0 at rear (2 PCH, 2 ASMedia)
Two USB 3.0 headers on board (PCH, ASMedia)
Eight USB 2.0 (4 back panel, 4 on board)
Onboard
4 x SATA 6 Gbps
4 x SATA 3 Gbps
1 x USB 3.0 Headers
2 x USB 2.0 Headers
6 x Fan Headers
1 x SPDIF Header
1 x Front Panel Audio Header
1 x TB Header
MemOK! Button
TPU/EPU Switches
USB Flashback Button
Power/Reset Buttons
Power Connectors
1 x 24-pin ATX connector
1 x 8-pin 12V connector
Fan Headers
1 x CPU Fan Header (4-pin)
4 x CHA Fan Headers
1 x OPT Fan Header
IO Panel
2 x eSATA 6 Gbps
1 x DisplayPort
1 x HDMI 1.4a
2 x Gigabit Ethernet
6 x USB 3.0
4 x USB 2.0
1 x Optical SPDIF
Audio Outputs
Bluetooth V4.0
Wifi
USB Flashback
Warranty Period
3 Years
Product Page
Link
Obviously one of the main selling points of the board is the onboard WiFi and Intel NIC (alongside a Realtek NIC).