A bit over a month ago, we reported that Intel's SSD 313 would be launching soon. We don't know when exactly the launch took place but the 313 has been added to Intel's product database (ARK) and Q1'12 is listed as the launch date. The 313 is the successor of Intel's first generation caching SSD, the Intel SSD 311. We first met the 311 when Intel introduced its Smart Response Technology (see our review). Right now, only Z68 chipset supports SRT but Ivy Bridge will widen the support and bring it to more mobile and business chipsets as well.
Comparison of Intel 311 Series and 313 Series
Series
Intel SSD 313
Intel SSD 311
Codename
Hawley Creek
Larson Creek
NAND
Intel 25nm SLC
Intel 34nm SLC
Interface
SATA 3Gb/s
SATA 3Gb/s
Controller
Intel PC29AS21BA0
Intel PC29AS21BA0
Form Factors
2.5", mSATA
2.5", mSATA
Capacities
20GB
24GB
20GB
Sequential Read
220MB/s
160MB/s
190MB/s
Sequential Write
100MB/s
115MB/s
100MB/s
Random Read
36K IOPS
33K IOPS
37K IOPS
Random Write
3.3K IOPS
4K IOPS
3.3K IOPS
Street Price
$120
$140
$119.50
As we suspected back in February, the controller is the same as the one found inside Intel's SSD 311. This was confirmed by HWBox.gr. The 3Gbps controller dates back to 2009 when Intel X25-M G2 was released, although it's obviously running much newer firmware.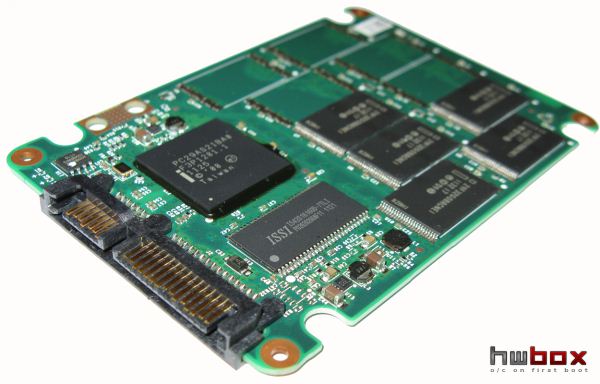 Courtesy of HWBox.gr
The picture of the PCB also reveals the NAND configuration. HWBox's unit is a 20GB model and it has five NAND devices onboard. Not surprisingly, it's Intel NAND and manufactured using the new 25nm process node. Due to the die shrink, each NAND device consists of a single 4GB die. The previous generation used two 2GB dies per NAND device. It seems most likely that the 24GB model simply has an extra NAND device onboard, giving it a capacity of 24GB.
The 313 seems to be priced identically to the 311. Price per GB is quite high at ~$6/GB, although that's fairly normal for SLC SSDs. NewEgg is already stocking the Intel SSD 313, making availability immediate.