TRIM Performance
I started out this review with a mention of estimated write amplification and how OCZ was able to significantly reduce it with the Vertex 4/Everest 2 compared to Octane/Everest 1. By reducing write amplification, OCZ should have also significantly improved worst case write performance when TRIM isn't available or before it's able to act.
To find out, I wrote sequential data across all user addressable LBAs and then wrote random data (4KB, QD=32) for 20 minutes across all LBAs. Finally I used HDTach to give me a simple visualization of write performance across all available LBAs (aka the Malventano Method):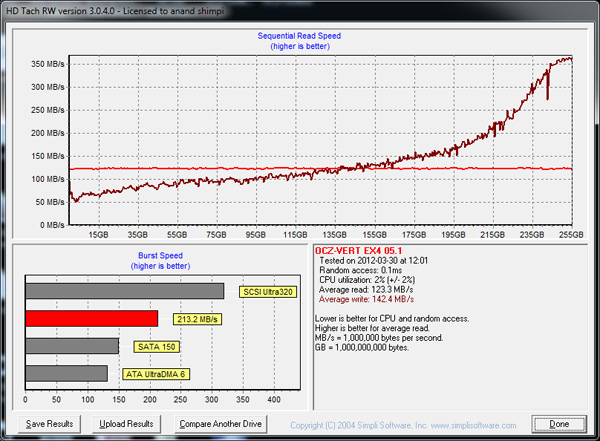 This is a huge improvement over what we saw with the Octane. Behavior here isn't quite what we see with Intel's controllers, but again it's a huge step above what we saw in the previous generation.
The Vertex 4 does support idle time garbage collection, but at very low priority. The drive must be idle for at least an hour for the background GC to kick in. I'm glad to see that OCZ has taken a more conservative route here as I've never been a huge fan of idle time garbage collection to begin with.
If you don't leave the drive alone long enough to trigger the idle GC, as soon as 85% of the blocks on the drive are used up the Vertex 4 will automatically trigger its garbage collection algorithms. This is more of what I'd like to see, however I'd prefer it even more if OCZ lowered the limits of when it would start recycling blocks in order to try and maintain good performance under heavily fragmented conditions.
TRIM is alive and well on the drive – a single TRIM pass is able to restore performance to new: