AnandTech Storage Bench 2011 - Light Workload
Our new light workload actually has more write operations than read operations. The split is as follows: 372,630 reads and 459,709 writes. The relatively close read/write ratio does better mimic a typical light workload (although even lighter workloads would be far more read centric).
The I/O breakdown is similar to the heavy workload at small IOs, however you'll notice that there are far fewer large IO transfers:
AnandTech Storage Bench 2011 - Light Workload IO Breakdown
IO Size
% of Total
4KB
27%
16KB
8%
32KB
6%
64KB
5%

Our light workload is far more representative of a mainstream client workload (read heavy) and this is where the Vertex 4's sequential read performance hurts it the most. The Samsung SSD 830 ends up being considerably faster here. Once again, if we look at the breakdown of reads and writes we see why: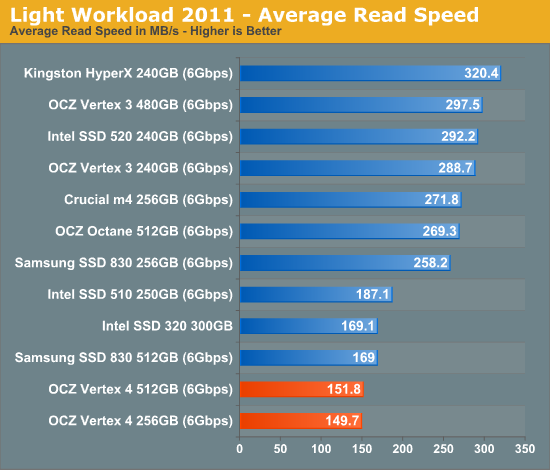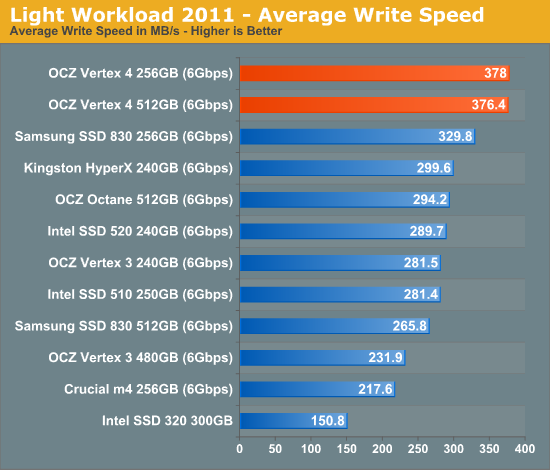 Read performance is around half of the best performers, while write speed is around 30% better. The combination results in competitive but not class-leading performance.If OCZ is able to deliver, at a minimum, Octane levels of read performance, the Vertex 4 should find itself much higher in the overall charts.