ASUS Crosshair V Formula - Overview
Last year was a bleak year for reviewing ROG boards at AnandTech; however we intend to change that this time around, starting with the Crosshair V Formula. The ROG (Republic of Gamers) line of ASUS products come in three flavors – Extreme, Formula and Gene (ATX, ATX and mATX respectively). The boards are aimed at two primary markets – firstly gamers, and then also overclockers. These products have their own section on ASUS' website, their own forums, and dedicated technical marketers for support. The ROG philosophy at ASUS is to provide a level of product to the gamer and the consumer beyond the standard. It is up to the user however to grasp that extra support with both hands and venture online to find overclocking guides and answers to questions.
This leaves us with the Crosshair V Formula. I will not hide anything from you – when AMD initially released the Bulldozer processor line, everyone on AMD's list in the media business who deals with reviewing processors and motherboards gets a media kit. This usually contains a processor, a motherboard, and sometimes a CPU cooler (I received AMD's all-in-one liquid cooler with this media kit). With Intel chipsets, this means an Intel motherboard. As AMD do not directly make in any volume a competitive motherboard, they pair with a motherboard manufacturer to provide the optimum experience. (This also explains the reason that on a new socket release why almost all the web reviews in the first week are of one certain motherboard only, e.g. the Intel DX79SI with Sandy Bridge-E.) In this case, it was ASUS, with the Crosshair V Formula.
ROG boards, as with most motherboards from ASUS, are designed to be part of a system which just works, and works well. If a user wants a solid system underneath, it has to be done with little fuss and provide the extra performance through auto-overclocking. However there also has to be a way for enthusiasts to tinker and modify as appropriate. As such, ASUS deck out the BIOS with vast arrays of options, which I am sure very few people outside the AMD chipset team or motherboard engineers know about. But if a random overclocker finds setting XYZ to boost performance 10%, then it is a win-win for ASUS.
That being said, I had relatively few issues with the Crosshair V Formula going though my test suite. It worked well out of the box, and looking at the notes I write during testing there are very few minor issues relating to application and design which I will go into later. Performance is good (as you would hope from an expensive 990FX board), and several of the enhanced features (Intel NIC, upgraded audio) are the main selling points of this product.
Visual Inspection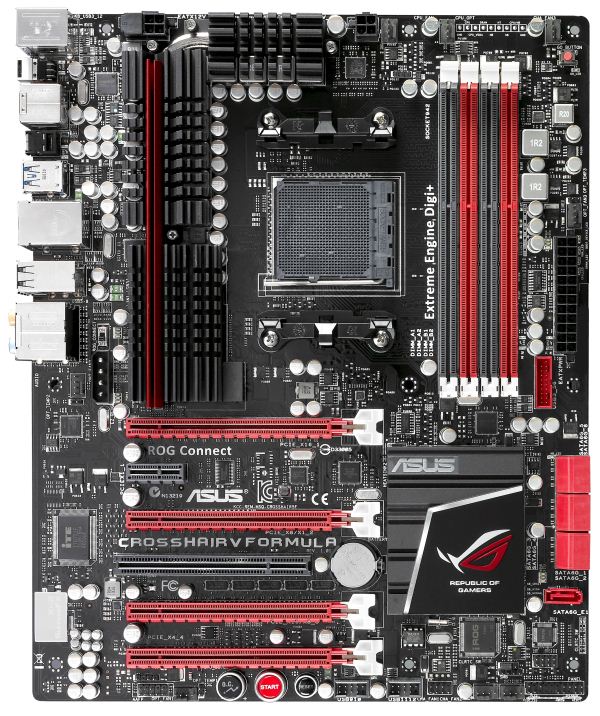 If you want features, out of the boards I am looking at today, the ASUS has got almost all of them. Sporting a red and black livery that is quintessential of the ROG range, ASUS has developed a low profile heatsink with a large surface area to cover the VRMs. Combined with the AM3+ socket which is so generously proportioned, there should not be much trouble fitting the beefiest of air coolers to satisfy 130W+ processors from the Thuban or Bulldozer ranges.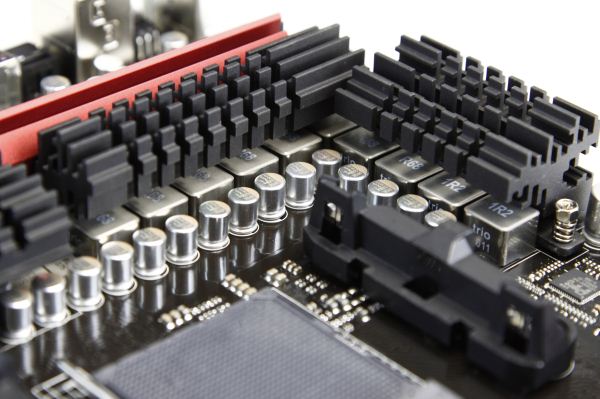 The board is populated with four DIMM slots meaning two per channel, and fan headers are frequent – a total of eight of them (all four-pin) on this board. That starts with two for the CPU (just above the socket) and three labeled as chassis fans (one in the top right corner, two in the bottom right). The final three are labeled as optional (one in the middle right above the 24-pin ATX connector, one on the bottom towards the left near the power/reset switches, and another to the left of the 4-pin molex connector above the PCIe slots). For anyone's needs, that is usually more than enough, unless an enthusiast wishes to make a wind tunnel with some powerful fans.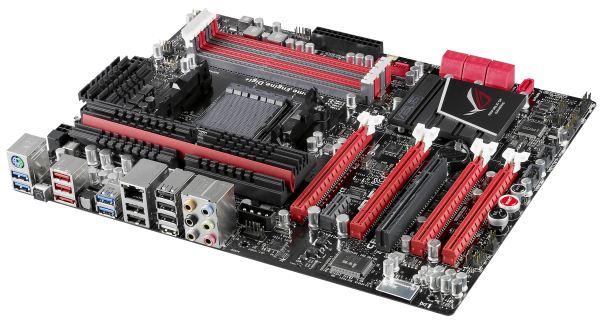 The USB 3.0 header is situated beside the 24-pin ATX power connector, in prime position for front panel USB 3.0 ports. Underneath this, we have the six SATA 6 Gbps ports from the chipset at right angles to the board, and another SATA 6 Gbps port from an ASMedia controller. Out of the boards tested today, only the Gigabyte has more SATA 6 Gbps ports available on the board (discounting eSATA).
Along the bottom of the board are the standard front panel and USB headers. Also here are the Power/Reset buttons, next to an overclock button. This is a one button selection for a system overclock, equivalent to the 'Fast' overclock setting in the ASUS software. What is a little disappointing is that there is no two-digit debug on board for diagnostics – should overclockers use this board, it is often a handy tool to have. Overclockers do have other options though – the iROG and ROG Connect options are valid on this board.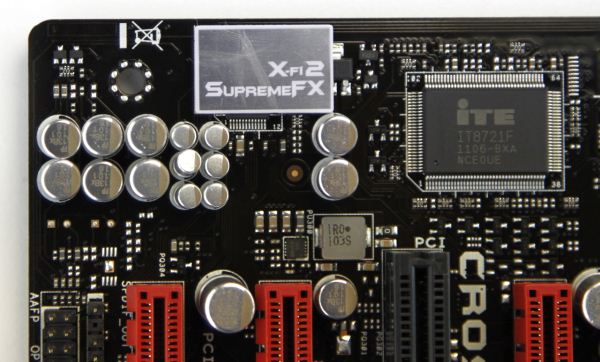 In the bottom left we find one of the primary marketing features of the Crosshair V Formula – the audio solution. On around 98% of modern chipset motherboards available for consumers, we typically see a Realtek solution, varying from the ALC887 up to the ALC898. On the rare occasion, we get something more – as it is here with the Crosshair V Formula, which sports the X-Fi 2 SupremeFX audio solution. Personally, I am not an audiophile, however out of the usual marketing bumpf that comes from corporate entities; this is one which should be advertised.
PCIe layout is designed to maximize airflow and GPU lanes – from the top, an x16, an x1, an x8, a PCI, an x16 (x8 when the x8 is populated), and an x4. This gives tri-card users enough space to put three cards in and still use all the headers at the bottom of the board – but only just. Why do I say only just? Well, the user has to ideally populate these ports before plugging in the second card. My case in point is to deal with AMD's all-in-one liquid cooler, which uses a USB port onboard to power the pump. With this connector in, I placed a second GPU in the board, which essentially locked the pump connector in place, almost impossible to remove without taking the second GPU out first. If a user has three GPUs on board, then they all need to be taken out to put anything like this connector into the USB power ports. It is an obscure issue (depending on how many people use these type of coolers or USB headers), but it is here nonetheless. Perhaps it is time for motherboard manufacturers to put a USB header next to the 24-pin ATX connector?

The IO back panel is fully featured – we start with a combination PS/2 port above a pair of USB 3.0 ports in blue. Next to this is the Clear CMOS button, alongside a pair of USB 2.0 ports above an eSATA 6 Gbps port. We also have a SPDIF output, another pair of USB 3.0 ports, gigabit Ethernet, four more USB 2.0 ports (the one in white is the ROG Connect port), and a set of audio jacks.