Graphics & Memory Controller Hub
The i815 features a unique Graphics & Memory Controller Hub that borrows from both the i810E and the i820E in terms of features.  From the i810E, the i815 takes its integrated graphics as well as its memory controller, which has been modified to support Intel's PC133 SDRAM specification.  Keep in mind that there is a difference between VIA's PC133 SDRAM specification and the one developed by Intel; however, the difference doesn't seem to be significant.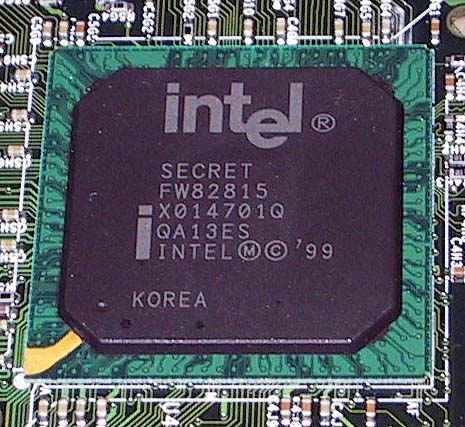 The i815's GMCH differs from its predecessors in that it supports an external AGP 4X slot like the i820/820E in addition to the integrated AGP graphics that separate the chipset's GMCH from the i820's regular MCH.  The presence of an external AGP 4X slot allows you to plug in a higher performance AGP graphics card, thus disabling the integrated video, and turns the i815 into a much more high performance desktop solution. 
You will also notice that unlike the i810/810E, the i815 does not feature an option for an on-board Display Cache.  The i810-DC100 and the i810E both featured a 4MB display cache running at either 100 or 133MHz depending on the chipset and was connected to the GMCH via a 32-bit dedicated bus.  The Display Cache could be used as the Z-buffer, thus freeing up system memory.  The i815 does not feature any such on-board display cache, but instead, the design calls for something known as a Graphics Performance Accelerator (GPA), which is essentially that 4MB display cache placed on a card that is inserted into your 815 motherboard's AGP 4X slot (see below).

Click to Enlarge
However, most of you will not have to worry about the on-board Display Cache since you will probably opt for adding in your own external graphics accelerator instead of trying to take advantage of the integrated video of the i815.  The Intel 3D with Direct AGP graphics, as Intel likes to call it, has not really improved since the release of the i810/810E.  The only difference is that, now, it operates at a higher clock speed, provided that you are running at the 133MHz FSB.