The Next iPhone
Historically the iPad has been the launch vehicle for Apple's next-generation iPhone SoC. It's safe to say that the 45nm A5X we've seen here today won't be finding its way into a smartphone. Instead what we're likely to see in the next iPhone this year is a 28/32nm shrink of the A5, coupled with Qualcomm's 28nm MDM9615 instead of the 45nm MDM9600 enabling LTE support.
It'll be next year before we see the introduction of the A6 in the fourth generation iPad, which will likely bring ARM's Cortex A15 to the table as well as Imagination Technologies' PowerVR Series 6 (codename Rogue) GPU. Apple isn't done driving GPU performance. There's still a chance we'd see the introduction of a Cortex A15 based SoC late this year for the new iPhone but I still believe the timing is too aggressive for that to happen.
Haswell
In working on this review, Vivek IMed me and told me the best part of using an iPad instead of a notebook is the battery life. When the battery indicator reads only 20% left, chances are you've still got a good couple of hours of battery life left on the new iPad. On a MacBook Pro? You're lucky if you get half of that.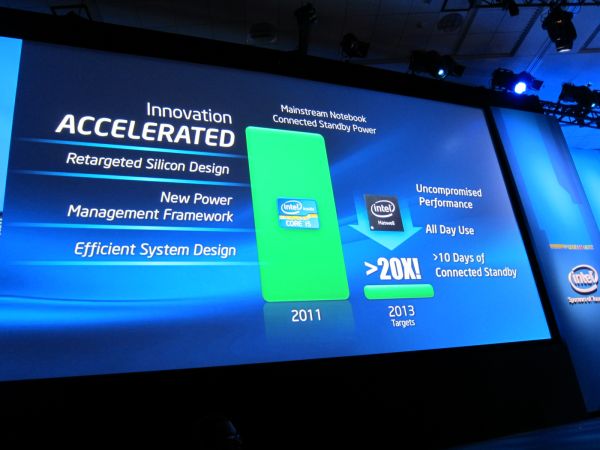 The question is, must this gap always exist? The MacBook Pro has much more power hungry silicon, and it's running a much more power hungry OS and application set. I won't go too far into this but one of the promises Intel is making with Haswell, its 2013 microprocessor architecture, is for a > 20x decrease in connected standby power. Intel's goal is to be able to deliver an Ultrabook in 2013 that can remain in connected standby (still receiving emails, Twitter updates, push notfications, etc...) for up to 10 days on a single charge.
What about for a lighter, more tablet like usage model? Will Haswell be able to deliver more iPad-like battery life for most tasks, but offer the horsepower and flexibility to run a traditional OS? I'm hearing very exciting things about next year...
Windows 8
A while ago I made a list of the top 10 things I did with my computer. It looked something like this:
Web Browsing
IM
Photo/Video Editing
Excel
Editing Reviews (HTML)
Publishing Reviews (FTP, CMS access)
3D Gaming
Writing
Email
Twitter
Of that list of 10, most of them could be done on a tablet, but only a couple of them delivered a better experience on a tablet than on a desktop/notebook (web browsing and email). You could argue that interacting with Twitter is also better on a tablet as well. Regardless of where you draw the line however, the fact of the matter is that for a user like me I can't replace a notebook with a tablet or vice versa. I need both. I don't like the idea of needing both, I'd rather just have one that could always deliver the best experience possible.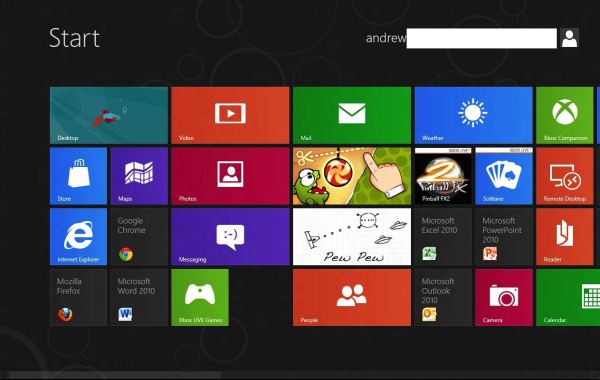 It's this problem I believe Microsoft is trying to address with Windows 8. Put Windows 8 on a convertible or dockable tablet (ala ASUS' Transformer Prime), with x86 hardware, and you've got a very real solution to this problem. When you want a touchscreen tablet, you've got one. When you want a more traditional workhorse notebook, you've got one there as well. I make the x86 reference because that way you don't lose out on compatibility with all of your older desktop apps that you may rely on.
For years Microsoft has failed to deliver a consumer friendly tablet by forcing a desktop UI on it. Its experience with Media Center taught us all that vastly different usage models need different user interfaces. It took Microsoft a long time to realize this, but with Windows 8 I believe it has one solution to the tablet problem. It is ironic/funny/depressing that with Windows 8 Microsoft is simply making the same mistake it made for years with tablets, in reverse. This time around the desktop experience suffers (or at best, just isn't moved forward) in order to focus more on the tablet experience. Sigh, one of these days they'll figure it out.
The point of this sidebar on Windows 8 is to talk about the iOS equivalent. Apple advocated so strongly with the iPhone for the consolidation of devices, I can't help but assume that we'll see a similar move in the MacBook Air/iPad space. iOS is far more multitasking friendly today than it was a couple of years ago. The support for multitasking gestures alone on the iPad is huge. But there clearly has to be more. I don't even know if iOS 6 is really when we'll see this intersection between tablet and ultra portable happen. Like Haswell, this may also be a 2013 thing...