Input Lag and Power Use
Since the HP automatically scales the image if it is not sent at 2560x1440 and I don't have a CRT that can produce that resolution, the HP had to run at 1920x1080 resolution for the lag tests. This is our second review using the SMTT program to test lag, but this lets us separate the input lag from the pixel response time, so we can hopefully figure out the effect of scaling the image. There is a chance that the performance with a native 2560x1440 signal could be better on the input lag, so these measurements again represent the worst case scenario.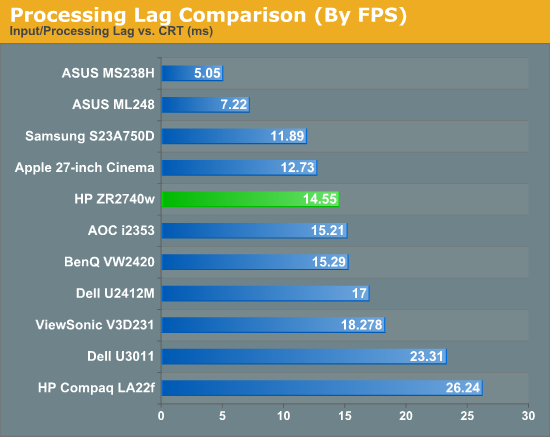 Despite this, the lag on the HP is very low overall, with 14.55ms being the worst case scenario. This breaks down at 2.6ms of input lag, and then 11.95ms of pixel response time. This is less than a frame of lag at the 60Hz refresh rate the display supports, so it should be fast enough for your gaming use, though hopefully your video card can keep up with it at 2560x1440. The effective lag, which is a more subjective measurement, came in at right around 10ms in my estimation. At that point you can clearly see what color a pixel was changing to, even if it hasn't reached peak brightness yet. I really don't think anyone will have issues gaming on the HP, which is very nice.
With the size of the ZR2740w, and the amount of light that if can put out, you can imagine that even with an LED lighting system it is going to use a lot of power. At minimum brightness the HP consumed 26 watts, and at maximum brightness it consumed 96 watts. With my usual settings (closer to 150-160 nits of brightness) I was seeing closer to 45 watts of power use on it. This isn't the most efficient display you can get, but when you consider that it is likely to replace dual 24" monitors for a lot of users, the power use is better in perspective. Compared to the 30" monitors we have reviewed it is very good, and about equal to the 27" Apple Cinema Display.