Video Transcoding Performance
x264 HD 3.03 Benchmark
Graysky's x264 HD test uses x264 to encode a 4Mbps 720p MPEG-2 source. The focus here is on quality rather than speed, thus the benchmark uses a 2-pass encode and reports the average frame rate in each pass.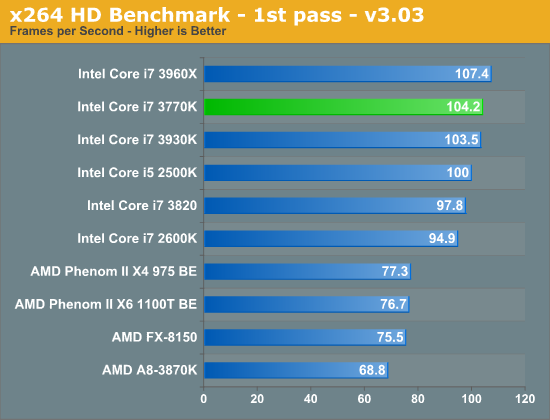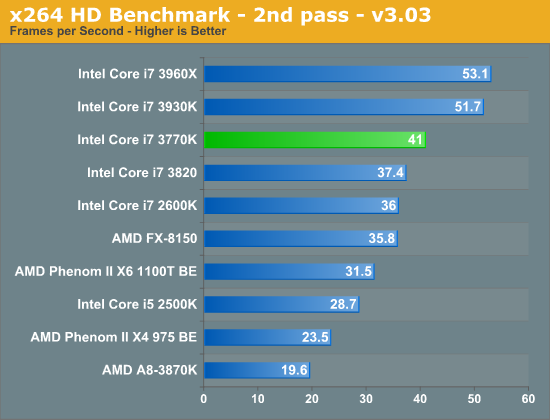 In the second pass of our x264 test we see a nearly 14% increase over the 2600K. Once again, there's no replacement for more cores in these types of workloads but delivering better performance in a lower TDP than last year's quad-core is great for more thermally conscious desktops.
Software Development Performance
Compile Chromium Test
You guys asked for it and finally I have something I feel is a good software build test. Using Visual Studio 2008 I'm compiling Chromium. It's a pretty huge project that takes over forty minutes to compile from the command line on a Core i3 2100. But the results are repeatable and the compile process will stress all 12 threads at 100% for almost the entire time on a 980X so it works for me.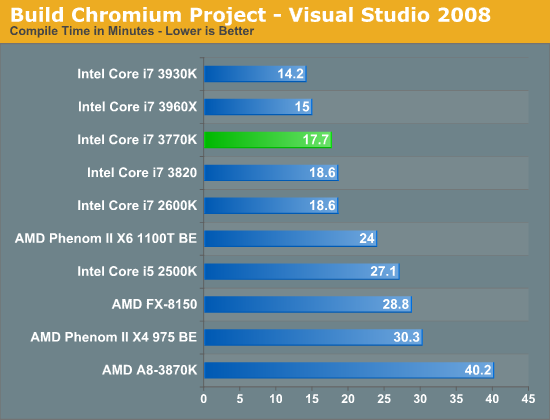 Ivy Bridge shows more traditional gains in our VS2008 benchmark - performance moves forward here by a few percent, but nothing significant. We are seeing a bit of a compressed dynamic range here for this particular compiler workload, it's quite possible that other bottlenecks are beginning to creep in as we get even faster microarchitectures.