Ivy Bridge Architecture Recap
At IDF Intel disclosed much of Ivy's CPU architecture, but below is a quick summary:
- 4-wide front end with µOp cache from Sandy Bridge
- OoO execution engine from Sandy Bridge
- Data structures previously statically shared between threads can now be dynamically shared (e.g. DSB queue), improves single threaded performance
- FP/integer divider delivers 2x throughput compared to Sandy Bridge
- MOV instructions no longer occupy an execution port, potential for improved ILP when MOVs are present
- Power gated DDR3 interface
- DDR3L support
- Max supported DDR3 frequency is now 2800MHz (up from 2133MHz), memory speed can be moved in 200MHz increments
- Lower system agent voltage options, lower voltages at intermediate turbo frequencies, power aware interrupt routing
- Power efficiency improvements related to 22nm
- Configurable TDP
I've highlighted the three big items from a CPU performance standpoint. Much of the gains you'll see will come from those areas coupled with more aggressive turbo frequencies.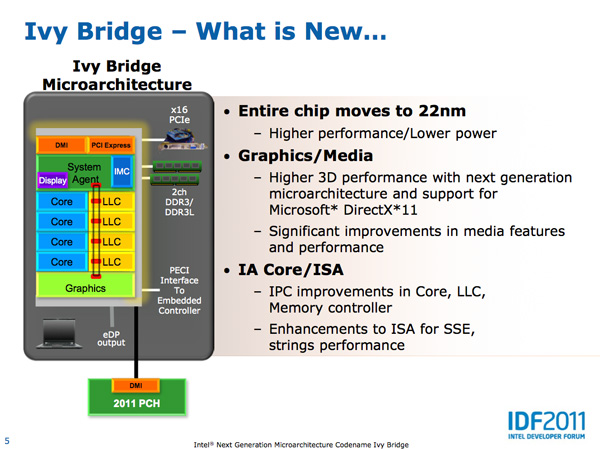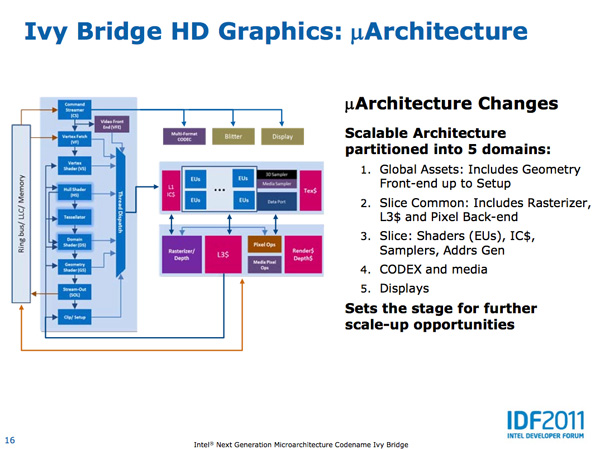 On the GPU, the improvements are more significant. Some of the major changes are below:
- DirectX 11 Support
- More execution units (16 vs 12) for GT2 graphics (Intel HD 4000)
- 2x MADs per clock
- EUs can now co-issue more operations
- GPU specific on-die L3 cache
- Faster QuickSync performance
- Lower power consumption due to 22nm