Anisotropic Filtering Quality
At IDF last year Intel promised an improvement in its anisotropic filtering quality compared to Sandy Bridge. Personally I didn't believe SNB's GPU was fast enough to warrant turning on AF in most modern titles, but as Intel's GPU performance improves it must take image quality more seriously.
I wouldn't put a ton of faith in these early results as things can change, but AF quality does appear to be much better than Sandy Bridge: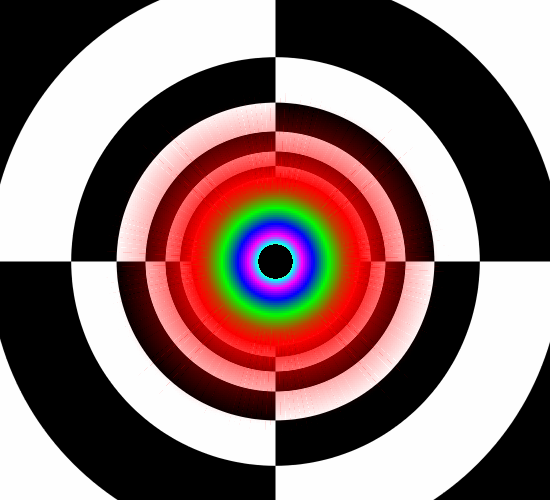 The peculiar radial lines that were present in SNB's algorithm remain here, although they are more muted. Again it's too early to tell if we're looking at final image quality or something that will improve over time. If we are to judge based on this result alone, I'd say it mirrors what we saw in our performance investigation: Ivy is a step towards AMD in the GPU department, but not a step ahead.
DirectX 11 Compute Performance
As Ivy Bridge is Intel's first DirectX 11 GPU architecture, we're actually able to run some DX11 workloads on it without having them fall back to DX10. We'll do a much more significant investigation into GPU compute performance in our full Ivy Bridge review, but as a teaser we've got our standard DirectX 11 Compute Shader Fluid Simulation test from the DX11 SDK: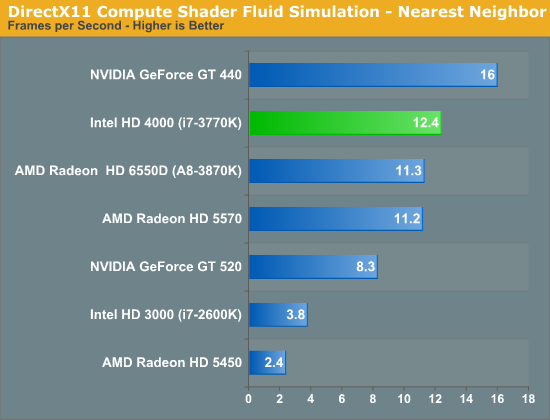 Ivy Bridge does extremely well here, likely due in no small part to its excellent last level cache. The Fluid Simulation we run looks at shared memory performance, which allows Ivy to do quite well. We're seeing over 3.2x the performance of Sandy Bridge here, and even a slight advantage over Llano.