Crysis: Warhead
Kicking things off as always is Crysis: Warhead. It's no longer the toughest game in our benchmark suite, but it's still a technically complex game that has proven to be a very consistent benchmark. Thus even four years since the release of the original Crysis, "but can it run Crysis?" is still an important question, and the answer continues to be "no." While we're closer than ever, full Enthusiast settings at a 60fps is still beyond the grasp of a single-GPU card.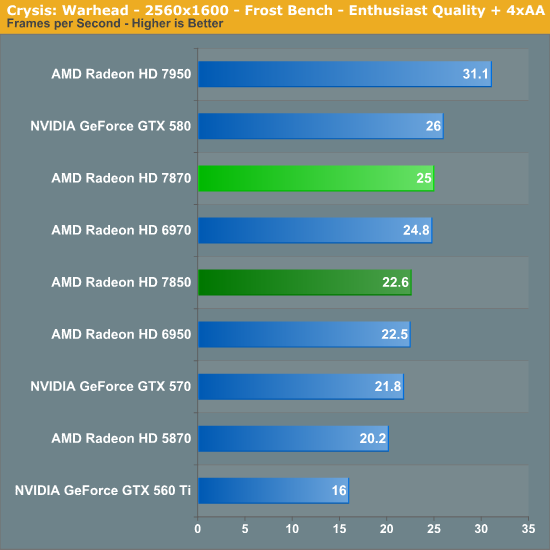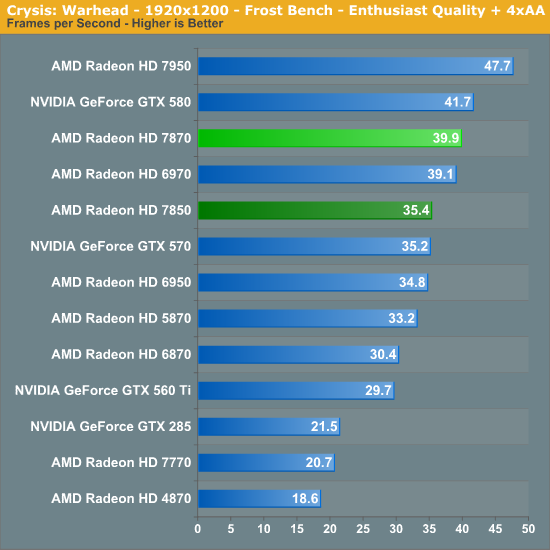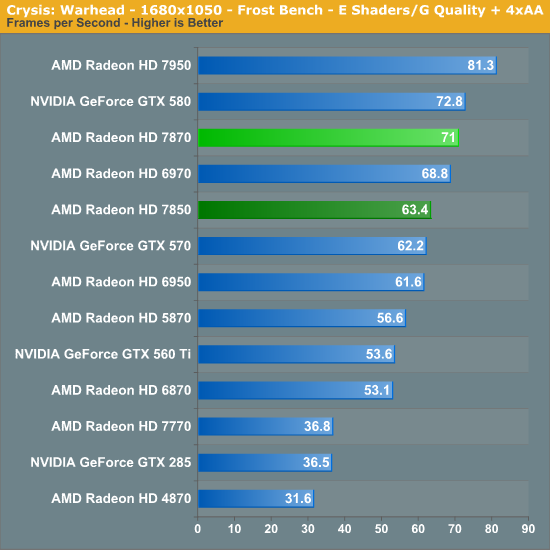 As we'll see throughout today's benchmarks, Crysis ends up being a good proxy for the 7800 series' performance, especially compared to the outgoing 6900 series. Ahead of the Southern Islands launch there was some doubt that AMD could deliver 6900 series performance with the 7800 series, and this doubt increased after the 7700 series underperformed the 6800 series. Results like what we're seeing with Crysis should make it clear that the 7800 series is more than a competitor for the 6900 series, with both the 7870 and 7850 equaling or beating the 6970 and 6950 respectively in almost all tests.
Overall at 1920x1200 the 7870 gets 39.9fps, which isn't quite enough to smoothly handle enthusiast quality and 4x MSAA. Meanwhile the 7850 is farther down the line at 35.4fps; both cards would need Crysis's settings turned down to reach 60fps here. Compared to the 7950 the 7870 trails it by 17%, giving AMD's next card up a fairly wide lead in this game.
Meanwhile compared to NVIDIA's lineup the 7800 series does quite well here, reflecting the fact that the 7800 series doesn't have a true equal in NVIDIA's existing lineup. At 1920 the 7870 leads the GTX 570 by 12% and is within spitting distance of the GTX 580, while the 7850 is virtually tied with the more expensive GTX 570 while it leads the GTX 560 Ti by 19%. Elsewhere at 2560 the 7870 has a similar lead, while the 7850 has a 41% lead on the GTX 560 Ti; while 2560 is not the ideal resolution for either card, it's something to keep in mind when we begin discussing the impacts of the 7800's 2GB of RAM.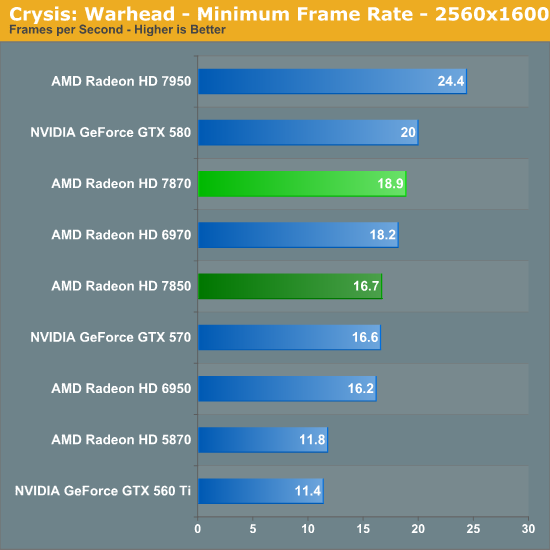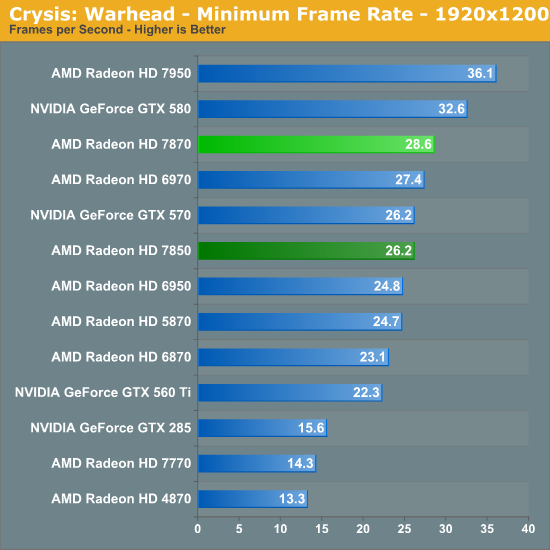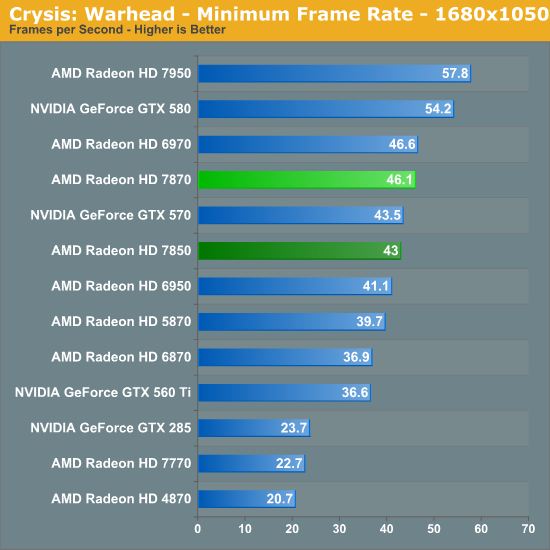 When it comes to minimum framerates in Crysis the relative rankings are nearly identical. The 7800 series extends their lead over the 6900 series by a slight degree, while the lead over NVIDIA's cards shrinks slightly.