Intel had a few updates about its Android SoC strategy for us at MWC this week. The first is a spec revision. The Atom Z2460 we talked about in great detail at CES was originally specced to run at a max of 1.3GHz but it could burst up to 1.6GHz if the thermal conditions allowed it (ala turbo boost). Z2460 yields on Intel's 32nm LP process are apparently better than expected so the Atom core will be able to turbo up to 2.0GHz instead of 1.6GHz. The default max frequency remains unchanged at 1.3GHz.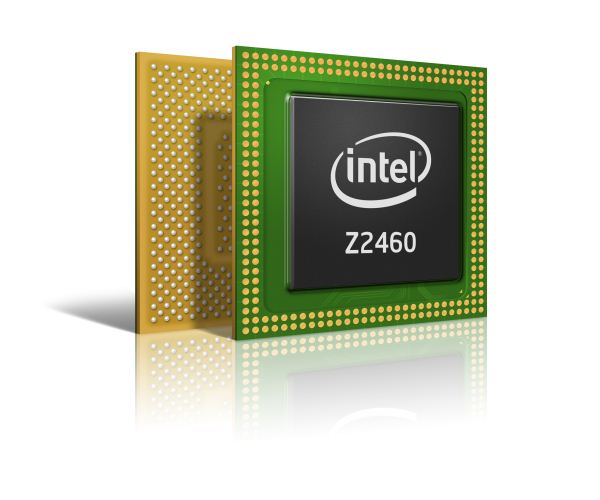 Next, Intel announced two new Atom SoCs for the smartphone market: the Z2580 and the Z2000.
The Z2580 is a higher end part, back from the fab now but shipping in devices in the first half of next year. It features the same architecture as the Atom Z2460 but instead of a single Saltwell core it has two, with Hyper Threading enabled (2 cores, 4 threads). The CPU cores can burst at up to 1.8GHz, while the default max CPU frequency remains at 1.3GHz.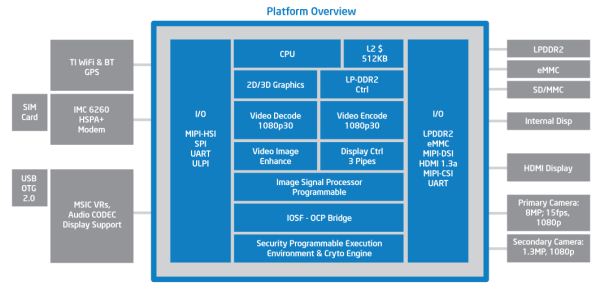 The CPU isn't the only part of the SoC to get an upgrade: Intel equipped the Z2580 with a PowerVR SGX 544MP2 GPU running at 533MHz. The SGX 544 is similar to the 543 used in Apple's A5, however it adds support for Direct3D 9_3. At 533MHz you can expect roughly twice the shader/compute performance of the 543MP2 that's in the A5. Granted by early next year we'll likely see competitive, if not faster GPUs implemented in SoCs (quite possibly long before then).
The Z2580 will be paired with Intel's XMM 7160 LTE baseband. The 7160 is an upgraded version of the XMM 7060 that adds support for 3GPP Release 9. The full specs of the solution are below:
Intel XMM7160 LTE
3GPP Rel.9, FDD-LTE Cat 3 (100Mbps DL/50Mbps UL); CSFB, capable for VoLTE, SRVCC, E911 over LTE. TDD-LTE/TD-SCDMA
3GPP Rel.9, DC-HSPA+ Cat 20&24/Cat7 (42Mbps DL/11.5Mbps UL)
2G Quad-Band 850/900/1800/1900 MHz
HSPA+/UMTS Penta-Band 850/900/1900/2100/AWS MHz
LTE Hepta-Band 850/1800/1900/2100/AWS/2600/700 or 800 MHz
Android telephony framework and UI extensions
The Z2580 also received upgrades on the modem interface side to cope with the increased bandwidth from the LTE baseband. Remember the Z2460 launched with a HSPA+ baseband pair (XMM6260).
Just like with the Z2460, Intel has produced a FFRD (Form Factor Reference Design) based around the Z2580/XMM7160. I don't have photos (nor have I seen) the new high-end FFRD, but I'm told it's a better looking design than the current Medfield design. The only detail I have about the new reference design is it comes with a larger battery: 6.771Whr.
The Z2580/XMM7160 FFRD will begin sampling in the second half of this year, with customer units shipping in the first half of next year.
Intel Android Atom SoC Comparison
Low End
Mid Range
High End
Name
Intel Atom Z2000
Intel Atom Z2460
Intel Atom Z2580
CPU Clock (base/turbo)
1.0GHz
1.3GHz/2.0GHz
1.3GHz/1.8GHz
GPU
PowerVR SGX 540
PowerVR SGX 540
PowerVR SGX 544MP2
GPU Clock
320MHz
400MHz
533MHz
Process Technology
Intel 32nm LP
Intel 32nm LP
Intel 32nm LP
Availability
1H 2013
1H 2012
1H 2013
The Z2000 is Intel's new low-end Atom SoC SKU. While the Z2580 has two Atom cores, the Z2000 only has one. Max clock speed is limited to 1GHz and there is no support for Hyper Threading. Intel is planning on putting this core up against the ARM11 based SoCs that still sell into the low end of the smartphone space.
The GPU remains unchanged from the Z2460 (PowerVR SGX 540) however the max clock speed is limited to 320MHz (down from 400MHz). 1080p video decode is supported but video encode is limited to 720p.
The Z2000 will be paired with Intel's XMM6265 HSPA+ baseband:
Intel XMM6265
HSPA+ Rel.7, Cat 14/Cat6 (21Mbps DL/5.8Mbps UL)
2G Quad-Band 850/900/1800/1900 MHz; GPRS EDGE Class 10
HSPA+/UMTS Tri-Band 900/1900/2100 MHz (I/II/VIII)
The Z2000 has its own form factor reference design, which is different from both the Z2460 and Z2580. Once again I only have a single piece of information Reference designs are especially important at the low end as they can save customers quite a bit of money. With narrow margins there's not a whole lot of room to spend on industrial design or hardware customizations. A turnkey solution that's well built and reliable will be very useful for this market.
Intel FFRD Comparison
Low End
Mid Range
High End
SoC
Intel Atom Z2000
Intel Atom Z2460
Intel Atom Z2580
Modem Pairing
Intel XMM6265
Intel XMM6260
Intel XMM7160
Length
110.5mm
123.0mm
?
Width
61.0mm
63.0mm
?
Height
12.5mm
9.99mm
?