In August of last year, Samsung laid out it's naming strategy for their Galaxy line of phones, with a grand total 5 device categories. Well, turns out they left two off. The just announced Galaxy Ace 2 and mini 2 are sequels to their respective cost conscious predecessors, and while the specifications aren't mind boggling, there may be more to them than meets the eye.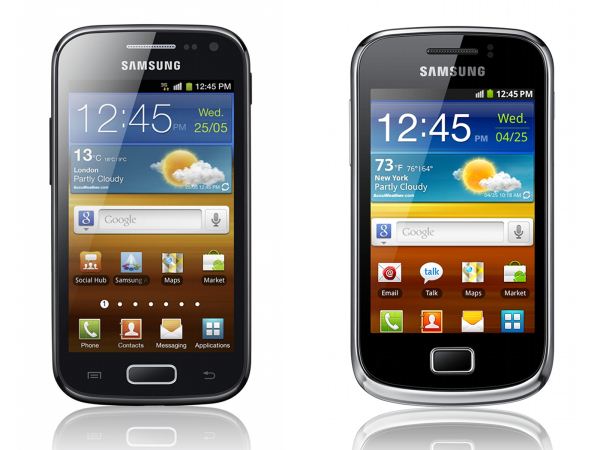 The Ace and mini were popular siblings to the Galaxy S line, in Europe; and squarely targeted those not willing to pay the high premiums of, say, the Galaxy S II. The Ace, introduced last year, looked strikingly similar to the S II, though its internals were more 2009 than 2011. With a single 800 MHz ARM11 core, and Adreno 200 graphics, this phone wasn't going to be posting high Linpack or glBenchmark scores. Its successor, the Ace 2, seems to be packing a bit more oomph, keeping the clock speed the same while doubling the core count. But what is it?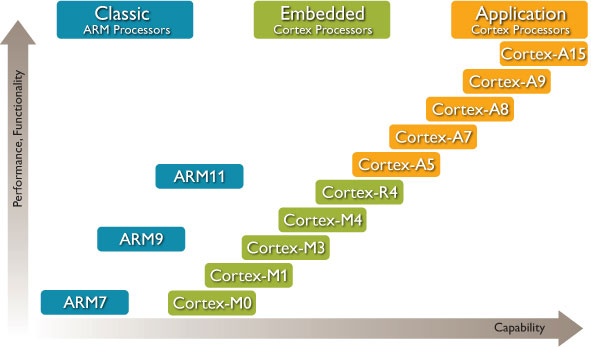 It's possible, though somewhat unlikely, that the processor is some variant of the Exynos line, say a lower binned sample selected for lower speed operation. Take a look at that chart above, though. The Classic ARM line ends with the Ace's ARM11 processor; and sliding over to the Cortex line, you find the Cortex-A5. First announced in 2009, we haven't actually seen a Cortex-A5 processor in production. The design is very power efficient and aimed at low cost devices. It has about half the performance of the Cortex-A15 line at similar clock speeds, and supports core counts of 1, 2 and 4. It would make a great fit for a dual-core smartphone targeted at the sub-$300 price point, as the Ace 2 probably will be.
The Ace 2 improves on the Ace, further, by moving from 3.5" HVGA (320x480) to 3.8" WVGA (480x800), though the panel remains a vanilla LCD. Storage climbs to 4GB, with up to 32GB additional through a microSD slot. The SoC is paired up with 768MB of RAM, and powered by a 5.5Whr battery. The mini halves the core count, and apes the original Ace in most other specs, though the screen is a touch smaller at 3.27" and retains the Ace 2's 4GB of NAND. The phones will launch with Android 2.3 (Gingerbread) running Samsung's TouchWiz skin and myriad and assorted Hubs. UK buyers will get their hands on the Ace 2 in April, while French readers will be able to try out the mini 2 this March; global roll-outs will be sometime after. Pricing was not announced, though don't expect them to land far off their predecessors (Ace 2 ~$300, mini 2 ~$200). We're digging to find out more about the SoC's inside and will update as we learn more, in the interim, follow the source link for the (announced) specs.
Source: Samsung Mobile