AOpen AX6BC Pro Gold - Click Here for the AnandTech Review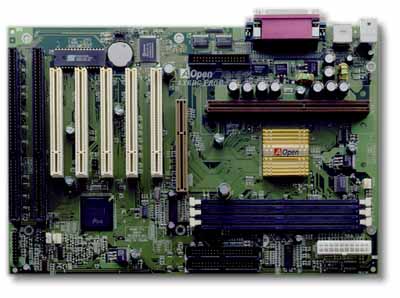 Click to Enlarge
Motherboard Specifications

CPU Interface

Slot-1

Chipset

Intel 440BX

L2 Cache

N/A (on-chip)

Form Factor

ATX

Bus Speeds

66 / 68 / 75 / 83
100 / 103 / 112 / 117 / 124 / 129
133 / 138 / 143 / 148 / 153

Voltages Supported

Auto Detect
Adjustable to 1.3V - 3.5V

Memory Slots

3 168-pin DIMM Slots

Expansion Slots

0 AMR Slots
1 AGP Slot
5 PCI Slots (5 Full Length)
2 ISA Slots (1 Shared / 1 Full Length)

BIOS

Award 6.00PG
When we reviewed it back in July of 1999, the AX6BC Pro Gold left a lasting impression on us.  The impression was great enough that it won our Editor's Choice award for best Slot-1 BX motherboard at the time.  Now, using the 133MHz FSB on the board, it's still just as impressive.
The board remains unchanged from when it was released in 1999; it still features no Ultra DMA 66 controllers and no extra USB ports.  The 'Gold' suffix in its name comes from the gold plated heatsink that is present on the 443BX North Bridge, which doesn't do all that much other than to attract attention to the motherboard itself. 
The AX6BC Pro features 5 PCI slots, all of which are bus master PCI slots.  Four of the five slots are capable of accepting full length cards while the fifth slot is blocked by a 3-pin fan connector. 
The board shares IRQs just like every other board, the first and second PCI slots are shared with the AGP slot.  The fourth and fifth PCI slots share an IRQ with the on-board USB controller, and finally, the third PCI slot is the ideal one to install your PCI peripherals in since it does not share an IRQ with any other slots. 
The AX6BC Pro Gold features a fully jumperless CPU configuration utility present in the BIOS.  While it is definitely not as flexible as the ABIT boards in terms of the number of options present in the BIOS setup, it is decent in that it provides you with all of the options you need to get up and running, including FSB and core voltage tweaking.