ABIT BF6 - Click Here for the AnandTech Review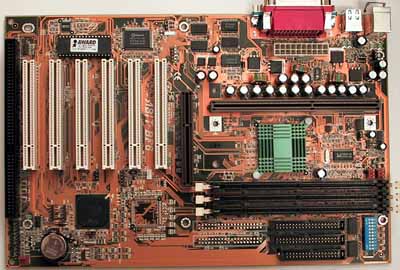 Click to Enlarge
Motherboard Specifications

CPU Interface

Slot-1

Chipset

Intel 440BX

L2 Cache

N/A (on-chip)

Form Factor

ATX

Bus Speeds

66 / 75 / 83 - 200 in 1MHz steps

Voltages Supported

Auto Detect
Adjustable to 1.3V - 3.5V

Memory Slots

3 168-pin DIMM Slots

Expansion Slots

0 AMR Slots
1 AGP Slot
6 PCI Slots (5 Full Length)
1 ISA Slots (1 Shared / 0 Full Length)

BIOS

Award 6.00PG w/ ABIT SoftMenu III
The ABIT BF6 is a fairly average BX motherboard.  It does not feature any Ultra DMA 66 controllers or additional USB ports, aside from the 2 provided by the Intel PIIX4e South Bridge. 
The board does feature 6 PCI slots, but without an external PCI arbiter chip, only five of them can support bus master devices, the 6th PCI slot remains a slave capable of being populated by cards that don't require a master slot.  Unfortunately, the number of devices that can operate in a slave slot are limited and include some PCI graphics accelerators, a Voodoo2, and some Ethernet adapters.  So for most purposes, the BF6 is really only a 5 PCI slot motherboard. 
Out of the 6 PCI slots on the BF6, 5 are capable of accepting full-length cards, which is very useful to know if you're planning to get a PCI Voodoo5.  The single ISA slot present on the board can't accept a full-length card, but as long as you're not planning to re-use your extremely old ISA peripherals, you should be fine. 
The AGP slot on the BF6 can share an IRQ with either the first or the second PCI slot depending on which one is populated (assuming only one is), the third and sixth PCI slots share an IRQ and the fourth and fifth PCI slots share an IRQ with the USB controller.  This is a fairly standard IRQ sharing map for a BX motherboard with 6 PCI slots. 
What makes the BF6 stand out from the rest of the crowd is ABIT's patented SoftMenu III Jumperless CPU Setup & Configuration utility that is integrated into the board's Award 6.00PG BIOS.  SoftMenu III provides for a total of 120 FSB speed settings, more specifically standard 66 / 75 / 83 settings plus speeds from 84 - 200 in 1MHz increments.  There is still support for adjusting the PCI ratio (1/2, 1/3, or 1/4 of the FSB speed), AGP ratio (2/3 or 1/1 of the FSB speed), and CPU core voltage (default +/- 0.3V). SoftMenu III also offers the ability to adjust the I/O voltage of the PCI / AGP bus and SDRAM to 3.2 - 3.9V in 0.1 V steps (default is 3.3V), as well as some options for L2 cache latency, all in an effort maximize overclocking potential. The defaults for all these settings are clearly labeled, so causing serious damage will take a bit of work.
In addition to the SoftMenu III jumperless setup, the BF6 features a set of 10 dip switches that can control the otherwise jumperless features on-board.  This is mainly for OEMs and system integrators and doesn't really apply to most hardware enthusiasts. 
The BF6 managed to get quite a few BIOS updates from ABIT that supposedly improved stability when running at 133MHz FSB.  We tried our BF6 with an older BIOS revision as well as the newer RV revision, which claimed to "improve the 133MHz option in SoftMenu."  While the BF6 would lock up under 3D games and applications using older BIOS revisions, under the RV revision, the system was noticeably more reliable and it wouldn't lock up under 3D games and applications.  This BIOS is available on ABIT's download site.