Unlike some of our launch recaps (including the 7770 recap article, which covers a whopping ten cards and should come later today), we have only a handful of cards to cover in the Radeon HD 7750 lineup—while our review noted that neither it nor the 7770 are a slam dunk from a price/performance perspective, at present the 7750 has a few things that make it interesting: (1) it's the cheapest way to get in on AMD's GCN architecture, coming in right above $100, and (2) it's one of the fastest cards you can get that doesn't require external power, making it a slightly better candidate as a drop-in graphics card for an OEM PC with a lackluster power supply.
We've only got three cards, and they'll go by quickly. Let's get started.
| | | | |
| --- | --- | --- | --- |
| | ASUS | HIS | MSI |
| Part Number | HD7750-1GD5 | H775F1GD | R7750-PMD1GD5/OC |
| Core Clock | 820 MHz | 800 MHz | 830 MHz |
| Memory Clock (Effective) | 1150 MHz (4600 MHz) | 1125 MHz (4500 MHz)* | 1125 MHz (4500 MHz) |
| Dimensions in inches (dimensions in mm) | 7.8 x 5 x 1.7 (198.12 x 127 x 43.18) | 7.13 x 4.80 x 1.34 (181 x 122 x 34) | 6.69 x 4.37 x 1.50 (170 x 111 x 38) |
| Included accessories | DVI to VGA adapter | DVI to VGA adapter* | DVI to VGA adapter |
| Warranty | 3-year | 2-year | 3-year parts, 2-year labor |
| Price (Newegg) | $109.99 | $109.99 | $119.99 |
First, indulge me in a rant about card dimensions—the manufacturers for these three cards provided their dimensions in three different units (inches, centimeters, and millimeters)—for consistency's sake I've converted all units as needed and listed both inches and millimeters above. However, it'd be nice if everyone could unify around one unit of measurement to make these apples-to-apples comparisons easier and to cut down on inconsistencies between manufacturers—the card dimensions above all vary quite a bit for cards that, at least judging from pictures, appear to be pretty close to the same size (note the height and the length of each card, in particular)—this was especially true in our 7970 launch recap, where sizes varied wildly among cards that all used pretty much identical PCBs and coolers. My point being, these figures are provided above, but without physical access to each card and a ruler, it's difficult to ensure accuracy. There, I've said my piece.
Carrying on: Common to all of these cards are the basic characteristics of the 7750 series—1GB of GDDR5 memory on a 128-bit bus, Eyefinity support, DVI-I, HDMI, and DisplayPort outputs, and all of the features inherent to GCN (including DirectX 11.1 and OpenGL 4.2 support and a host of others). All of the cards are pretty light on accessories, which is par for the course once you get down into this price range—multiple adapters and bundled HDMI cables are for more expensive cards.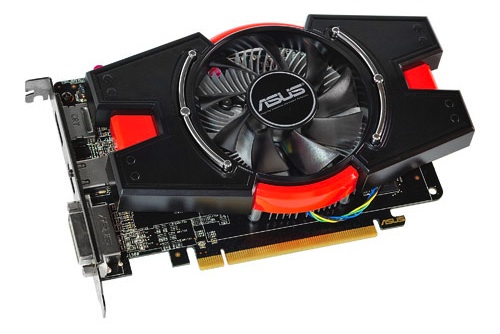 ASUS' card sports a very mild overclock on both the core and the memory, and when I say "very mild" I mean about 2.5% and 2.2%, respectively. Still, if you prefer not to overclock, this card is the only one in the lineup with any sort of memory overclock, and it includes the best warranty in the lineup (three years, which covers both parts and labor). This card also uses a single-fan cooler that, in pictures, appears to take up about a slot and a half of space in a case—this card, along with the HIS card, should be a good option for those with cramped cases.
Overall, given this product's price and clocks, I'd say it's the best value here by a narrow margin from a performance perspective, though the MSI card's larger fan may be better for those hoping for slightly better overclocks.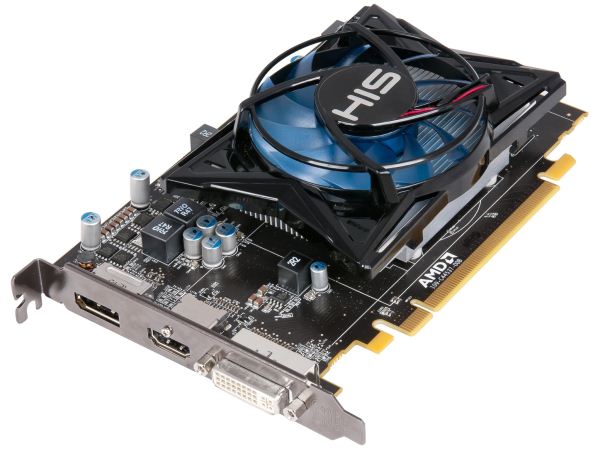 This card is the only one in our lineup running at stock clocks out of the box, though intrepid overclockers should be able to match (or best) the other cards' wimpy stock overclocks without much trouble. The card's two year warranty is also the shortest of the three, though it costs the same as the ASUS card.
HIS calls the single-fan cooler on this card an "iCooler," and its claim to fame is silence—HIS claims it generates less than 28 dB of noise at idle, and a nice analysis over at TechPowerUp seems to confirm this (at both idle and load, the fan is still within a few dB of quieter cards like the 5670 and louder ones like the 7770). Quiet computing enthusiasts may find something to like here.
*: Note that as of this writing, this card's Newegg product page lists a memory clock of 1375 MHz (5500 MHz effective), while the official HIS product page cites a speed of 1125 MHz (4500 MHz effective). Since 1125 MHz is the correct stock speed for this card, I believe that the values from HIS are correct—don't order this card thinking you're getting a massive memory overclock.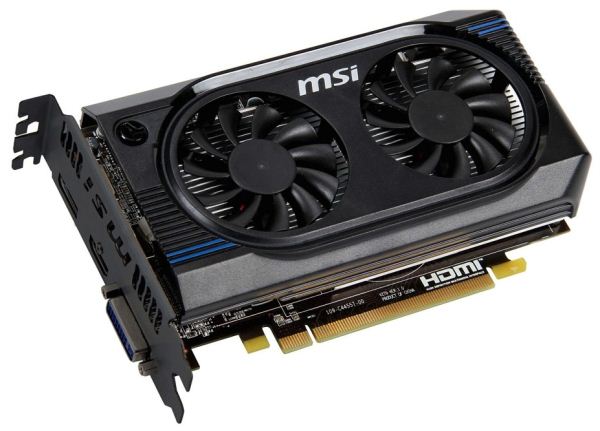 The MSI card's main differentiating factor is its large dual-fan, dual-slot cooler, which also includes a large heatsink—overclockers may want to look at this one over the other two, though the fancier cooler drives this card's price up $10 compared to the competition. From the factory, the MSI card's 830 MHz core clock edges out the ASUS card's 820 MHz clock, but it sticks with the stock memory clocks (and that extra 10 MHz overclock is a rounding error, in any case). The warranty here falls right in the middle—it has a three year warranty on parts, but only a two year warranty on labor.
*: MSI's product pages for all 7000-series cards use the same accessories list, and notes that "accessories will probably be different according to the different selling areas of product models." The accessories list includes a DVI to VGA adapter, a CrossFire bridge, a Mini DisplayPort to DisplayPort adapter, and a 4-pin to 6-pin power adapter—since the 7750 can't use the last three accessories in that list, it's safe to assume that a DVI to VGA adapter is all you'll get with this card.