Final Words
From the start, $390 is a lot to spend on a motherboard, even in the land of X79. The whole range starts from as low as around $230, all the way up to $500 and beyond (if rumors of future models are true). For that money, you want function, performance, aesthetics, and an assurance that nothing will go wrong. MSI seem to have done well in light of this and have produced a good board.
For the XL-ATX form factor on the MSI Big Bang-XPower II, we get a total of ten SATA ports (four SATA 3 Gbps, six SATA 6 Gbps) and six USB 3.0 ports (four on the back panel, two via a header). Also on the board is a 22-phase power supply, 8 DIMM slots (two per channel), dual Intel network controllers, novelty heatsinks in the shape of a gun and a magazine, and seven full length PCIe slots which default to x16/x16, x16/x8/x8 or x16/x8/x8/x8 in multi-GPU mode. Along with power, reset and DirectOC buttons, the two-digit debug LED and rear panel clear CMOS, we have OC Genie which gives a 4 GHz overclock, and a button to switch between two BIOSes. The MSI BIOS is top notch, giving a very easy to use system for adjusting and updating, and the included software is quite good as well. The bundle includes a USB 3.0 front/back panel, a novel eSATA back panel, eight SATA cables and a variety of flexible SLI connectors.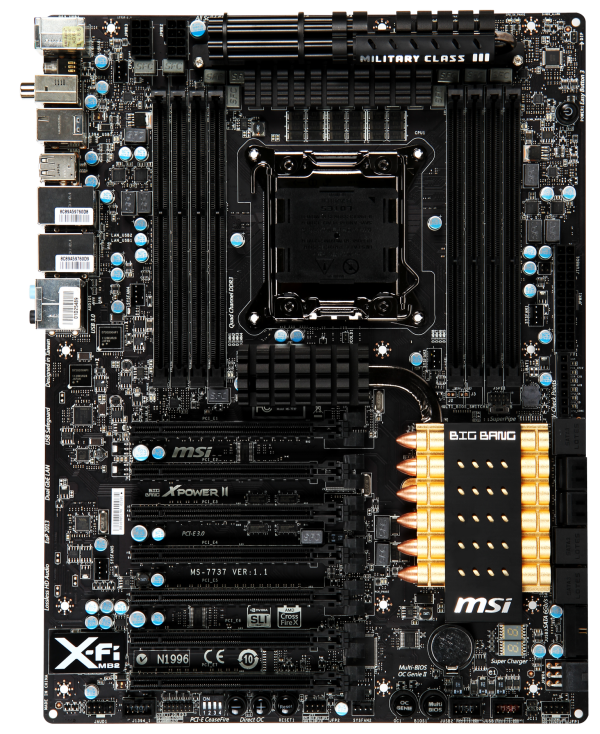 There are downsides. The auto-overclock is a little too conservative, perhaps for the benefit of system builders, as it only raises the core clock to 4 GHz – other X79 motherboards either provide a range of automatic overclock settings or just go straight in at 4.5 GHz. The reset button is too close to the DirectOC button, meaning overclockers not paying attention could lose their overclock. The fan controls also are pretty basic, not allowing for any ramping or hysteresis.
The board has performed well overall, and if you picked on off the shelf, I doubt you would be disappointed, even if you ran it at stock. However, there are a lot of cheaper boards which would run just as well at stock, which brings into question the element of price. For $390, there is a lot of functionality here if you are willing to use it – quad GPU users or overclockers could happily use this board, or those requiring dual Intel network controllers.
In terms of the boards I have reviewed that are X79, the tour de force has been the ASUS P9X79 Pro, which currently retails for $320. This MSI is bigger (more multi-GPU capabilities), uses dual Intel NICs, more SATA ports, more in the box, just as easy to use, and 'Military Class III' components if that is important to you. However the ASUS has BIOS flashback, SSD caching, better fan controls, and has a more adaptive auto-overclock system.
Can we justify $70 for the brief summary of these differences? I think we can – these boards hit very slightly different types of enthusiast, and enthusiasts not explicitly wanting some of the unique features of other boards and have a bit of extra money should consider the MSI Big Bang-XPower II. It is a board with functionality that works, is easy to use, and should keep you happy with your build. If you're thinking of going X79 and picking up either an i7-3820 or i7-3930K, this motherboard could most likely be at the top of your price range, which is slightly unfortunate, but for i7-3960X users it does represent a good platform to base your build under.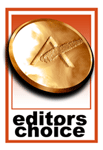 Would I recommend this motherboard, would I be happy using it personally on a day to day basis? Yes, I would. For overclockers or anyone who appreciates what the highest performance systems can offer, this motherboard delivers nearly everything we could ask for. As a result of this, I would like to award the MSI Big Bang-XPower II (X79) an Editors' Choice Bronze Award. The MSI Big Bang-XPower II provides a substantial package for anyone who wants to push the boundaries of the X79 platform at the $390 mark.