Civilization V
Our final game, Civilization 5, gives us an interesting look at things that other RTSes cannot match, with a much weaker focus on shading in the game world, and a much greater focus on creating the geometry needed to bring such a world to life. In doing so it uses a slew of DirectX 11 technologies, including tessellation for said geometry, driver command lists for reducing CPU overhead, and compute shaders for on-the-fly texture decompression.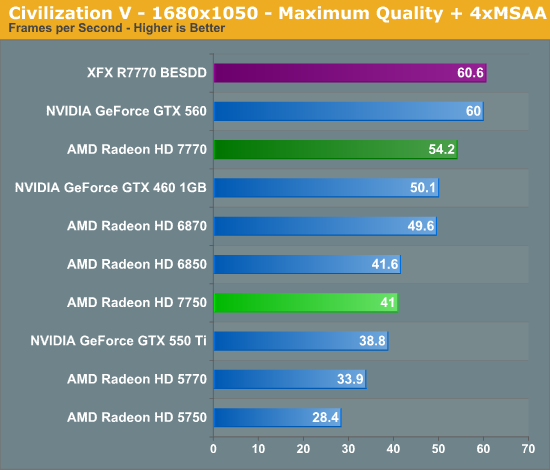 Thanks to AMD's radically improved compute shader performance, the 7700 series fares extremely well here. Instead of stuggling to keep up with the 6850, the 7770 is well in the lead even against the 6870. Throw in XFX's factory overclock and now a 7700 card is leading even the GTX 560 on a game NVIDIA was handily winning 2 months ago. Even the 7750 greatly benefits here, tying with the 6850 instead of the 5770 as it normally does.
It's a shame for AMD that more games aren't like Civ V, for if they were the 7700 series would look quite a lot better.