Crysis: Warhead
Kicking things off as always is Crysis: Warhead. It's no longer the toughest game in our benchmark suite, but it's still a technically complex game that has proven to be a very consistent benchmark. Thus even four years since the release of the original Crysis, "but can it run Crysis?" is still an important question, and the answer continues to be "no." While we're closer than ever, full Enthusiast settings at a 60fps is still beyond the grasp of a single-GPU card.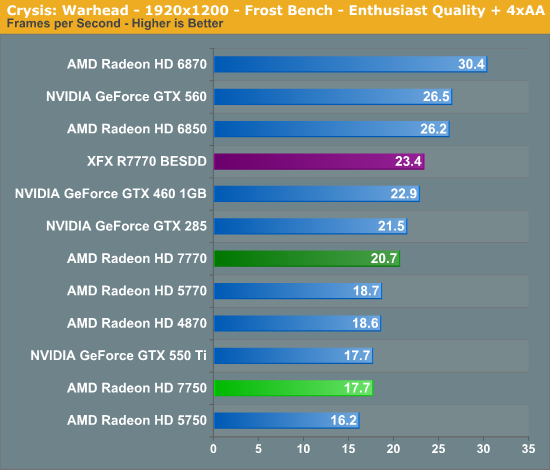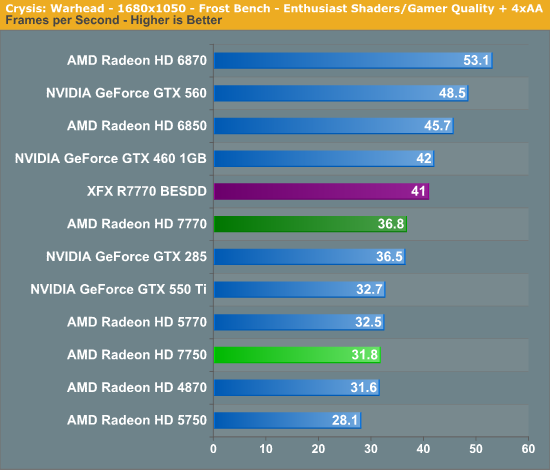 With AMD's GCN architecture, Crysis is finally losing some of its predictive power, but it's still a good indicator of overall performance. And the indicators aren't very good.
From a price/performance perspective the 7700 needs to beat at least the 6850 on the AMD side and at least the GTX 560 on the NVIDIA side in order to ensure a clear-cut victory. Unfortunately it's falling well short of that, underperforming the 6850 by 20% never mind the GTX 560. On paper the 7770 is outgunned on everything from texture performance to ROP performance to shader performance, so take your pick on what's holding back Crysis performance, but the end result is that it's well behind its previous-generation peers. In fact it's closer to the 2.5 year old 5770 than it is the 6850.
As for the 7750, things are a bit better. In spite of its massive texture and shader deficit compared to the 7770, it's only behind by 15%, offering some strong support that the actual performance difference between the two cards won't be nearly as big as it is on paper. That said, on a price/performance basis it should be able to beat the 5770, and it isn't quite there. But as the only card here that's sub -75W, it has other favorable attributes.
Elsewhere XFX's R7770 BESDD shows us that 7770 performance scales well with clockspeeds, with a 12% core overclock netting 11% better performance. This is a good sign for overclockers, but for factory overclocked cards it's a mixed bag, as the higher price these cards fetch only puts them more in competition with the 6870.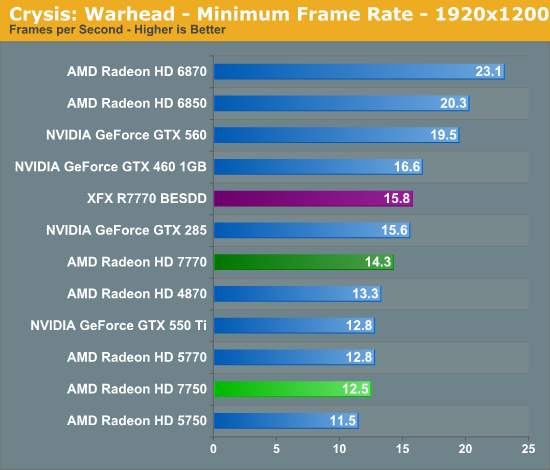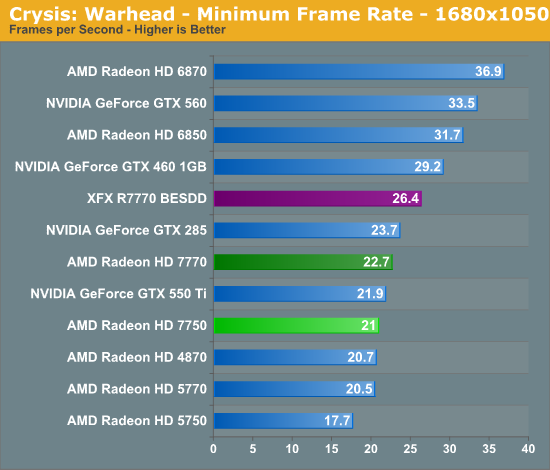 The story of minimum framerates is much the same. The 7700 series continues to underperform its last-generation competition by quite a bit, and unfortunately we're still several frames per second away from being able to sustain 30fps+ in Crysis at 1680.