Introducing the SilverStone Temjin TJ04-E
The overwhelming majority of cases from SilverStone we've reviewed so far have been based on some very unorthodox designs, featuring layouts that feel ATX in name only. Yet when we visited with them at CES and they showed off the Temjin TJ04-E, we were surprised: at least superficially, the TJ04-E looked like a garden variety ATX case. It had SilverStone's usual clean lines and style, but everything seemed almost too normal. Thankfully we have the Temjin TJ04-E in house today, and while it may indeed look fairly by-the-book at first glance, SilverStone's mad scientists have tweaked quite a few things beneath the surface.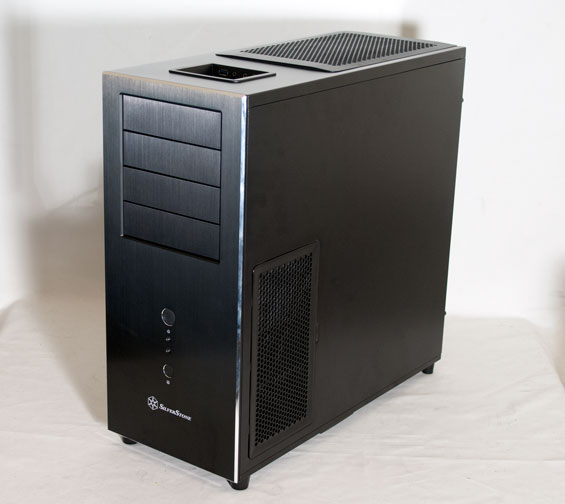 The Temjin TJ04-E is going to seem fairly standard initially, but as we delve deeper into this chassis design you'll see places where SilverStone's engineers have opted to experiment with modern fundamentals. Our review unit is also one of four models based on this chassis: ours is windowless at $149, while a windowed version will be available at $159. Similar to the Temjin TJ08-E and Precision PS07, SilverStone will also have a less flashy version available in the form of the KL04. The TJ04-E models include heatsinks for the hard drive cage as well as a pair of SATA power cables that expand a single SATA lead to four while the KL04 does not, and the KL04 loses the attractive brushed aluminum front panel. The result is a $109 enclosure, or $119 with a windowed side panel.
SilverStone Temjin TJ04-E Specifications
Motherboard Form Factor
ATX, Micro ATX, Mini ITX
Drive Bays
External
4x 5.25"
Internal
9x 3.5", 6x 2.5"
Cooling
Front
-
Rear
1x 120mm exhaust fan
Top
1x 120mm intake fan (additional 1x 140mm fan mount)
Right
1x 120mm intake fan (additional 1x 120mm fan mount)
Bottom
1x 120mm fan mount
Expansion Slots
8
Front I/O Port
-
Top I/O Port
2x USB 3.0, headphone and mic jacks
Power Supply Size
ATX
Clearance
12.5" (Expansion Cards), 170mm (CPU HSF), 180mm (PSU, recommend 160mm for optimal cabling)
Weight
21.1 lbs (9.6 kg)
Dimensions
8.43" x 19.25" x 19.25" (214mm x 489mm x 489mm)
Price
MSRP $149
One of the things SilverStone stressed during our meeting was the sheer mountain of storage space inside the Temjin TJ04-E, and they weren't kidding around. Their removable hard drive cage is capable of holding a staggering nine 3.5" drives, and their smaller removable SSD cage can hold six 2.5" drives. Stacking SSDs together isn't really a big deal, but hard drives might be. Nonetheless, SilverStone was quick to point out not only the inclusion of the removable hard drive heatsinks but also the study Google did in 2007 that revealed that temperatures both too high and too low can increase the failure rate of hard drives. Thus, they designed the TJ04-E to keep hard drives in the "sweet spot," between about 35C to 43C.