Enterprise Storage Bench - Oracle Swingbench
We begin with a popular benchmark from our server reviews: the Oracle Swingbench. This is a pretty typical OLTP workload that focuses on servers with a light to medium workload of 100 - 150 concurrent users. The database size is fairly small at 10GB, however the workload is absolutely brutal.
Swingbench consists of over 1.28 million read IOs and 3.55 million writes. The read/write GB ratio is nearly 1:1 (bigger reads than writes). Parallelism in this workload comes through aggregating IOs as 88% of the operations in this benchmark are 8KB or smaller. This test is actually something we use in our CPU reviews so its queue depth averages only 1.33. We will be following up with a version that features a much higher queue depth in the future.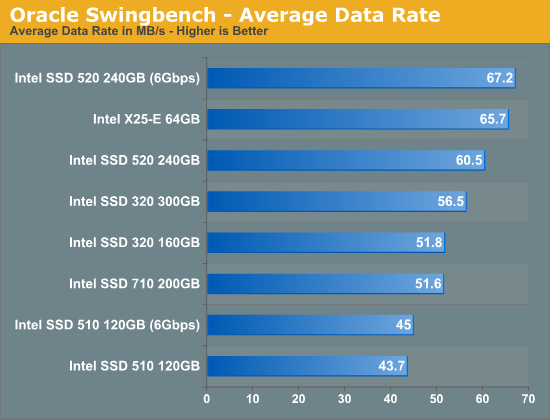 SLC NAND offers great write latency and we see a definite advantage to the older drive here in our Swingbench test. Only a 6Gbps SSD 520 is able to deliver better performance, everything else trails the 3+ year old drive. Note that the Marvell based Intel SSD 510, even on a 6Gbps controller, is the slowest drive in Intel's lineup. From a write amplification perspective, Marvell's controller has always been significantly behind Intel's own creations so the drop in performance isn't surprising. The 710 actually delivers performance that's lower than the 320, but you do get much better endurance out of the 710.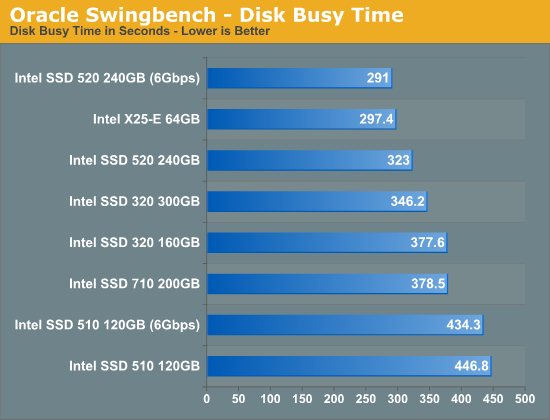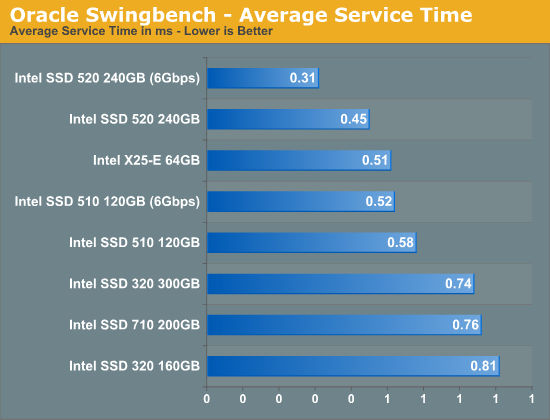 While throughput isn't much better on the 6Gbps Intel SSD 520, average service time is tangibly lower. There's clearly a benefit to higher bandwidth IO interfaces in the enterprise space, which is a big reason we're seeing a tremendous push for PCIe based SSDs. The 710 does well here but not nearly as well as the X25-E which continues to behave like a modern SSD thanks to its SLC NAND.