AMD gave us a quick update on its 2012 - 2013 client roadmap, mostly focusing on new CPU/APU releases although there's a brief mention of Sea Islands - the follow-on to Southern Islands due out in 2013. AMD wasn't specific with what Sea Islands would bring us other than some more HSA (Heterogenous Systems Architecture, formerly Fusion System Architecture, aka heterogenous compute) enhancements.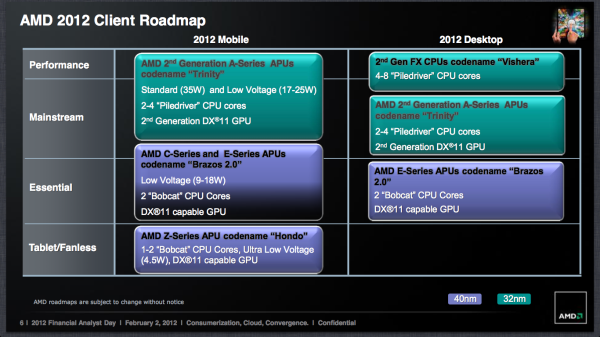 The bigger updates are on the CPU/APU side. This year we'll get Trinity but we'll also get an updated Brazos platform and a new ultra low power (~4.5W) Hondo platform. The latter is likely going to be targeted at Windows 8 tablets and both will be based on 40nm Bobcat cores.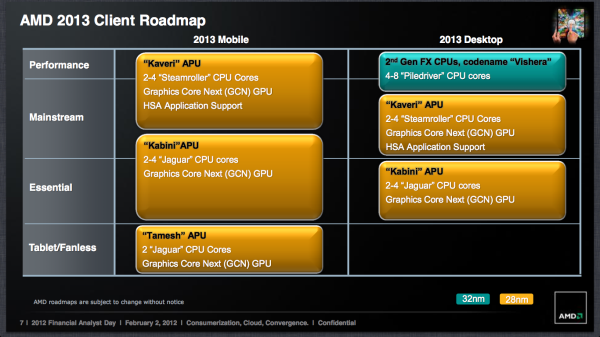 Going into 2013 AMD will move all mainstream client APUs to 28nm and bring a GCN (Graphics Core Next) based GPU to all of the APUs. Kaveri, the Llano/Trinity follow-on, will use Steamroller cores (evolution of Bulldozer/Piledriver) while Kabini and Temash will use Jaguar. Jaguar is an evolution of the Bobcat core although we don't have any architectural details at this time. Kabini and Temash will also integrate the Fusion Controller Hub (FCH, aka South Bridge) making these two APUs AMD's first true single-chip solutions.
AMD's FX platform will get an update to Piledriver cores this year with Vishera. There's no visibility beyond Vishera unfortunately, although it's probably a safe bet that we'll see a Steamroller based derivative at some point.
AMD's 2013 roadmap is heavily built around HSA. The hope is that with Graphics Core Next on-die, and proper software support, AMD will be able to deliver a compelling heterogenous computing platform that lets you leverage the strengths of both x86 CPU cores and a GPU built for compute. AMD has been chasing the promise of heterogenous compute for a while now, but its roadmap is clearly built around that vision becoming a reality.