Performance
Unfortunately, the majority of benchmarks that usually grace our smartphone reviews don't yet have WP7 ports or analogs, but there are a still a number of comparisons we can make. To start, the browser-based performance metrics give a good picture within the Windows Phone ecosystem, and likewise with WPbench, created by one of our own readers and on the marketplace.
This current refresh of WP7 devices continues to be based around exclusively Qualcomm SoCs, and the Lumia 710 is no exception. Both the 710 and 800 are based around Qualcomm's MSM8255 single core S2 snapdragon at 1.4 GHz with Adreno 205 graphics at the core and dual channel LPDDR2 memory interfaces. This is a 45nm part we've seen and explored numerous times before, and as a refresher includes the HSPA+ 14.4 baseband onboard. At this point, there really only are three different SoC and clock configurations which WP7 has to deal with - 1.0 GHz QSD8x50 Snapdragon (65nm single core with Adreno 200 graphics), 800 MHz - 1.0 GHz MSM8x55/MSM7x30 Snapdragon (45nm single core with Adreno 205 graphics), and now a higher clocked 1.4 GHz MSM8x55 Snapdragon.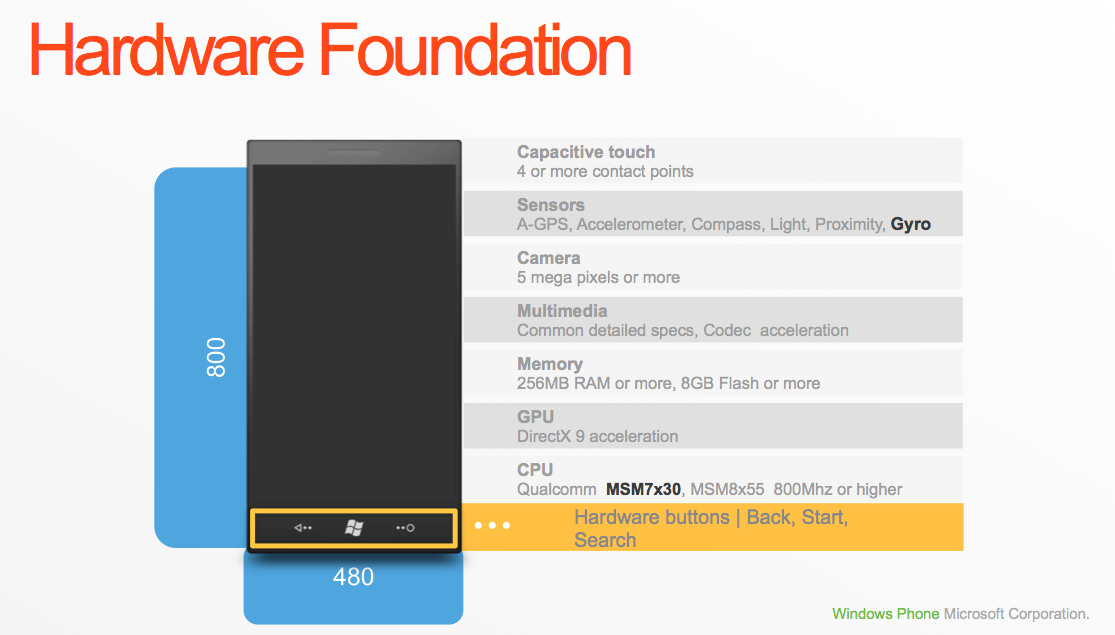 Those three configurations essentially tell the complete story of Windows Phone's SoC evolution since launch, which are clearly outlined in their chassis requirements. I spent a paragraph in the Lumia 800 talking about why benchmarking will become even more important in the Windows Phone 7 / Windows 8 ecosystem as this opens up to more SoCs (and ST-E per Nokia's influence), and how a huge number of benchmark players are busily porting the same Android/iOS benchmarks to the platform. Eventually WP7 will make the jump to dual-core as well.
Anyhow, onward to the numbers. First is sunspider, which we've been using for a long while and recently changed from 0.9 to 0.9.1 with. As a result, I've had to re-run devices since the numbers aren't directly comparable. WP7.5 brings a much improved javascript engine which gives it a big boost in scores. I've managed to hang onto the HTC Surround (1.0 GHz QSD8250) which we've included as well.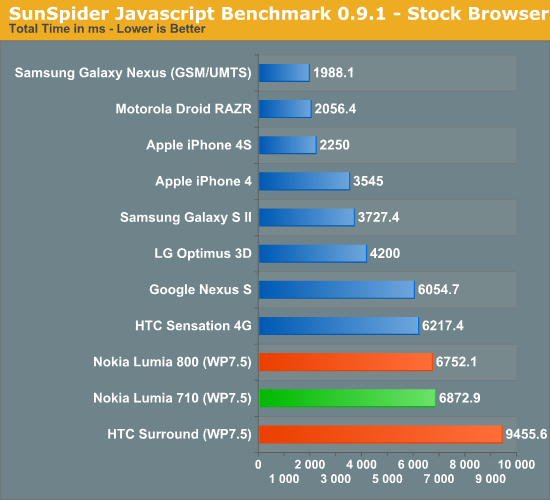 I sound like I'm on repeat, but unsurprisingly we see the same performance we did out of the Lumia 800 (again both are using 1.4 GHz MSM8255) and a big jump thanks to running WP7.5. The new combination of IE9's Trident 5.0 and Chakra JavaScript JIT engine also helps narrow the gap between iOS and Android in the JavaScript department. Obviously it can't come close to matching the phones up there with dual core SoCs, however.
Browsermark hasn't changed or forced us to re-run things, so we have comparison numbers from WP7 devices pre-update that show how much difference there is in the browser department in WP7.5.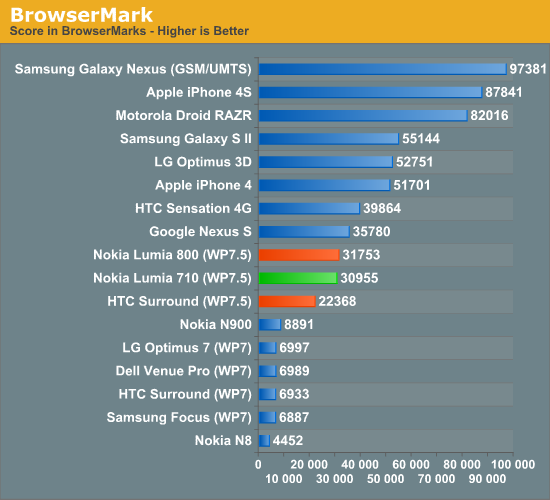 Again here things are almost exactly on par with the Lumia 800, unsurprisingly. Unfortunately if you use the Nexus S (1.0 GHz S5PC110 "Hummingbird" with a Cortex A8 CPU) as a comparison point (vs the 1.4 GHz Scorpion inside MSM8255) you can see how the WP7 team needs to eek some more performance out to bring things totally up to parity. I should note that Nexus S number is for 2.3.6 as well, 4.0.3 puts things even further out of reach.
For system benchmarking on WP7.5 we have WPBench, which was created by one of our own readers. The benchmark reports a total score in addition to three sub-scores for CPU, memory, and GPU.
WPBench Comparison
HTC Surround (1.0 GHz QSD8250)
Nokia Lumia 800 (1.4 GHz MSM8255)
Nokia Lumia 710 (1.4 GHz MSM8255)
Total Score
61.58
91.14
92.85
Result Screenshot
The rest of WP7.5's UI in first party applications and the main navigation areas is very smooth, admittedly. It's here that you really see the reasoning for many people arguing that WP7.5 doesn't need to make the jump to dual-core very soon. Silverlight applications can occasionally stutter, however, it's hard to fully codify the differences between first-party (native code) and third-party (Silverlight) performance until we get better tools.