MySQL OLTP
Currently we don't have a good transactional (OLTP) benchmark that works with our vApus stress test client, so we went back to the MySQL Sysbench utility. Sysbench allows us to place an OLTP load on a MySQL test database, and you can chose the regular test or the read only test. We chose read only as even with several SSDs our benchmark remained disk I/O limited. Our current Promise JBOD does not work with SATA SSDs, so we can only use the three remaining SATA interfaces in our supermicro server.
The read only setting makes the test less real world, but a Sysbench test is rather synthetic anyway. The main reason why we tested with Sysbench is to get a huge amount of queries that only select very small parts (a few or one row) of the tables, so we can see how our platforms behave in this kind of scenario. And the results were very different from our OLAP benchmarks.
Since we could not use the capabilities of our vApus client, we were not able to perform an in-depth analysis like we did on the MS SQL Server tests. Yes, Sysbench allows you to test with any number of threads you like, but there is no "think time" feature. That means all queries fire off as quickly as possible, so you cannot simulate "light" and "medium" loads.
The response times are very small, which is typical for an OLTP test. To take them into account, we are showing you the highest throughput at around 3 ms (2.8 ms to 3.3 ms). We tested with 1 million records, but 10 million records gave very similar results.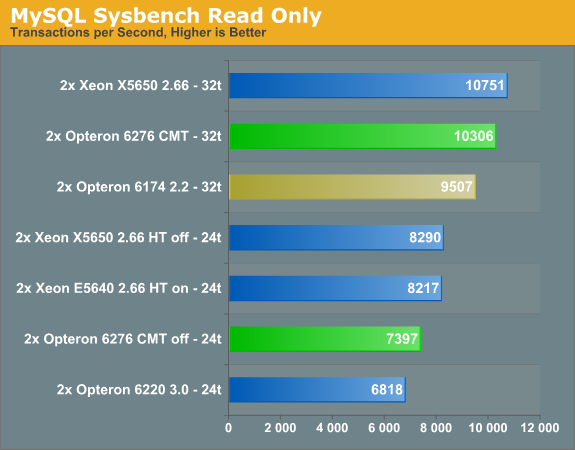 The Intel X5650 gets a 30% boost from SMT, which is more or less equal to adding two extra cores (compare Xeon X5650, which is a hex-core, and the E5640 quad-core). This shows that this benchmark scales well over more cores, threads, or clusters.
The second integer cluster inside the new Opteron offers 40% more performance. So once again, CMT does the job. The Opteron 6276 does well but does not really break away from the pack. For example, if we take the small clockspeed advantage of the 6276 into account, the new Opteron is hardly faster than its predecessor.
How about power? We didn't test all configurations but the Xeon X5650, Opteron 6174 and Opteron 6176 are in the same league. The huge increase in TPC-c performance that AMD touts is for a significant part the result of using better SSDs, but we estimate that the new chip is about 20-30% faster that the previous one. The new Opteron appears very capable when it comes to OLTP.