Cellular
Cellular on the Lumia 800 is supplied courtesy the MSM8255's onboard baseband. Like all the Qualcomm S2 parts, this means GSM/EDGE/WCDMA with HSPA+. The Lumia 800 also takes a microSIM as noted earlier, and I tested on AT&T in my market. There are actually two Lumia 800 variants, each with different WCDMA bands - we were sampled the European variant which worked with AT&T's PCS 1900 MHz WCDMA in my market. The Nokia Lumia 800 Specifications page is a bit misleading since it would have you believe that there's only one variant with quad-band WCDMA when there are actually two different tri-band WCDMA devices.
Nokia Lumia 800 - Network Support
GSM/EDGE Support
850 / 900 / 1800 / 1900 MHz
RM-801 (Europe) WCDMA Support
900 / 1900 / 2100 MHz
RM-819 (USA) WCDMA Support
850 / 1900 / 2100 MHz
Baseband Hardware
QCT MDM8255 w/QTR8200
HSPA Speeds
HSDPA 14.4 (Cat.10) / HSUPA 5.76 (Cat.6)
I couldn't do my usual stats collection and histogram on the Lumia 800 since there's no way to export that data from any of the speed test applications on Windows Phone. However, I did run some tests and see acceptable levels of throughput out of the device.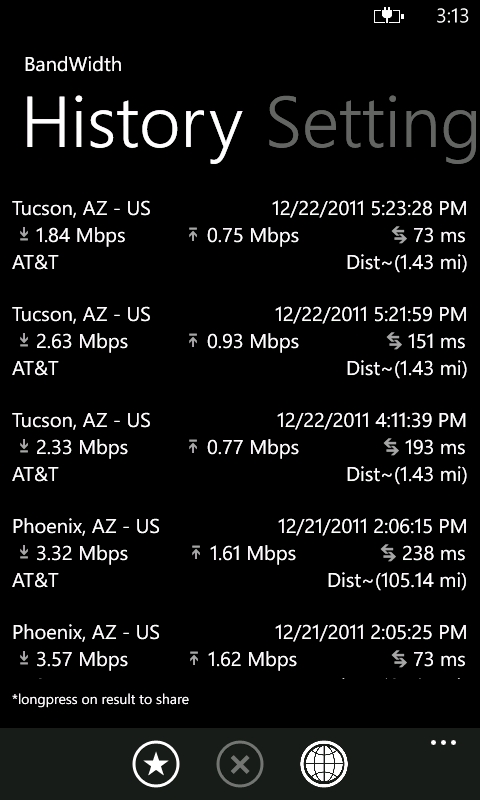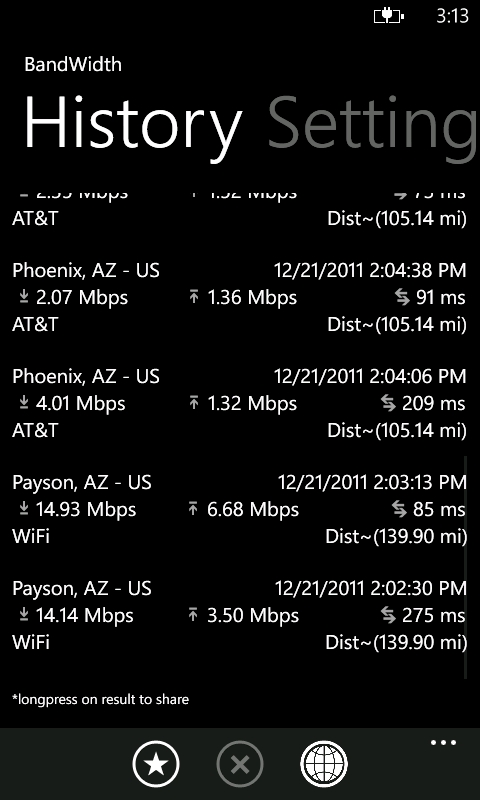 Some speedtests taken with BandWidth on WP7
WiFi
WiFi and Bluetooth 2.1 EDR on the Lumia 800 is supplied courtesy of a Broadcom BCM4329 combo chip which we've seen numerous times before in a number of different smartphones. Though newer devices are starting to ship BCM4330, I wager that WP7.5 includes drivers for just BCM4329 (which a huge majority of Windows Phones include) and BCM4325 (Venue Pro). On the Lumia 800, this means single spatial stream 802.11b/g/n connectivity only on the 2.4 GHz band.
Regardless, WiFi range on the Lumia 800 is totally par for the current generation of devices. In addition, WP7.5 continues to do a great job at deciding when to hand off and back onto WiFi when leaving the coverage radius of your house. It's the small things like these that (to me at least) really demarcate the previous generation of smartphone OSes from the new breed. Unfortunately, in our throughput test which consists of loading a 100 MB PDF hosted locally on an 802.11n network, the Lumia 800 isn't quite up to the speed of other BCM4329 devices. I'd wager this has more to do with the OS than anything else, though running network throughput applications on the Lumia 800 also gave a similar number to our normal PDF download test.
I should also note that WP7.5 also includes the ability to connect to WiFi APs that don't broadcast their SSID. There's a tab under Advanced in WiFi that now allows you to enter all that information and connect away, this wasn't possible until Mango.
Speakerphone
In calls, the speakerphone on the Lumia 800 is honestly a bit too quiet, and our testing with a sound level data logger backs this up. Even at absolute maximum (where we test, of course) I found the sound level inadequate while using Nokia Drive or placing calls. It isn't so much the position of the speaker at the bottom that's a problem (in fact this is a good place to locate it), it's just not loud enough.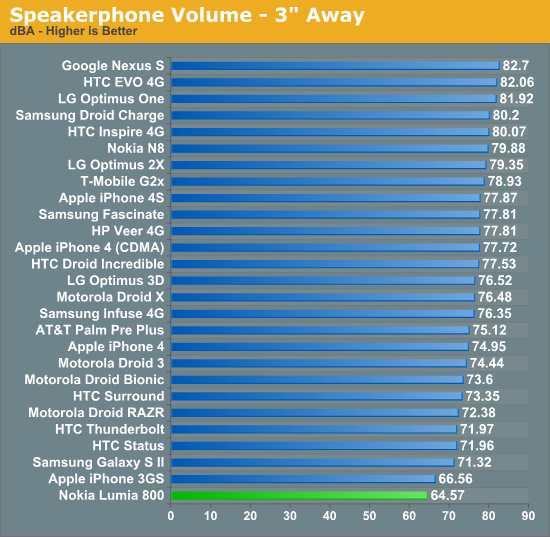 Hopefully, this can be addressed with some software tweaking of the gains for speakerphone volume.
I also recorded some call quality test samples on the Lumia 800. The smartphone also does have the multiple microphone system for common mode noise rejection, though I'm not certain whose IP is being leveraged - perhaps Qualcomm's Fluence?
Noise rejection on the Lumia 800 is very good at all but the most extreme volume levels. Still, there are handsets that can completely reject the ambient noise that you hear at our maximum volume level. Unless you're in an absurdly loud environment, chances are the Lumia 800 will do a good job rejecting noise common between the two microphone system.
GPS
The Lumia 800 uses the GPS/GLONASS (GNSS) system onboard MSM8255 which we've seen numerous times before. Though WP7 doesn't have API access to NMEA data so we can see SNR from individual satellites, the Lumia 800 does seem to get a GPS lock speedily enough even in some tough environments. In both the maps application and Nokia Drive I had no issues getting a GPS lock in under a 5 seconds keeping the lock for the duration of navigation.