Power, Temperature, & Noise
As always, we wrap up our look at a new video card with a look at the physical performance attributes: power consumption, temperatures, and noise. With new process nodes being the lifeblood of the GPU industry, each new process gives GPU manufacturers a chance to move their product along a continuum; do they take advantage of a power consumption reduction for the same performance level, a performance increase for the same power consumption, or something in between? In AMD's case they've chosen to try to maximize performance within Cayman's power budget, which means power, temperature, and noise should be similar to what we've seen with 6970, cooler improvements not withstanding.
Before we get into the charts, it's worth noting right now that we don't have a good idea of what 7970's operational voltage is, as we don't have any tools that can read 7970's VRMs. We believe it's close to Cayman's, but this is something that will require confirmation in the future.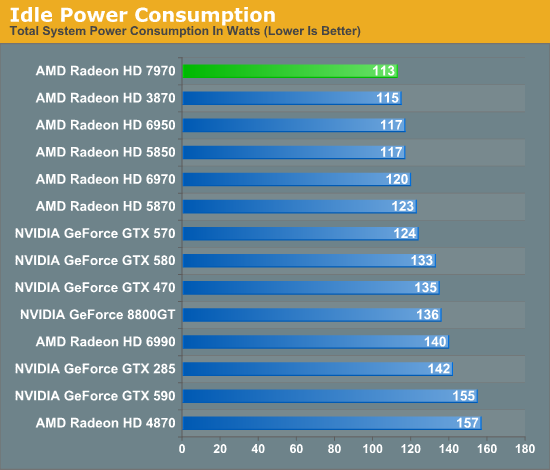 Starting as always with idle power, we can immediately see the benefits of the work AMD has put into idle power usage with Southern Islands. AMD has been working hard to reduce idle power consumption since the 4870 and at this point they've finally beaten even the 3870, which was a relatively small GPU using GDDR3 RAM. AMD's official typical idle TDP here is 15W, and we have little doubt they're going to continue to whittle that number down on future generations.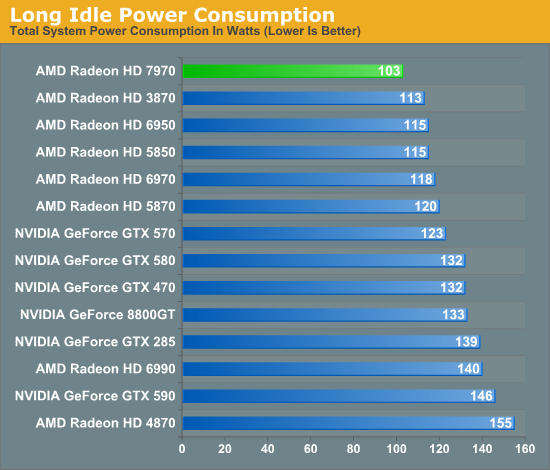 While we're looking at idle power, we also wanted to take a look at AMD's "long idle" scenario, where a blanked display or being slave GPU in a multi-GPU setup gives a GPU the opportunity to go into a deeper sleep state as it's not needed for any work. Through ZeroCore Power AMD is able to shut off virtually every aspect of Tahiti when in a long idle state, allowing AMD to reduce the power consumption of 7970 to under 3W. Meanwhile for every other card there's a very slight gain to be had in long idle because the GPU can power down all of its display transmitters, but it's not nearly as effective as shutting down the entire GPU, which is why 7970 has a 10W advantage at the wall versus the next closest GPU.
As we said earlier in our look at ZeroCore Power technology, while the numbers are impressive enough, for the desktop the real use will be in multi-GPU systems as slave GPUs can be put in a ZCP state even while the master GPU is awake and working, significantly reducing idle power and noise in multi-GPU systems.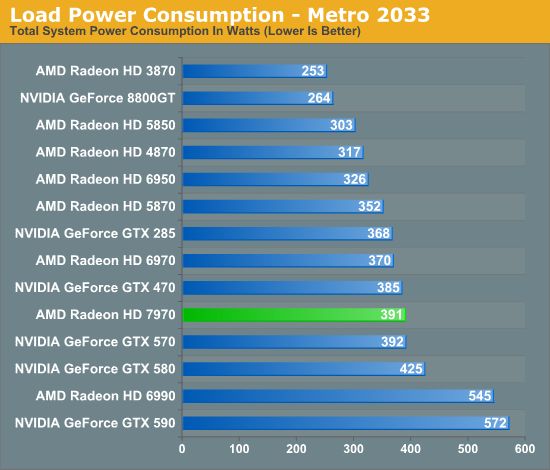 Moving on to our load power tests, based on our testing we have swapped out Crysis for Metro 2033 in this iteration of our benchmark suite as Metro 2033 was proving to be a bit more strenuous on our GPUs and is the only game to ever trigger PowerTune on the 6970.
Looking at Metro it's clear that the smaller fabrication process for 6970 has allowed AMD to achieve a lower power consumption level relative to their gaming performance – the 7970 leads the GTX 580 by 20-30% in performance while consuming 34W less at the wall. At the same time this test calls into question AMD's power targets. We're clearly drawing more power than the 6970 – 21W more to be precise – and while this could be explained by CPU power consumption I'm not convinced that's the case.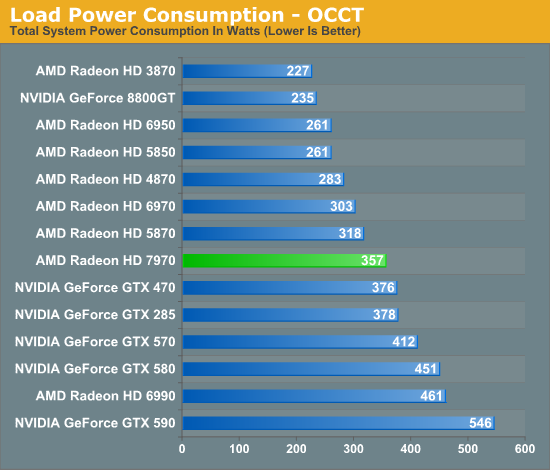 As for our pathological power consumption test we've moved on to OCCT, which at this point in time escapes NVIDIA's throttling mechanism and in spite of the presence of PowerTune still manages to be a hardware workload on AMD's GPUs than FurMark. OCCT backs up our earlier data from Metro that 7970 draws more power than 6970 even with the similar power targets. We're drawing 50W more at the wall, which on paper at least would put 7970's power consumption closer to 280W if AMD's original 250W target for 6970 is still correct. If all of this is correct, then it calls into doubt AMD's published power targets, as it looks like AMD has made a power/performance tradeoff with 7970 by trading slightly higher power consumption for what would be higher performance.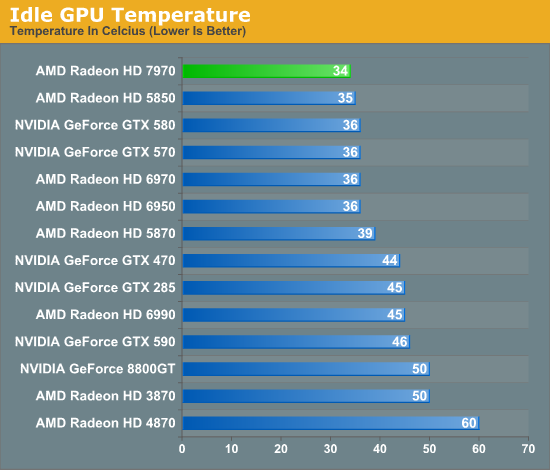 Up next is our look at idle temperatures. All of the last generation GPUs were highly competitive here and as a result it's a tough crowd as there's relatively little room to further reduce a GPU's temperature. Nevertheless the 7970 manages to squeak by the competition, with a recorded idle temperature of 34C, 1C lower than the GTX 580 and 2C lower than the 6970.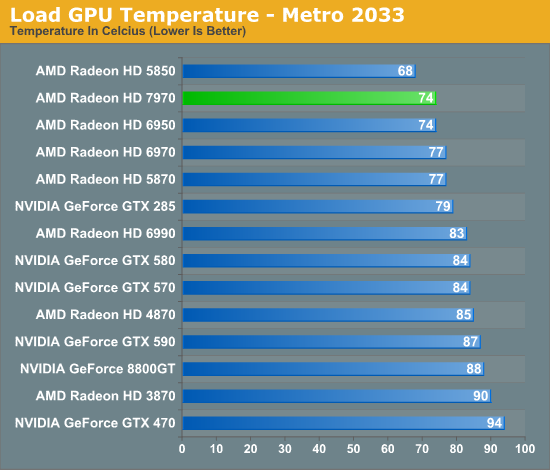 Moving on to temperatures under Metro, the results are quite surprising: the 7970 does really, really good here given its power consumption. At 74C the only cooler video cards are the 6850 and 5850, both of which are lower tier, lower power versions of higher end parts. Part of this can be traced back to AMD's cooling optimizations such as moving back to a full slot exhaust vent, but I don't believe that's a full explanation. We'll get back to this when we're looking at noise.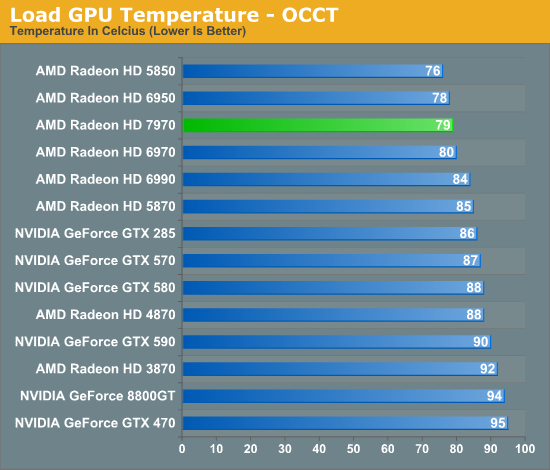 While the overall numbers are higher in OCCT, the relative rankings are unchanged from Metro. The only cooler cards in this lineup are the 6950 and 5850. Here the 7970 hits 79C, while the 6970 is slightly behind at 80C, and the GTX 500 series is in the upper 80s.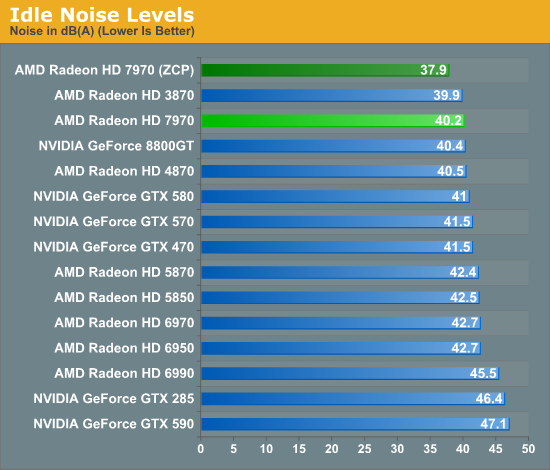 Last we have our look at noise, starting with idle noise. Much like our idle temperatures most single-GPU video cards tend to cluster together within 1dB, but the 7970 has managed to silence most of the rest of the pack, with a recorded noise level of 40.2dB. More impressive perhaps is the 7970 when in its Zero Core Power state. Because the fan turns off, the card is silent; 37.9dB(A) is the noise floor of our testbed.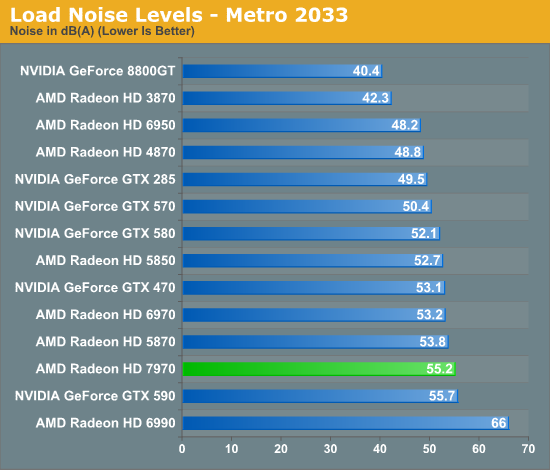 Moving on to our load noise measurements the full picture of the 7970's cooling performance finally starts coming together. We've seen that the 7970 is a cool card, but is it a quiet card? The numbers say no. The 7970 is 3dB louder than the GTX 580 and 2dB louder than the 6970 even with its physical cooling improvements. Based on this combined with our temperature data it's clear that AMD has targeted aggressive cooling over silence, whereas NVIDIA traditionally targets silence over aggressive cooling. When it comes to our testbed AMD has probably overdone it – we could easily exchange 10C for less noise – but with a wide range of computers in the world it's hard to tell from a single testbed whether the cooling here is genuinely too aggressive for everyone, or if it's the opposite. What isn't in question is that the 7970 is going to be moderately loud, which coming from AMD is a surprising development.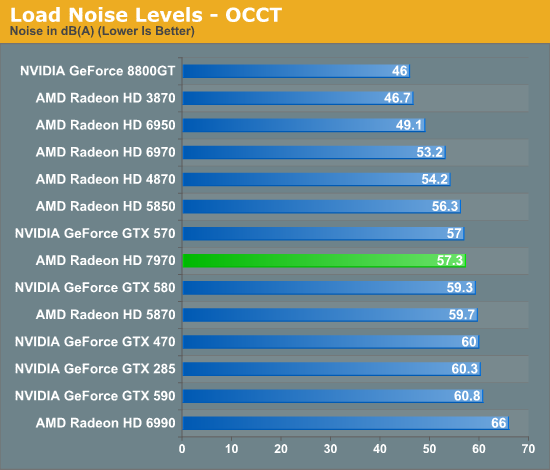 Once again with OCCT the numbers are higher, but the facts are largely the same. The 7970 is now quieter than the GTX 580 due to PowerTune, but it's now 4dB louder than the 6970. Unlike Metro 57.3dB of noise is in the middle of the pack, but it stands to reason that AMD could have been a bit less aggressive on their fan speeds and made a quieter card as a result.