Netbook Levels of Battery Life
When netbooks came on the scene, they made the idea of a $1000+ ultraportable seem rather laughable. Several years later we're rebranding ultraportables as ultrabooks (provided they have Intel Inside) and giving it another go. Of course, ultrabooks pack a few tricks like SSDs for better battery life and performance, and Intel's ULV Sandy Bridge processors are proving to be very efficient when it comes to saving power. We ran our usual suite of battery life tests, with the LCDs set to as close to 100 nits as possible (50% brightness on the Acer S3 and 18% brightness on the ASUS UX31E).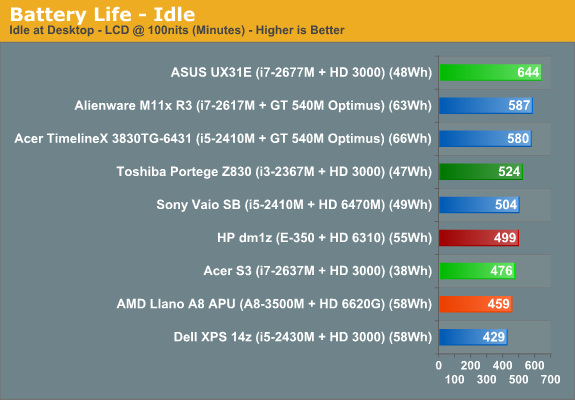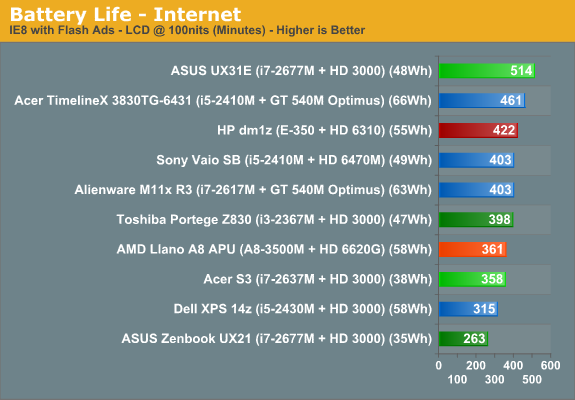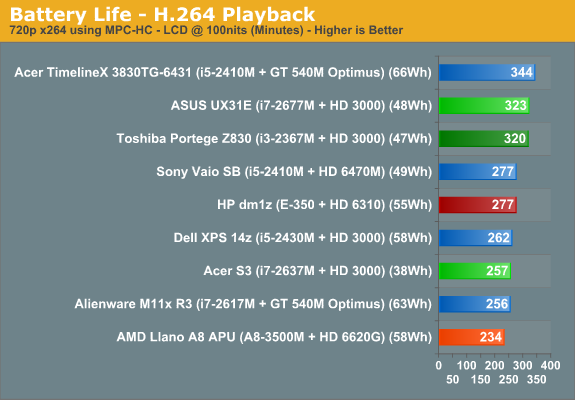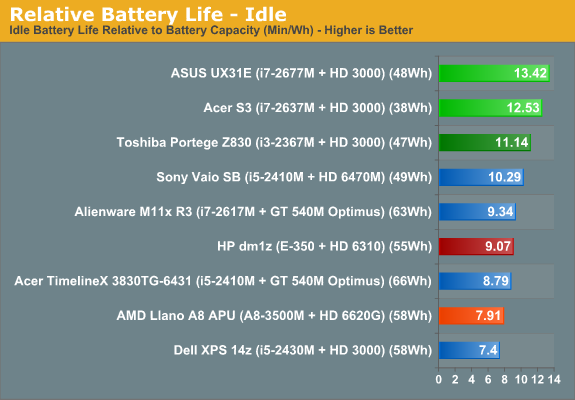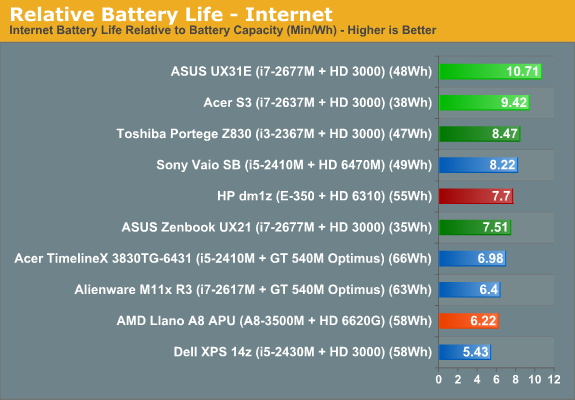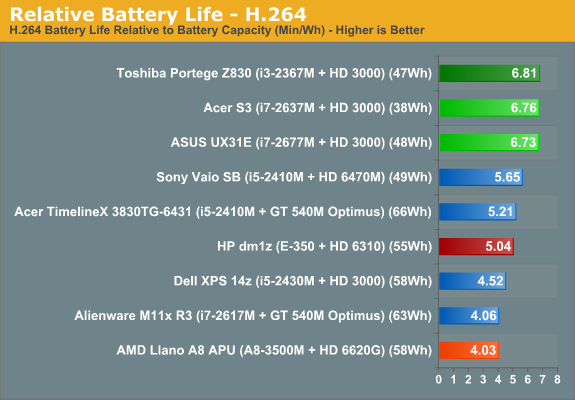 The Acer has a much smaller 3-cell battery, but even with a 38Wh capacity it still boasts respectable battery life of over four hours of H.264 playback and nearly eight hours of idle time. Switch over to the UX31E and not only do you get a higher battery capacity, you also get apparently better power optimizations. In our H.264 test the ASUS "only" manages close to 5.5 hours of playback, while it jumps to 8.5 hours of Internet surfing and over 10.5 hours of idle time. Look at the relative battery life charts and the results are even more impressive: the three ultrabooks we've reviewed place at the top of the charts, and even if we compare with Atom, the UX31E matches and sometimes exceeds what the best netbooks could achieve; the other two ultrabooks where we've done full reviews also place near the top of our relative battery life charts.
Something else we tested that we don't have in the above charts is idle battery life with the LCD at maximum brightness. The Acer drops to 400 minutes, but then it only gets about 120% brighter as we'll see on the next page. The UX31E on the other hand does a swan dive down to just 357 minutes, but you have to take into consideration the 450% increase in brightness. Put another way, power draw for the Acer is around 4.7W at 107 nits (50%) and 5.59W at 234 nits (100%); the ASUS on the other hand uses 4.38W at 93 nits (18%) and jumps up to 7.91W at 519 nits (100%). Even though that's a pretty big jump in power use, we still have to credit the LED backlighting technology: 500+ nits for less than 5W of power isn't really that bad.
The short summary here is that you may have to pay more, but you do get substantially better performance than a netbook, you don't sacrifice much in the size or battery life departments, and build quality is generally far higher than inexpensive laptops and netbooks. Does that make ultrabooks a better option than other laptops? Not for everyone, but there are certainly people that will like what ultrabooks have to offer.