Uniformity and Gamut
When we looked at the color on the VW2420H, the dE number for the very center of the panel at 200 nits of brightness was pretty decent at right around 2.0. Unfortunately it seems that the center of the panel performs better than the rest of the panel as a whole. The center and top-middle of the display are right around 2.0 for their average dE, but the rest of the panel is closer to 3.0 or higher. For this reason if you are doing color sensitive work, you probably want to keep what you are working on in the center of the screen and use the edges of the screen for other things.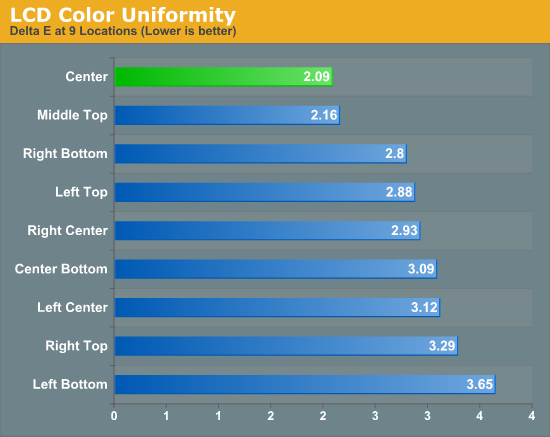 When I looked at the raw data for the uniformity values, aside from the center point the white values were much worse across the display. When we look at the brightness uniformity we can clearly see why that is. While it is a bit odd that the bottom-middle has the 2nd most accurate brightless level but the top-middle has the 2nd most accurate color dE, overall you can see the correlation between dE and brightness uniformity. As the light level changes, the color accuracy of white and everything else drifts from the calibrated values. This uniformity issue will exist with almost any panel using conventional lighting techniques.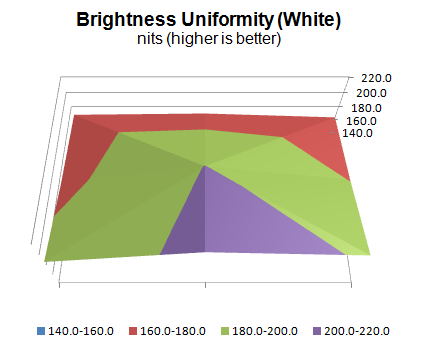 The black level uniformity is a little bit better than the white uniformity, but since this doesn't have the same level of effect on dE levels that white uniformity does, we are less concerned with it. The higher numbers in the corners could be due to light leakage around the edges of the display, which often happens, but the standard deviation for all the measurements is just 0.002 nits, so I'm not concerned with this at all.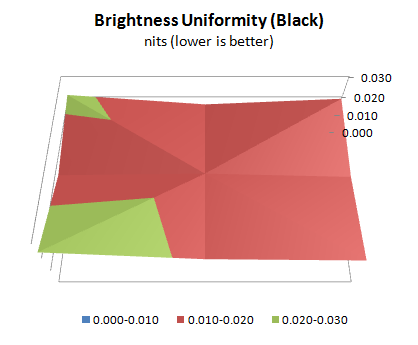 The BenQ offers up a gamut that is in the sRGB colorspace and testing bore that out, showing that is occupies just over 71% of the Adobe RGB gamut as we would expect. There's nothing really surprising or different here, as if you want the full Adobe RGB gamut you'll need to look for a different backlighting system.