Performance
The RAZR is the first time we've seen TI's OMAP 4430 SoC with a 1.2 GHz CPU clock, other devices run OMAP 4430 at 1.0 GHz. As a refresher, OMAP4430 consists of two ARM Cortex A9 CPUs with the optional NEON SIMD unit for each core, alongside a PowerVR SGX 540 GPU and the usual accoutrements like the Cortex M3 image subsystem and TI's encoder/decoder. We've gone over the details inside the Bionic piece and Droid 3 before, and I'd encourage you to check those out if you're curious.
On the browser performance side, the RAZR is no slouch at all. In fact, I wager that part of Blur 6.x included some browser optimizations that dramatically improve scrolling behavior over the Bionic or other Motorola devices. It isn't quite buttery smooth like Android 4.0's stock browser or Samsung's, but it's much improved over the stock experience. This shows in the Vellamo total score more than anything.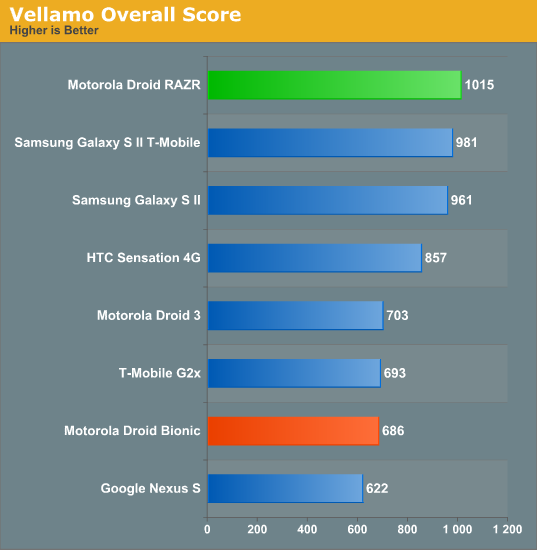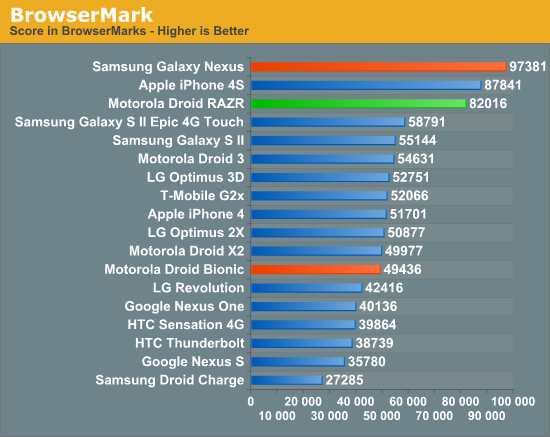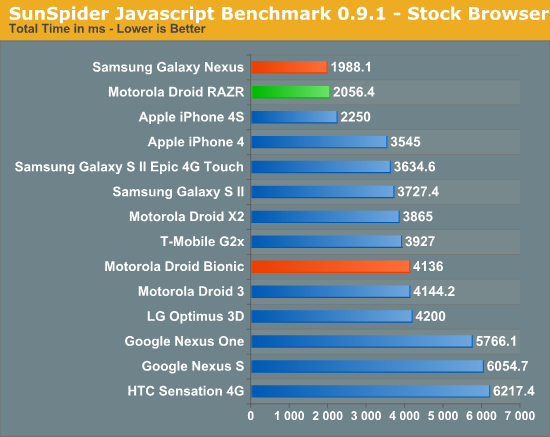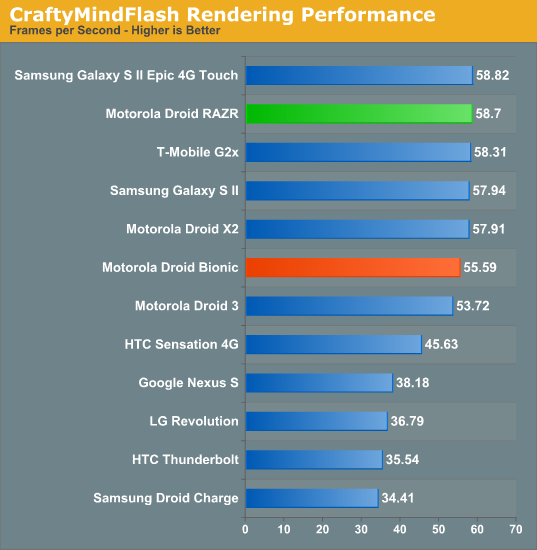 Again, one look at those performance differences between the Bionic and RAZR and it's immediately obvious that something more than a simple 20% boost in CPU clock is at play here. Since I've been working on the Galaxy Nexus at the tail end of the RAZR review, I also tossed those numbers in here, and you can get a feeling for the JavaScript performance delta between Android 2.3.x and Android 4.0.1 right now. In the flash department (CraftyMindFlash) we're basically against Vsync in the test we use and will be using another test with more challenging assets soon.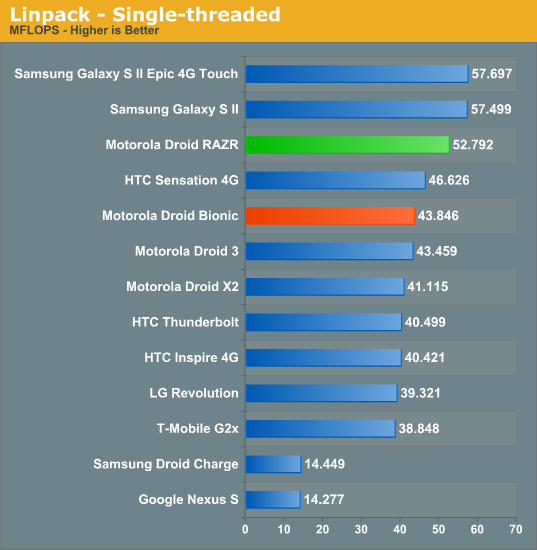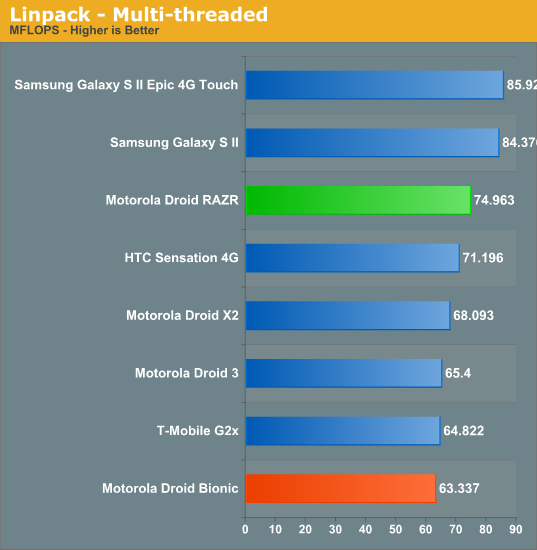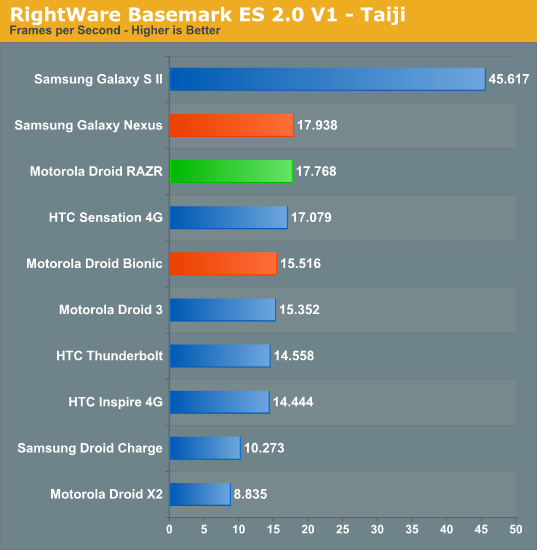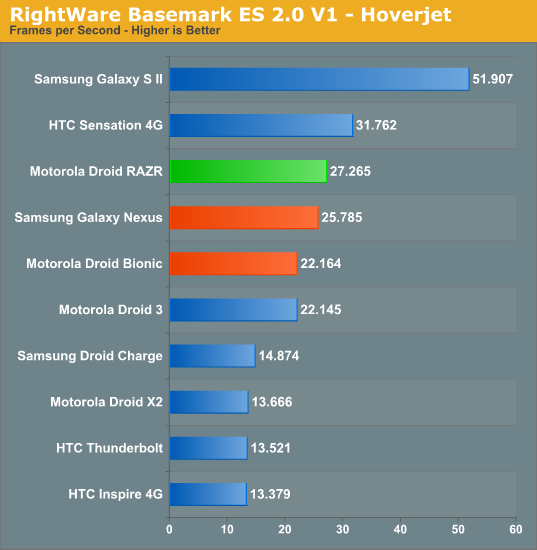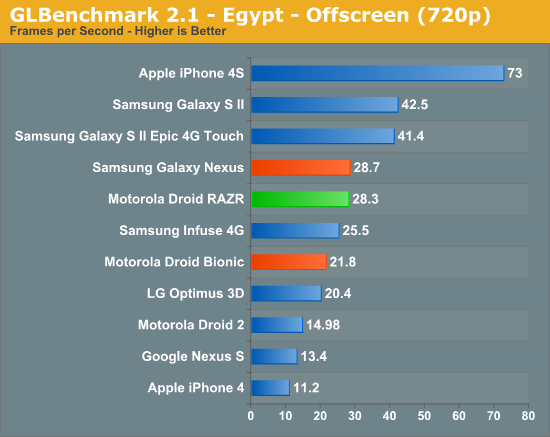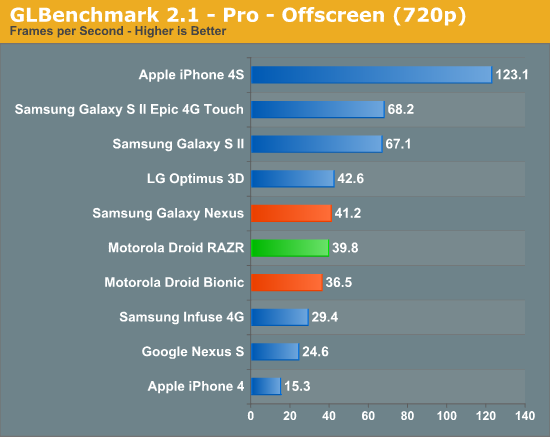 In the synthetics, we see first that Linpack behaves as expected and reflects a 20% boost in CPU clocks over the Bionic. It's in the GPU department that things get a bit interesting, and I again included Galaxy Nexus results that we have on hand from that forthcoming review. The two perform very closely because, from what I can tell, the Galaxy Nexus' OMAP4460 SGX 540 clock is set at 307 MHz (even though OMAP4460 can clock its 540 at up to 384 MHz), very close to the RAZR's OMAP4430 which sets its SGX 540 clock at a maximum of 304 MHz. We'll investigate this further soon in the Galaxy Nexus review as well, but for now know that the RAZR and Galaxy Nexus are pretty evenly matched in the benchmarks.