Final Words
I suppose it's fitting that Seagate didn't change the name of the Momentus XT in its second generation. Although the new drive is larger, faster and better in almost every way than its predecessor, it's still very much an evolution of the original. If you were hoping for a significantly larger cache, the ability to cache writes and a more SSD-like experience, the new Momentus XT is going to feel like a letdown.
If you are looking at the Momentus XT through HDD-colored glasses however, the new one is even more impressive than its predecessor. With an 8GB cache this time around there's more room for data to remain in NAND, which definitely improves the overall experience. In many cases the Momentus XT continues to be the fastest client focused mechanical hard drive on the market. If you only have room for a single drive in your notebook and you can't make do with an SSD, the Momentus XT is the next best thing. As I mentioned last time around, OEMs unwilling or unable to include an SSD in their default configuration should not hesitate to standardize on the Momentus XT as the hard drive of choice. I'd definitely take this drive over pretty much any hard drive. When it gains write caching support next year I do believe the drive will get even better, although by caching both reads and writes I am worried that 8GB of NAND will begin to look even smaller than it already is. I am unhappy with the price increase. Despite the larger capacity, the 750GB Momentus XT should've really topped out at $199 and not seen a price increase to $245.
As many have pointed out, Seagate didn't have the best track record with the original Momentus XT when it came to reliability and compatibility. Although I haven't had any issues with the Momentus XT (old or new) in my testbeds, given the price of the new drive you may want to wait to ensure things are better this time around before pulling the trigger.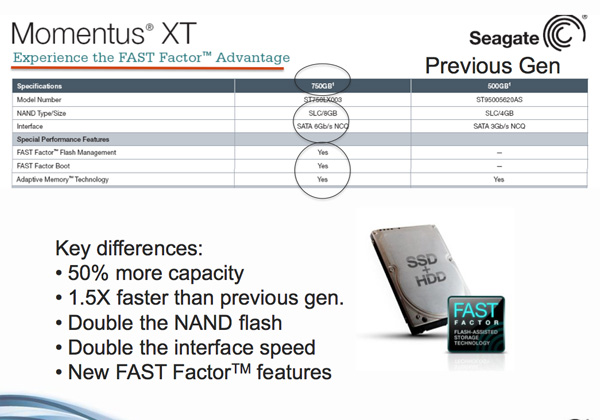 If you can manage it, I'd still recommend an SSD above the Momentus XT. For desktop users the standalone SSD + large HDD array for media storage still makes the most sense. Prices of SSDs are finally low enough where the value argument becomes a difficult one to make for the Momentus XT if you've got more than one drive bay. Where an SSD still may not make sense is in a notebook where you can only have a single drive and need local storage. In this situation, the Momentus XT is again better than the traditional hard drive alternative.
Longer term it's unclear to me whether hybrid drives like the Momentus XT will fill the gap left by SSDs or if software based caching technologies combined with NAND on motherboards will be the preferred route.
I still want to see Seagate be more aggressive with its hybrid drive roadmap. Waiting over a year between Momentus XT releases isn't going to cut it going forward if this technology is going to have a chance. Here's hoping the new Barracuda XT and a more revolutionary Momentus XT won't take as long to make it out.