Power, Temperature, & Noise
Last but certainly not least is our look at power, temperature, and noise. If we've clearly established that the GTX 560-448 has more in common with the GTX 570 than the GTX 560 Ti in gaming performance, then let's see if the operational attributes are equally close.
GeForce GTX 500 Series Voltages
Ref 580 Load
Ref 570 Load
Zotac 560-448 Load
1.037v
1.025v
1.000v
Looking quickly at voltage, our Zotac card is set to 1.0v. This is actually 0.025v less than our reference GTX 570 and GTX 580 cards, though it's important to note that all of these cards have a wide VID range. Realistically speaking we expect that the GTX 560-448 would have a similar to greater VID range than the GTX 570.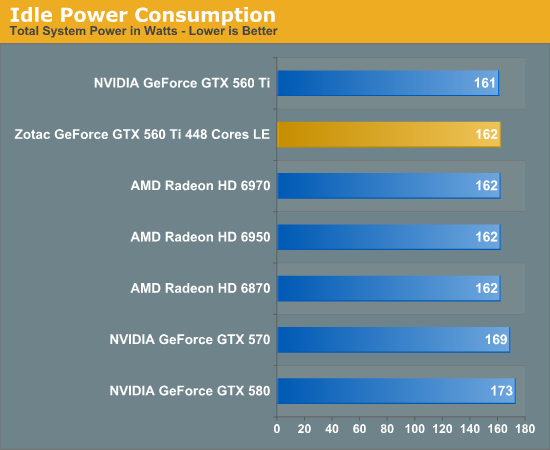 It's quite interesting to find that idle system power consumption is several watts lower than it is with the GTX 570. Truth be told we don't have a great explanation for this; there's the obvious difference in coolers, but it's rare to see a single fan have this kind of an impact.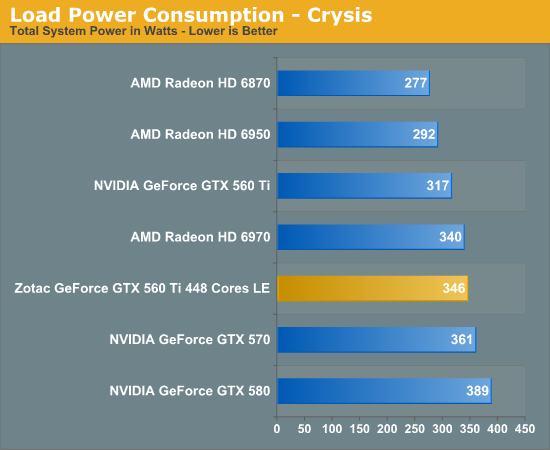 Power consumption under load shows a similar benefit. With the Zotac GTX 560-448 we're drawing 15W less than with the reference GTX 570. Given that the performance of the Zotac GTX 560-448 is so close to the GTX 570, and this actually starts looking like a cheaper GTX 570 with lower power consumption, which is not something we would have expected to find. But at the same time this means load power consumption is still nearly 30W greater than the GTX 560 Ti, is a very distinct difference for two products sharing the same name.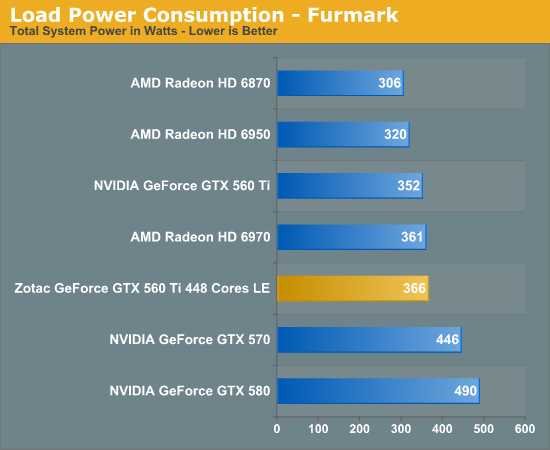 FurMark is thrown in for consistency, but at this point NVIDIA's driver throttling is so extreme that FurMark is instantly beaten back when started.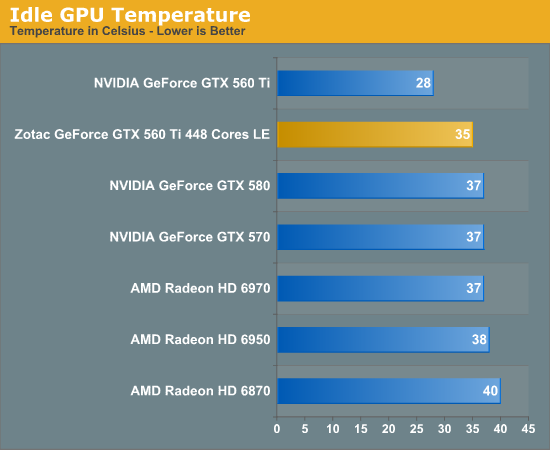 When it comes to GPU temperatures, idle temperatures straddle the difference between the GTX 560 Ti and the GTX 570. The open-air cooler is usually better for lower temperatures, but at the same time GF110's higher idle power consumption negates some of this benefit. In any case it's still one of the coolest high-end cards at idle.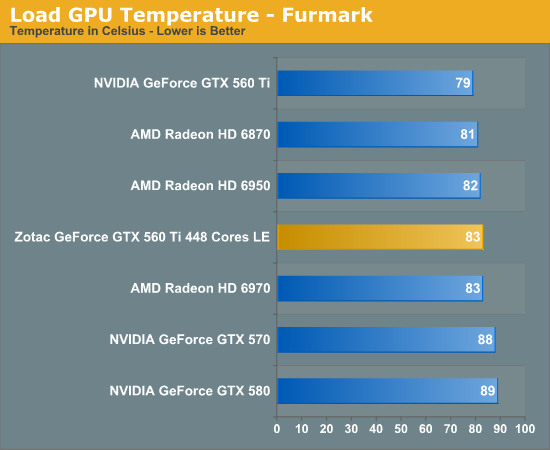 Meanwhile GPU load temperatures are at the middle of the pack. Like all GF110 products the Zotac GTX 560-448 starts getting toasty under load (even with the open-air cooler), but it's still noticeably cooler than the GTX 570 and GTX 580. With that said the open-air cooler means that this is going to be case-dependent, so cases with poor airflow would favor the closed coolers of the GTX 570 and GTX 580.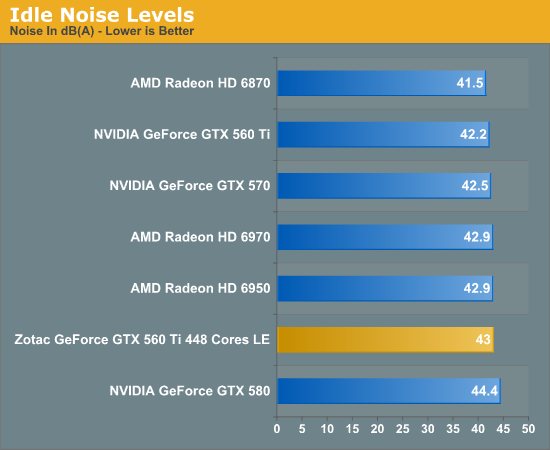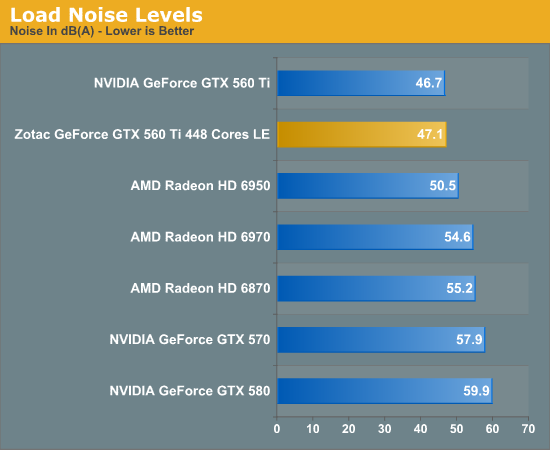 Finally we have our look at noise. The Zotac GTX 560-448 idles just a hair louder than most of our other high-end cards, including the GTX 570. Under load however that open-air cooler really makes its mark among a crowd of closed coolers, leading to noise levels little above the GTX 560 Ti and remarkably quieter than the GTX 570. On a performance/noise spectrum this is fantastic, but the devil is in the details: you need a case with good airflow to make this happen. Otherwise the Zotac GTX 560-448 ramps up significantly once temperatures approach 90C.