HAWX, Civ V, Battlefield BC2, & STALKER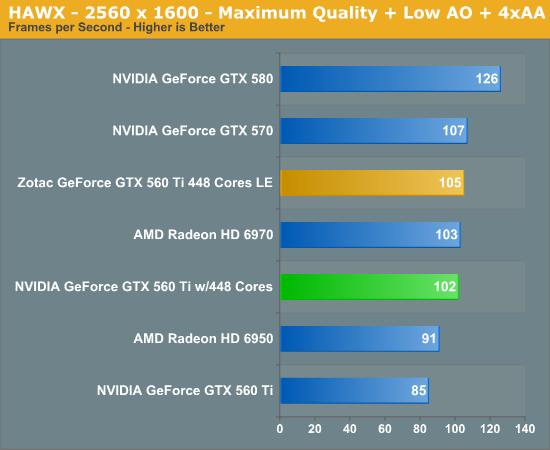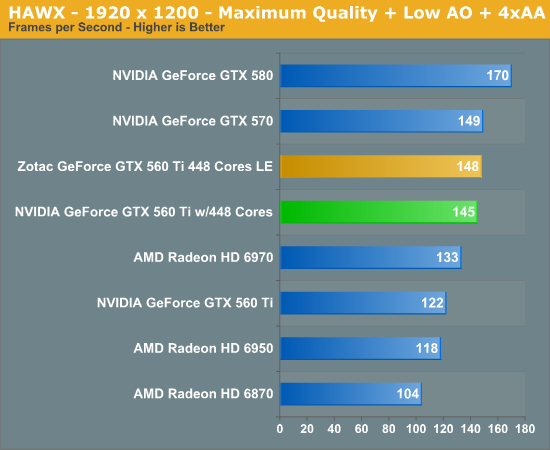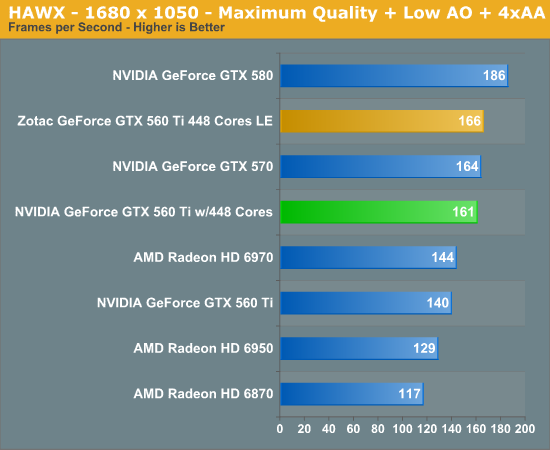 HAWX is one of the oldest games in our current test suite, and as a result high framerates are a common occurrence. Even at 2560 everything can top 100fps, but there is still a clear preference in the results for NVIDIA's cards. At 1920 the GTX 560-448 is 9% ahead of the 6970, while the fact that it has the same number of ROPS as the GTX 570 keeps it extremely close to NVIDIA's next step up.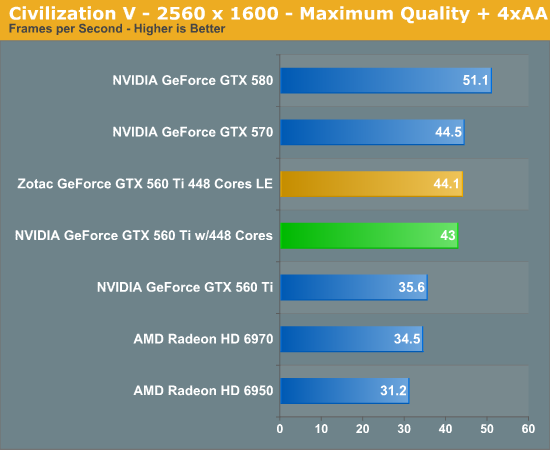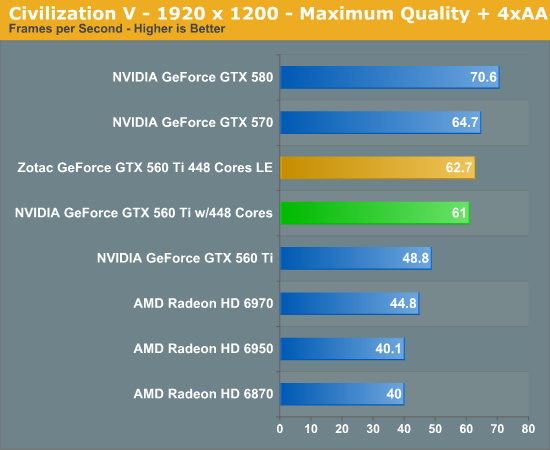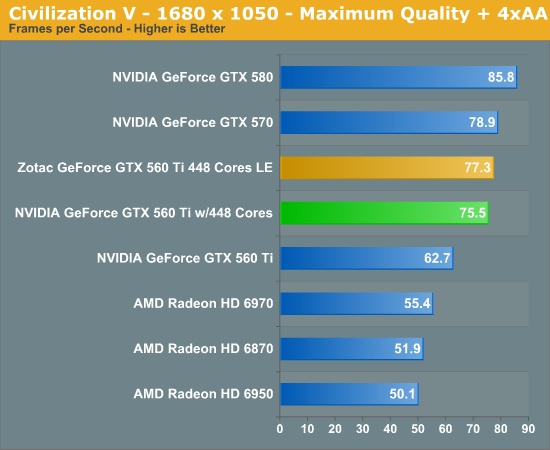 As AMD has still not implemented multithreaded command lists – an optional part of the DX11 API that CivV heavily uses – NVIDIA continues to do much better than AMD here. At 1920 the GTX 560-448 is ahead of the 6970 by 36%, or 16fps. Within NVIDIA's product lineup things are rather consistent, with Zotac's overclock closing the gap on the GTX 570.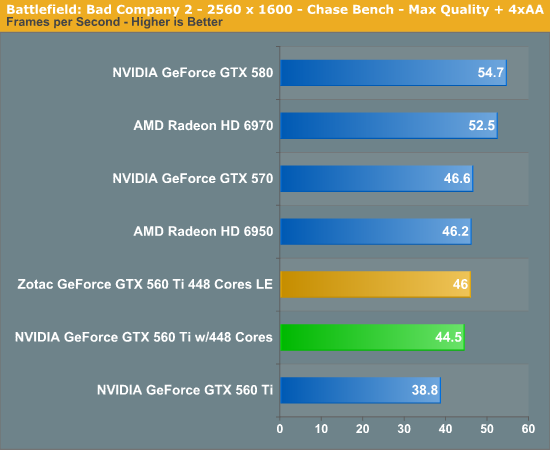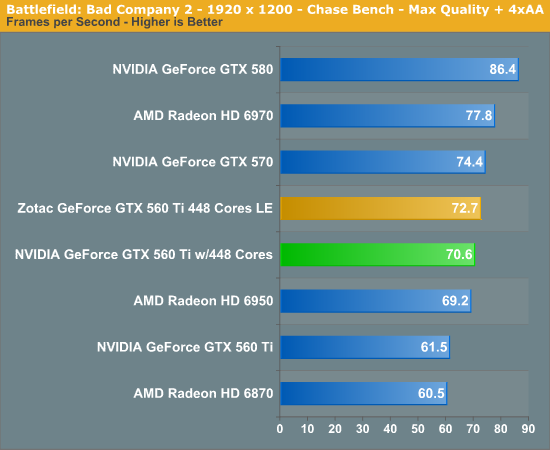 Looking at Battlefield: Bad Company 2, BC2 continues to provide some of the most balanced results in our test suite. The GTX 560-448 beats the 6950, but only by a little over 1fps. Compared to NVIDIA's lineup the GTX 560-448 is a few percent behind the GTX 570, with Zotac's overclock closing the gap. Though at only 1920, any of these cards can average better than 60fps.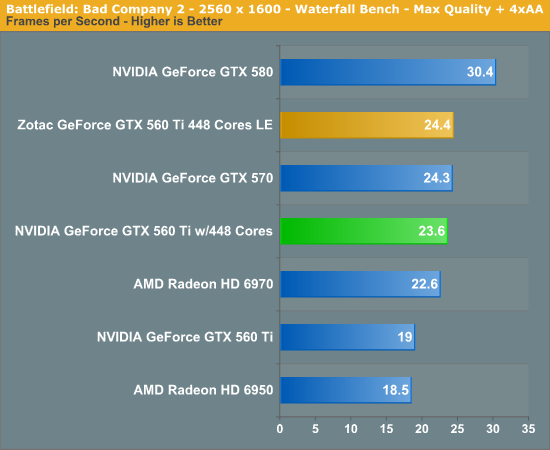 Meanwhile our BC2 waterfall benchmark shakes things up. Everything drops below 30fps, with the GTX 560-448 and other NVIDIA GF11o cards weathering better than AMD's cards.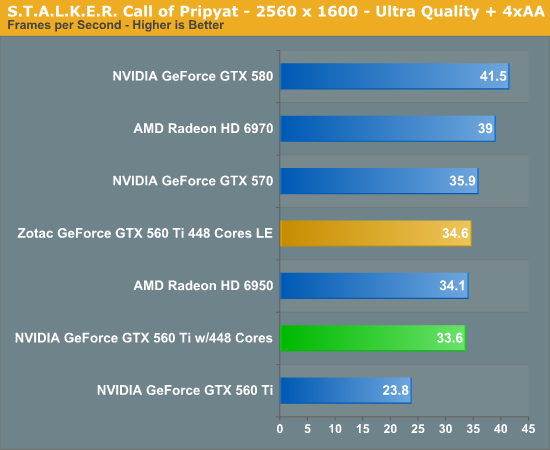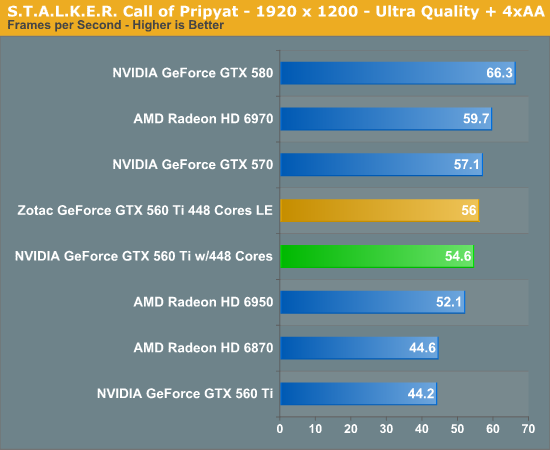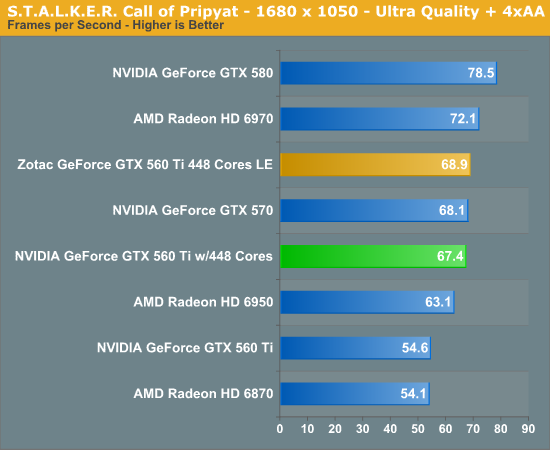 Our next benchmark is the STALKER: Call of Prypriat benchmark. On cards with 1GB of VRAM or less it can be overly taxing, but with more than 1GB of VRAM the bottleneck shifts to rendering. At this point it's another balanced benchmark, with the GTX 560-448 placing slightly ahead of AMD's 6950, and very close to the GTX 570. Zotac's overclock can't close the gap, but it's close.