Build, Heat, and Power Consumption
Cutting to the chase, the Deluge's physical build quality is, as has been the case with all Puget Systems machines we've tested, basically unimpeachable. The modifications made to the Antec P183 enclosure are clean, and the wiring and liquid-cooling routing are top notch. I was actually impressed with the work they did installing a window on the side panel; the P183's inside panels are acoustically padded in a way that might make modification challenging, but you wouldn't know it to look at the Deluge.
I'm also impressed they were able to make a computer with a window on the side and glowing blue fans and tubing not look incredibly gaudy. While I think blue LEDs are starting to feel played out, this looks and feels like a powerful custom machine. It's hard not to be taken aback when you look at it. The thing weighs a ton, but what did you expect?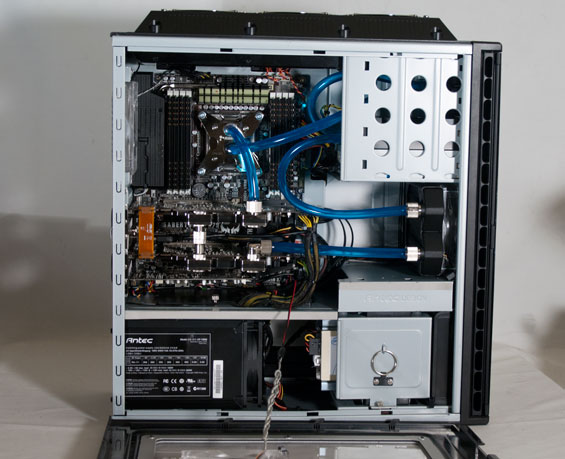 Where Puget Systems unfortunately falters is the overclock. They don't allow the idle voltage to drop on the i7-3960X, forcing it to constantly run between 1.41 and 1.46 volts. Ignoring for a moment that those are pretty high voltages (and undoubtedly necessary to hit the punishing 4.6GHz overclock), I'm actually disheartened to see a company that's normally a wonderful citizen where power consumption is concerned trip up in this area. I gripe about lazy overclocks pretty frequently, but this is really a situation where they should've known better and done more tuning. Blame the newness of the platform if you want (which is almost certainly a factor), but the result is a processor that's running hotter at idle than it needs to, a cooling system that has to work a little harder than it should, and power consumption that's pretty dire.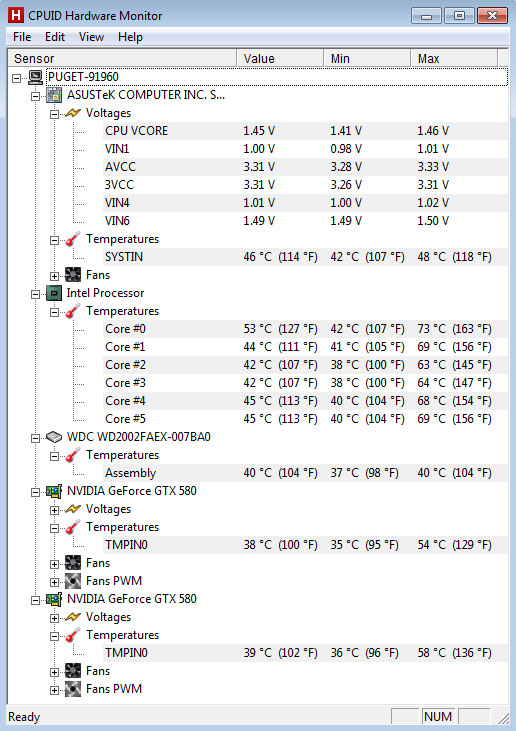 Despite the custom liquid-cooling loop with a 360mm radiator and an additional 120mm radiator in the front, the i7-3960X still runs a bit toasty under load, and those idle temperatures are quite poor. Again, though, that's what happens when you dump so much voltage into a processor and don't let it scale down at idle. The Deluge essentially needs the liquid-cooling loop to maintain the overclock. Higher temperatures generally go hand in hand with higher power consumption, and that's precisely what we see.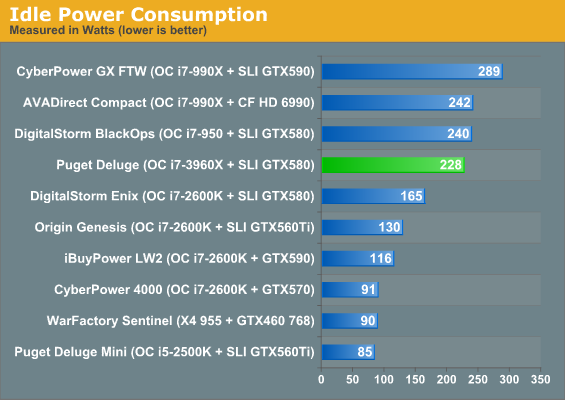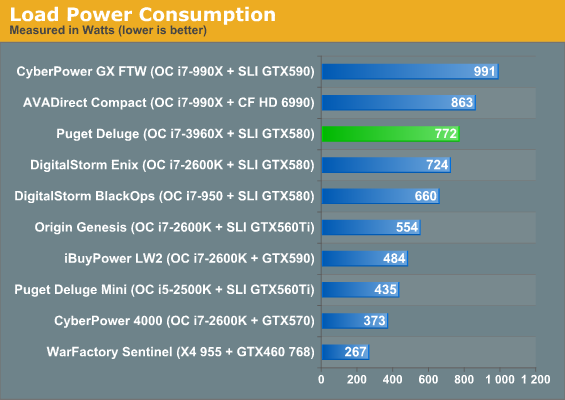 Given the improvements in SNB-E and X79 relative to Gulftown and X58, we were hoping for a better showing. At idle, only the last generation Nehalem in the DigitalStorm BlackOps and Gulftowns in the CyberPower and AVADirect rigs are worse, and the CyberPower and AVADirect rigs are both powering four GPUs.
Things get even worse under load; only the quad-GPU rigs running Gulftown are able to draw more power than the Puget Deluge. You can argue that DigitalStorm's Enix makes things at least look a little better, but we actually took DigitalStorm to task over the overclock in their system: its voltage idles low but shoots through the roof when the i7-2600K is placed under load.
I'm going to keep dinging boutiques on these overclocks until they start paying attention: "fastest" does not mean "best," especially not when it results in this kind of heat and power consumption. It's one thing to set a speed record for the Futuremark ORB or an overclocking competition, but it's quite another matter to sell a system designed to run daily tasks for the next few years. The Deluge is plenty fast, but long-term it could really benefit from some additional tuning.