User Experience
Honestly I feel like the Dell Inspiron One 2320's user experience is really a mixed bag. There are the compromises made as a result of the hardware and software ecosystem--the way Windows 7 really isn't equipped to handle a touch interface and the lack of good graphics solutions for all-in-ones being two major problems.
As far as mitigating the software issues, Dell has a couple of things going for them with the Inspiron One. The first is a simple one that HP just didn't seem to think to do: they raised the icon and text size at the native resolution. While this can result in some compatibility issues with some programs, for most users it's going to be worth the trade-off. You don't have to be particularly precise to hit any of the buttons or select anything, and honestly it helps.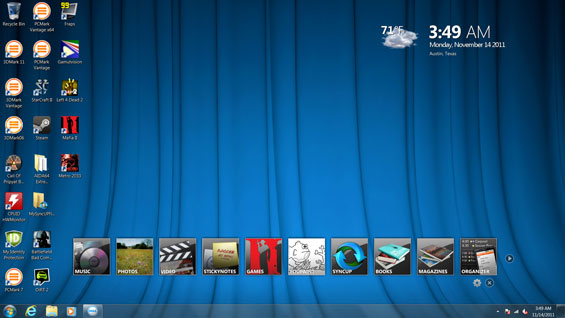 The other solution is Dell's touch-based software bar at the bottom of the screen. These are a series of small, easy to use applications, most of which are connected with the existing Windows file system. MusicStage is a decent music player that offers a nice overlay, PhotoStage is an attractive photo viewer, and VideoStage is a decent if unexciting video streaming platform. What I appreciate is that Dell's software isn't as intrusive or gaudy as HP's TouchSmart suite. These are applications I can see users being happier with, because they're cleaner, not as flashy, and still permit you to use the computer for other tasks...the way a quad-core can and should be used.
We've already covered the screen quality but suffice it to say it's a major down point with the Inspiron One 2320, especially with the way the unit is situated on a desktop. If you're going to use a lousy TN panel for your all-in-one screen, why force the user to orient the system in a way that exacerbates the technology's weaknesses? The stand is adjustable so you can get it mostly perpendicular to the desktop surface, but I'm really just not a fan of this design. It may prevent the screen from wobbling but it's nowhere near as convenient or useful as HP's solution.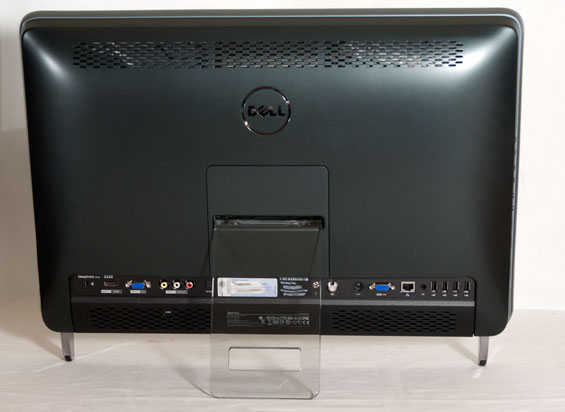 As far as everything else goes, the sound quality of the built-in stereo speakers is reasonable and they're definitely loud, able to produce decent enough bass. Connectivity for the Inspiron One 2320 is also almost excellent, but the lack of USB 3.0 support is an issue. The 2TB hard drive is big enough and fast enough, but there's no high speed interface for data transfer anywhere on this machine.
Heat and Power Consumption
I can't help but feel like the Dell Inspiron One 2320's cooling system just isn't very well optimized. Either that, or Dell made the wrong trade-offs in choosing components and configurations for it. Take a look at the thermals.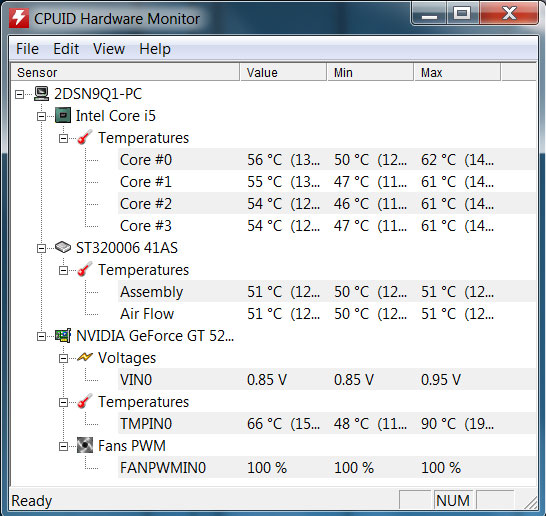 Well, now we know why they went with the underpowered GeForce GT 525M, but it looks like the hard drive is getting cooked, too. The cooling profile feels lopsided; the Core i5 runs downright frosty in comparison. Unfortunately when the fan spins up it has a pretty high-pitched whine to it, too. If my hard drive was running at 50C in my brand-new desktop, I'd be more than a little concerned.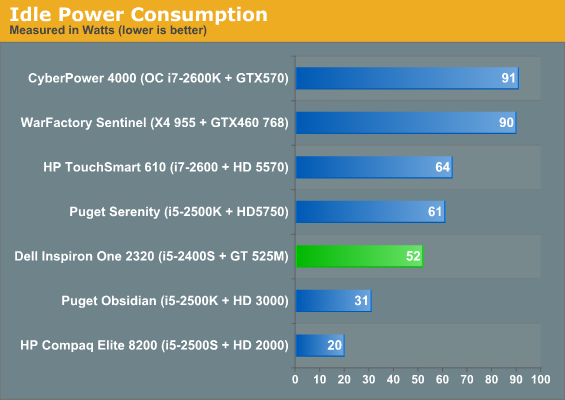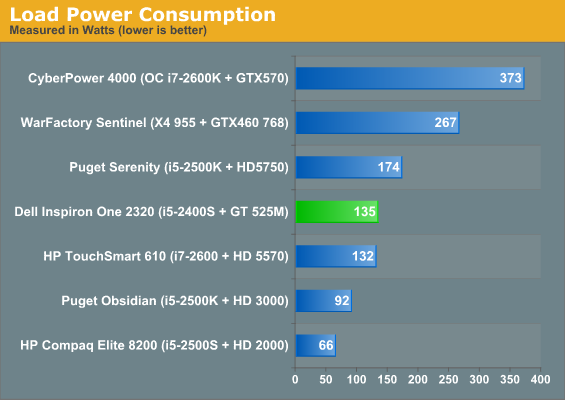 Dell's Inspiron One 2320 is at least fairly frugal on power, but it doesn't feel as frugal as it could be. Sure it has to power a screen in addition to everything else, but compare it to the HP TouchSmart 610. The TouchSmart has a full-on 95-watt desktop processor in it along with a slightly faster GPU, yet the Inspiron pulls as much power under load. Meanwhile, here's something else to noodle: the HP Compaq Elite 8200, which boasts a faster CPU, hits just 66 watts under load. The GeForce GT 525M and an LED-backlit screen shouldn't account for more than double the power consumption.