Gaming Performance
I can only hope I've contained my excitement enough for this part. As mentioned in the frequently referenced HP TouchSmart 610 review, these GPUs just aren't powerful enough to be driving these 1080p displays. The NVIDIA GeForce GT 525M is pretty heavily hamstrung, operating at even lower clocks than the already underpowered desktop GT 430. I can't believe this is the best Dell can offer in this all-in-one. We'll start with our "Medium" 1080p test suite. It'll be a little underwhelming with just the two all-in-ones tested here, but bear with me.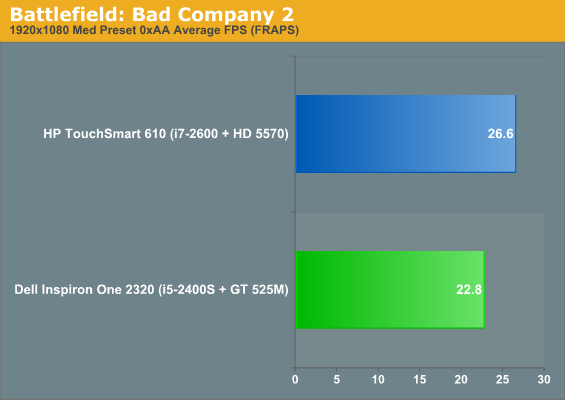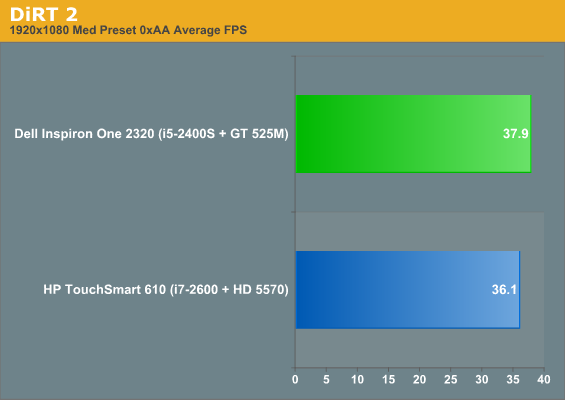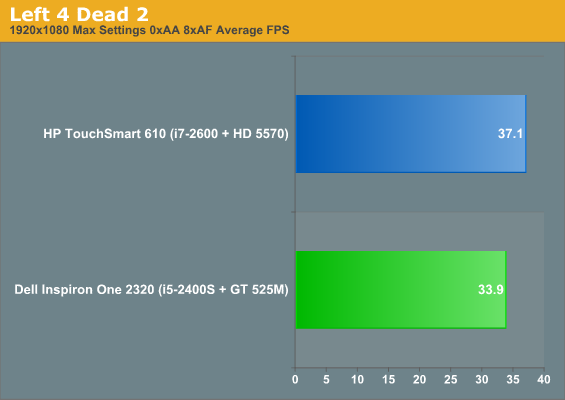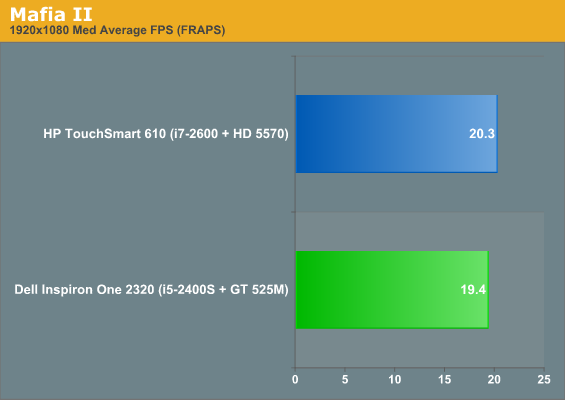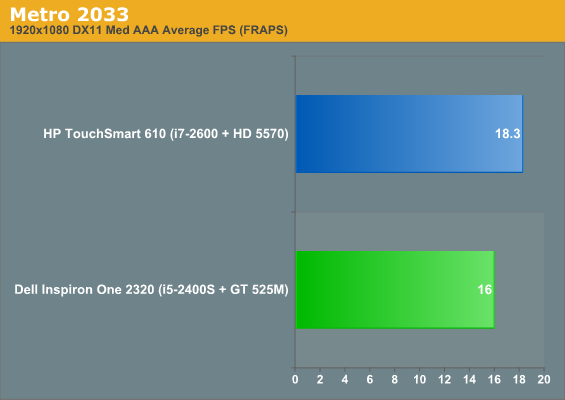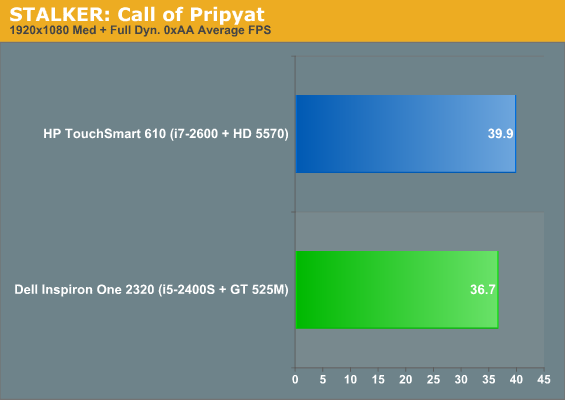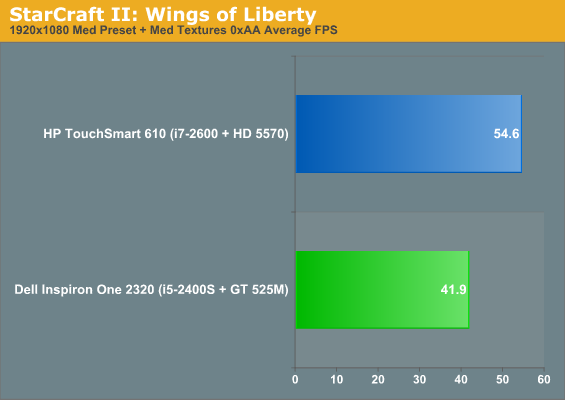 Medium is about as good as you're going to get for half of these games if you want to try and play them at native, but the Inspiron One 2320's GPU is sadly even weaker than the already mediocre AMD Radeon HD 5570 in the TouchSmart. It leads in DiRT 2 but trails everywhere else, and the "High" testing is only more depressing.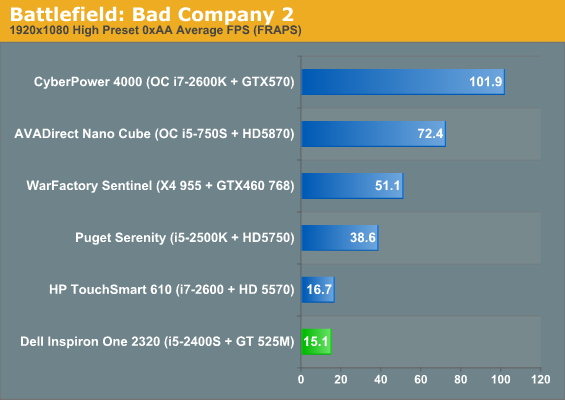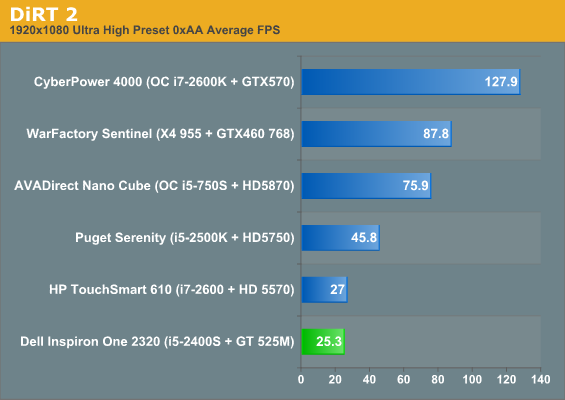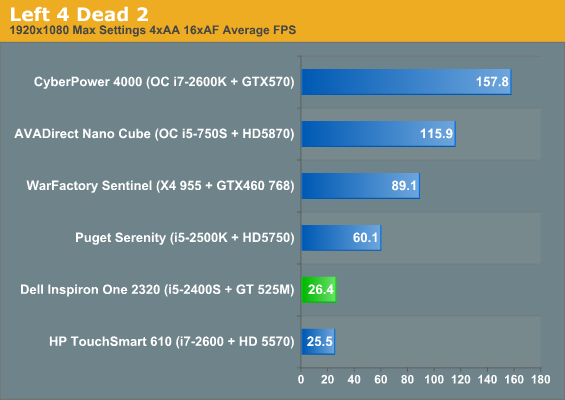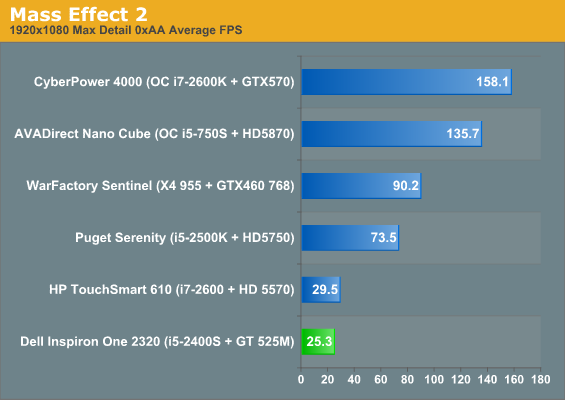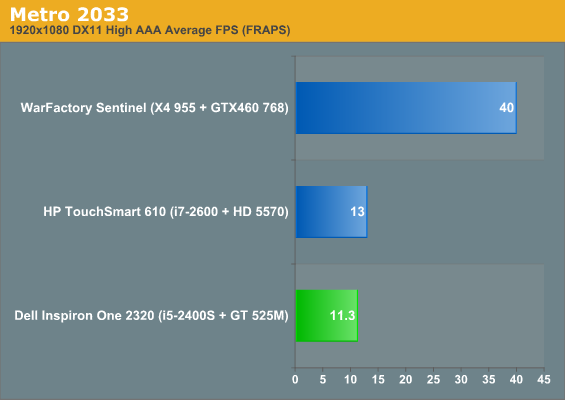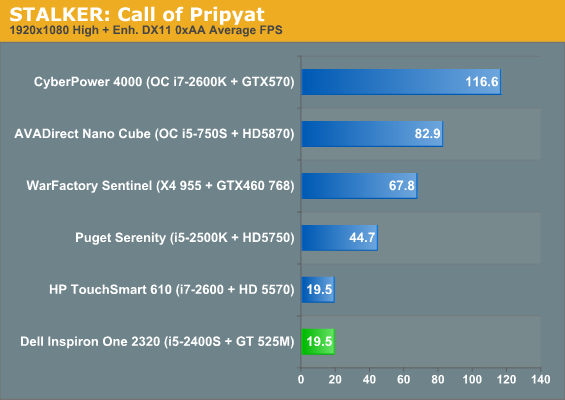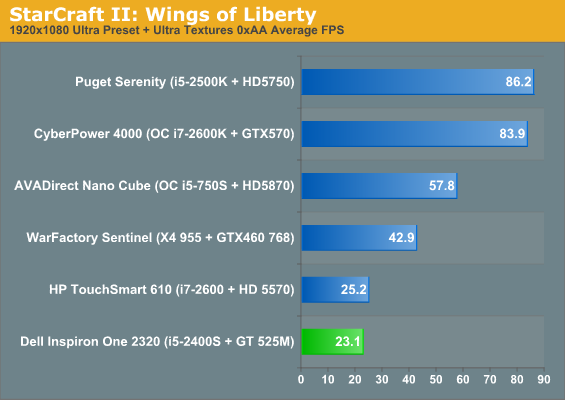 At our high settings the games are unplayable across the board. All-in-ones need something at least at the level of a Radeon HD 5750 to really support the resolutions they're shipping at. And keep in mind that our gaming test suite is mostly over a year old, so newer titles will likely struggle even more (e.g. Battlefield 3, Batman: Arkham City, Skyrim, Deus Ex: Human Revolution, Rage, and the slew of additional games coming out this holiday season).
I asked a friend of mine who's a big fan of StarCraft II to give playing it on the touchscreen a try. As some of you have observed, I'm honestly too much of a moron to grok RTS games, but my buddy Benjamin is a big fan so I turned him loose on the Inspiron One 2320. His response was that the potential for a touch interface in the game was definitely there, but the game's not really designed for it and would need some changes to be playable that way. There are also the issues inherent with responsiveness in current touchscreen technology (misregistered clicks, etc.) that keep it from being a home run. I do feel like this genre of games is one of the places where a touchscreen might be viable on the desktop, but it seems to be a bit of a chicken-and-egg situation at present, and without decent graphics hardware I'm not sure it can ever really succeed.