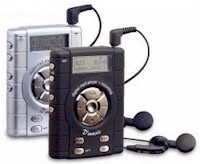 The MP3 digital music standard has hit the mainstream consumer market in the past few years with the introduction of a wide variety of compact MP3 players and online music trading communities such as Napster.  With the ability to store CD quality music in great volumes on your own PC, the popularity of the MP3 standard has spread like wildfire.
The MP3 digital music standard is an extension of the MPEG (Moving Picture Experts Group) audio/video standard that works under the joint direction of the International Electro-Technical Commission (IEC) and the International Standards Organization (ISO).  The MP3 format utilizes compressed digital audio to create near-CD quality audio as represented by the bitrate that a MP3 file possesses.  Bitrates represent the compression ratio of MP3 files where the higher the bitrate a MP3 possess, the higher the audio quality.  For more information on the MP3 standard, refer to the Best Data CABO MP3 Player Review. 
However, the MP3 standard has not always experienced smooth sailing in the seas of the music industry.  Because MP3s can easily be produced and traded, such special interest groups as the Recording Industry Association of America, Inc. (RIAA) claim that the MP3 standard has robbed the music industry of billions of dollars in revenue and allows for the illegal piracy of copyrighted music.
In spite of the legal battles that the MP3 standard has been involved with, it is currently the most popular form of digital audio in the world.  Such companies as Sony, RCA, Samsung, and Creative Labs have recently introduced their own respective lines of MP3 players, and MP3 players with increased functionality are soon to follow.  With such strides being made in the MP3 industry, the MP3 standard will become more and more commonplace as time progresses.
The Pine D'Music MP3 player is another one of the many MP3 players currently in the market.  The D-Link DMP-100 MP3 player and the Pine D'Music share the same MP3 player design, most likely manufactured by the same OEM, which is why the D'Music and D-Link's DMP-100 look very similar.  Pine Technology Limited was founded in 1991 and offers a wide spectrum of computer hardware, including motherboards, faxmodems, VGA cards, optical drives (CD/DVD-ROM), and sound cards.  At a price of $160, the Pine D'Music MP3 player is a welcome addition to the wide variety of MP3 players currently available.