Measuring Real-World Power Consumption, Part Two
First, we wanted to check if the Interlagos power management problems were specific to ESXi. Therefore, we measured the power consumption when running Windows 2008 R2 SP1 x64. We set the power management policy to "Balanced" and "High Performance".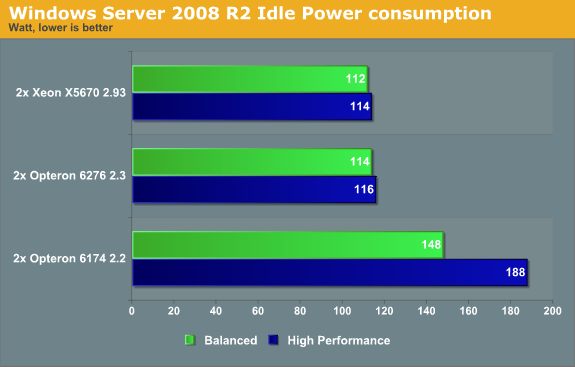 Wow, that is a lot better! The core gating of the Bulldozer cores is first rate, as good as the Xeons of today. Idle power draw is a serious problem of the Opteron 6174: it is between 30 to 63% higher! So even if the ESX scheduler does not really understand how to handle the power management features of the "Bulldozer" Opteron, the question remains why the Opteron 6276 cannot even beat the Opteron 6174 when running idle in ESXi.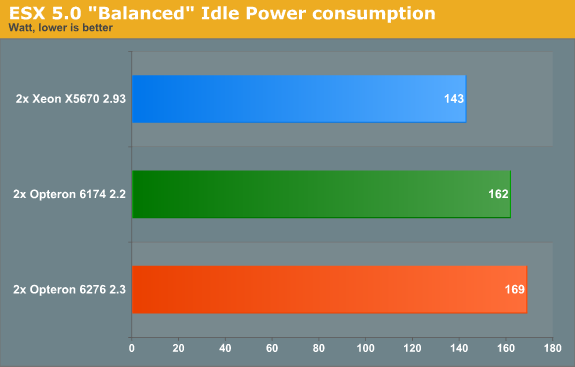 While I was testing the power consumption on Windows, my colleague Tijl Deneut dug up some interesting information about the ESX power manager. The Balanced Power policy (the default power policy for ESXi 5) is rather simple: it uses an algorithm that exploits only the processor's P-states and C-state C0 and C1. So "Balanced" does not make very good use of the deeper sleep states. So we went for custom, which is the same as "Balanced" until you start to customize of course. We enabled the other C-states and things started to make sense.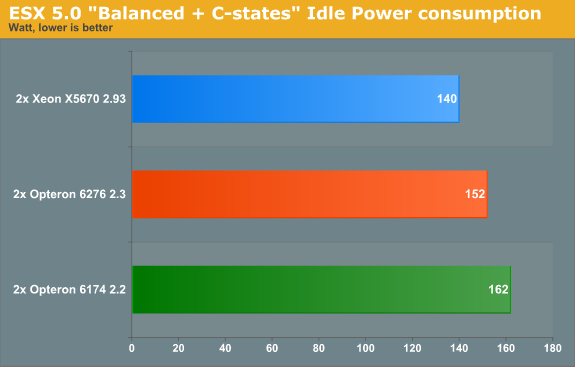 After some tinkering, the Opteron 6276 does quite a bit better and saves 17W (10%). The Xeon reduces power consumption by 3W, and the Opteron 6174's less advanced power management is not able to save any more power. So enabling the C-states is an important way to improve the power consumption of the Opteron "Interlagos" with ESXi 5.